The weather finally broke our way and on Saturday, January 23, 2010 we were able to hold the first basic fly fishing clinic of the season at the NCWRC John E. Pechmann Fishing Education Center, located just outside Fayetteville, NC. Ice on the ponds two weeks ago forced us to cancel the first clinic.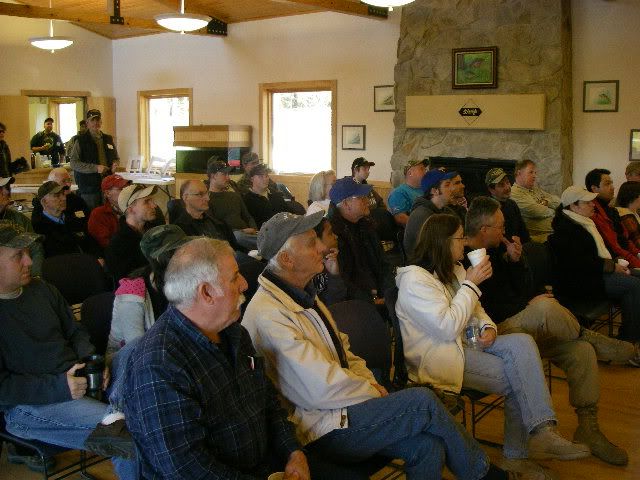 We merged the participants from our cancelled class into our following clinics and ended up with over forty novice fishermen today. A show of hands revealed that at least half of them had never held a fly rod before.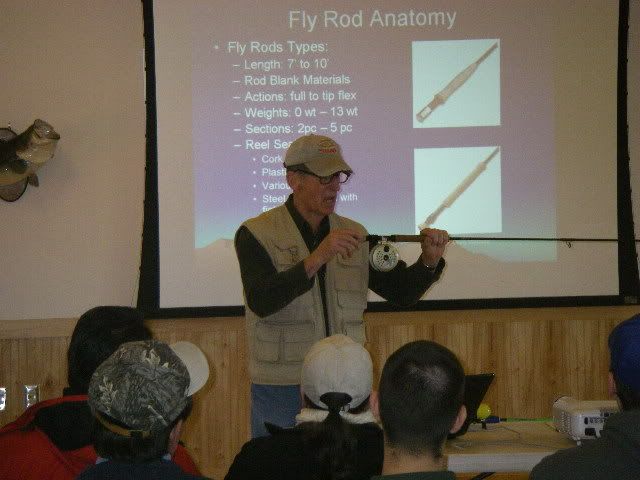 This is the 8th year that fly fishing clinics have been offered at the NCWRC Pechmann Center. We have developed a curriculum which starts with an overview of the basics of fly fishing.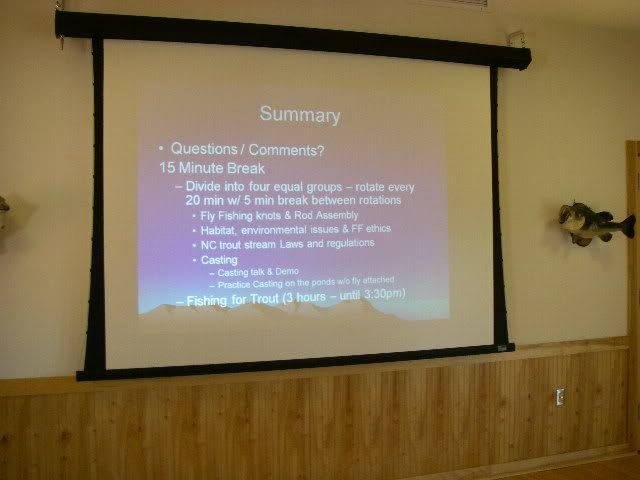 We then divide the participants into four groups and rotate them through stations where they receive instruction on the various key aspects of the sport.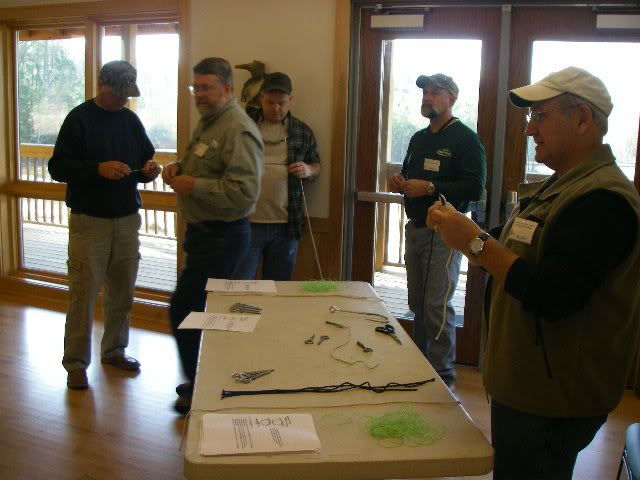 Knots and rod assembly is one of our very essential hands-on stations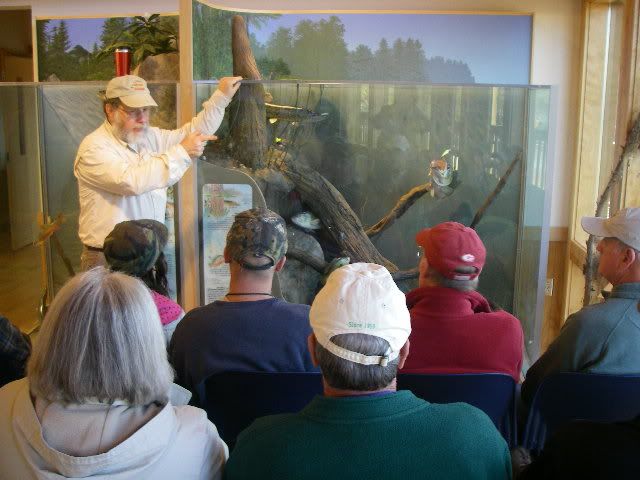 Healthy Habitat and fishing ethics always prompts some interesting discussions.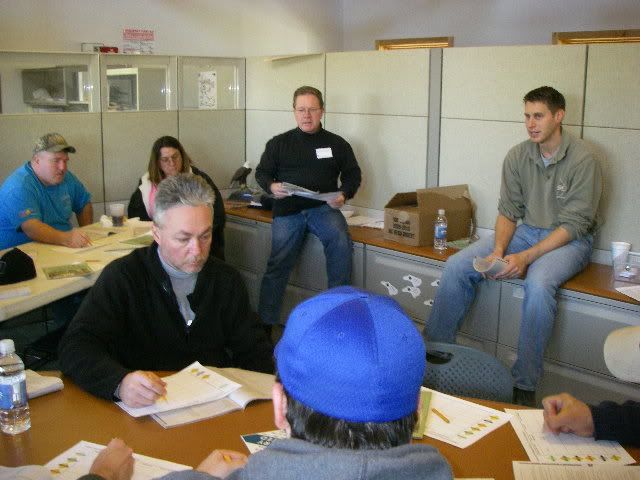 You can't go trout fishing in North Carolina without checking on the rules and regulations which are peculiar to trout.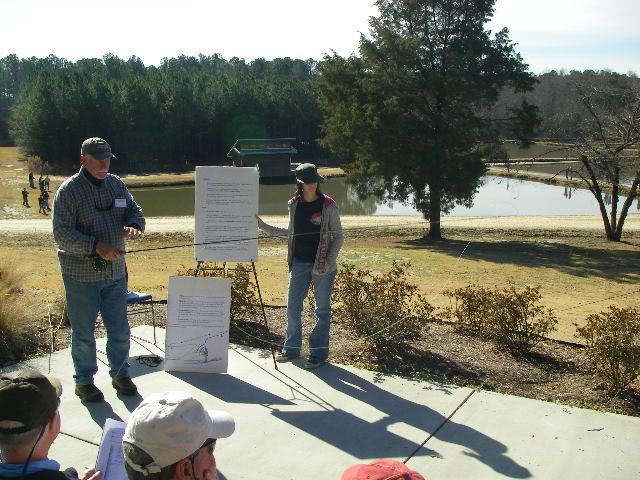 Casting instruction is so important that we have broken it down into two stations. Everyone starts off by receiving a detailed explanation and demonstration about the importance of "loading the rod" and making the rod work for you and not allowing the rod to give you a "work out"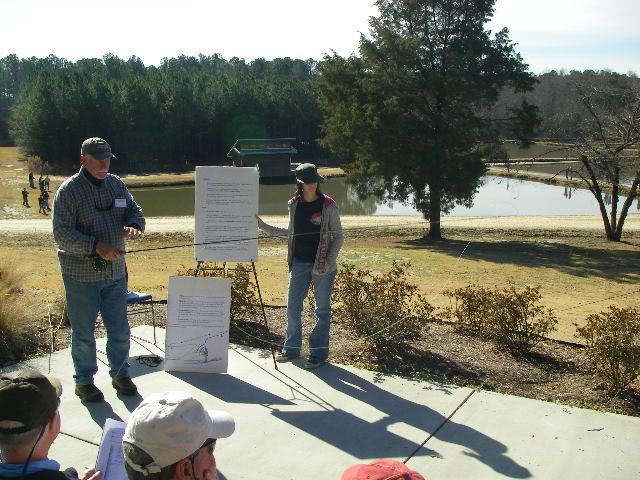 They move directly from the casting demonstration to some "hands-on" casting under the watchful eye of several volunteer assistant instructors.
The final exam for all of our fishing clinics comes when we move to the ponds where 1000 trout wait to see if today's group of participants are worthy of the title "fly fisherman"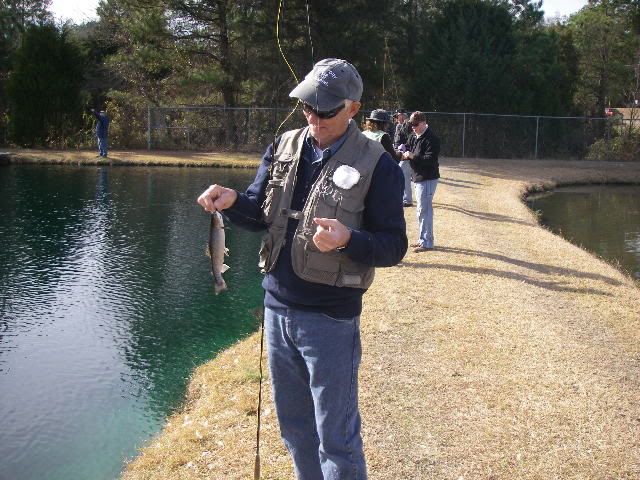 The water is still very cold (41-43 degrees today) so the bite was not what everyone hopes for but just about everyone caught fish. We have a mix of rainbow, brown and brook trout - the majority of today's catch were brook trout.
[imghttp://i3.photobucket.com/albums/y92/Allieworm/IMGP2717.jpg][/img]
Lots of smiles when they catch their first fish.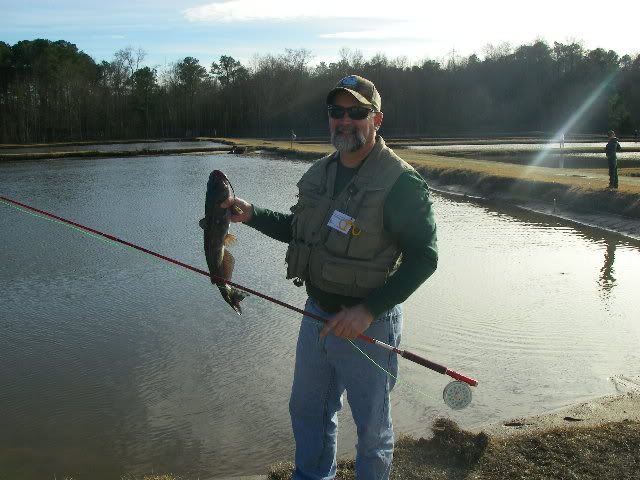 We opened up the catfish ponds for some serious fly fishing. If you have never caught a large catfish on a fly rod you're in for a treat. One of our assistant instructors landed a nice one.
Not to be outdone this young fellow caught one just as big.
And so ends the first of several fly fishing clinics hosted by the NCWRC Pechmann Fishing Education Center. The clinics have become a "best seller" with folks coming from as far away as South Carolina and Virginia to participate. Where else can you learn the basics of fly fishing with equipment furnished for only $5? We even furnish coffee, soda and doughnuts and we spend half of the day fishing on ponds filled with trout.
Our next basic clinic will be held on Feb 6. An advanced clinic will be conducted on Feb 20. Boy Scout merit badge clinics will be held on Mar 6 and Mar 20 . All dates are on a Saturday with a start time of 9:00am and end time of 3:30pm. Registration through Lake Rim Park (424-6134) began on December 1, 2009. The cost is $5. Pre-registration is required. The basic clinics fill very fast so pass this information along to all of your friends