The weather and the fishing was tough today. No rain other then a momentary sprinkle but it was cold and raw which changed quite a few folks minds about attending the 2nd, 2010 Basic Fly Fishing Clinic held at the NCWRC John E. Pechmann Fishing Education Center, located just outside Fayetteville, NC.
We had 45 folks preregistered but several obviously had other plans. Not to fear, we now do like the airlines and overbook. We even have a standby list and if the class is not filled by 8:45am the Ranger from Fayetteville Parks & Recreation who handles registration starts seating "walk in's".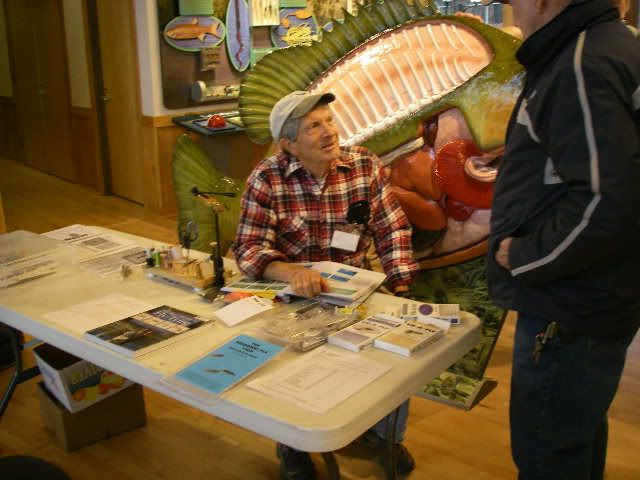 During "check in time" we have a fly tying demonstration in the main lobby to help spark a little interest in another aspect of fly fishing.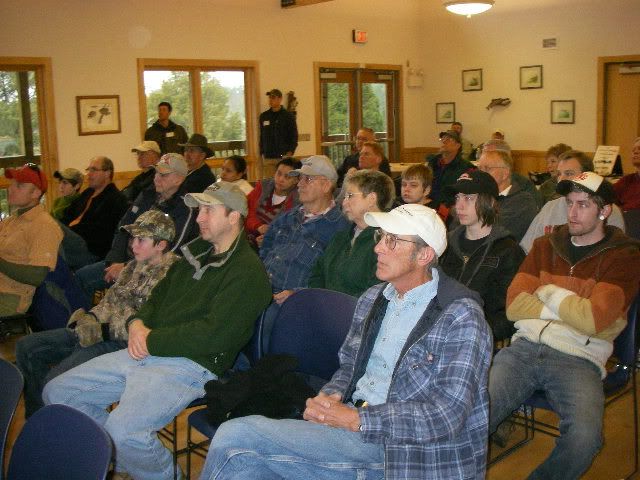 We ended up with 38 participants today. Everyone receives a short overview of the basics of fly fishing.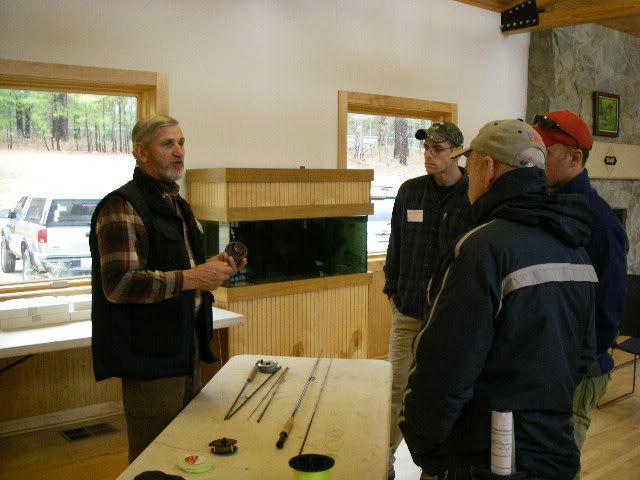 After the orientation they are broken down into groups and rotate through stations where experienced fly fishermen share their knowledge of knots, rod assembly, fishing ethics, healthy habitat, rules peculiar to trout fishing and casting. The photo above shows one of our volunteers sharing his expertise at the rod assembly station
We reserve the afternoons for a final exam administered by the Center's associate professors also known as many species of fish. The visiting professors (aka trout) come from the mountains where they are used to cold water but they decided to lay back today because the water which was measured at 41 degrees was a little colder then they like. A few were caught but it was tough. In addition to cold temperatures we also had to contend with a very stiff breeze.
The tenured professors, ie the warm water fish, who stay around all year were also off their feed. The catfish can usually be depended on to put a bend in your pole and after sufficient enticements in the form of chumming with fish pellets a few of them were coached to the surface. This young fellow tied on one of Mr. Ben's Beetles and had a ball. I kept hearing "Mr. Ben, I got another one!"
And there you have it. Not the best day to be on the water but we were out there giving it our best shot. As we were closing down we had several folks come up to thank us and say they had learned a lot. Those are the words that our volunteers love to hear and that is what these fly fishing clinics are all about.
Our next clinic will be held on Feb 20th. It will be an advanced clinic where we will teach advanced knots, advanced casting, fishing in a current, fly tying, salt water and farm pond fishing. Boy Scout merit badge clinics will be held on Mar 6 and Mar 20 . All dates are on a Saturday with a start time of 9:00am and end time of 3:30pm. Registration through Lake Rim Park (424-6134) began on December 1, 2009. The cost is $5. Pre-registration is required. These clinics fill very fast so pass this information along to all of your friends