We finally "caught a break" on the weather for the Advanced Fly Fishing Clinic held Saturday, February 20, 2010 at the NCWRC John E. Pechmann Fishing Education Center. It was sunny and relatively warm with only a hint of breeze. This was in sharp contrast to previous clinics where we had to fight cold temperatures and gale force winds. The fish even went from "lock jaw" mode to a fairly consistent bite today.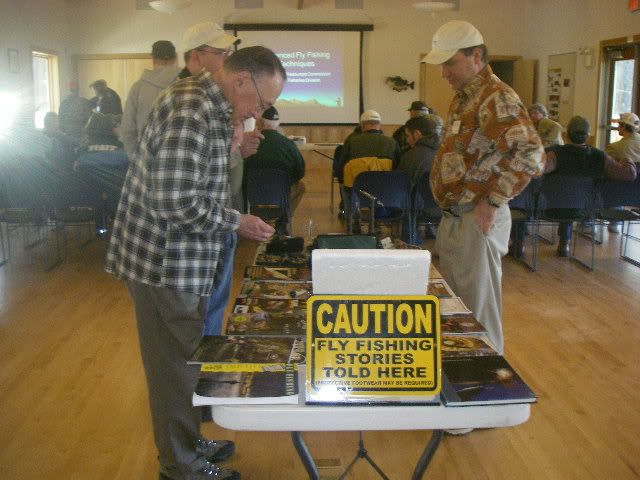 The nice weather also brought out lots of fishermen. We ended up with over forty in attendance. This being an advanced clinic most of them had been fly fishing for a few years and were taking advantage of the opportunity to learn a few new skills. As always we start out in the classroom with an overview of the day's planned activities. Participants are then divided into five groups and started at five specialty stations. After a ten minute period they are allowed to rotate at their own pace to any station and remain there as long as the volunteer instructors hold their interest.
Everyone knows how to tie an improved clinch and double surgeons knot, but how about a barrel, arbor, Duncan, nail, perfection, etc, etc? No problem. Our team of knot specialists can show you how. We are really proud of these guys. They have come up with a lot of their own training aids to make knot tying look simple.
The salt water station which was headed up by our own world record holder was a big hit. She is one of our many knowledgeable volunteers who unselfishly devote time passing on their passion for the sport to others. She has worked her presentation into a "show and tell" which holds the audience spell bound.
The fly tying demonstration hosted by two skilled volunteers who slowly talk themselves through each step in the construction of a fly. Some of the participants were also fly tiers and were heard to say , "so that's how you do that - you make it look so easy". We had a couple extra vices set up where novices were encouraged to follow along.
One of our local pan fish experts shares his knowledge. It won't be long before the bass and bream fishing gets real good and they provide great action on a fly rod.
You won't have a lot of success as a fly fisherman if you aren't able to present your fly to the fish in an acceptable manner. Many times that requires casts beyond the basic overhead cast. This waterwheel which is used to aerate the ponds was pressed into service to form a current which was used to demonstrate the proper method of mending your line to obtain a drag free drift.
We also had a station which gave "hand's on" instruction on roll casting and single & double haul casting
The afternoon was devoted to fishing. The change in weather has raised the water temperature to 51 degrees which appears to be more to the trout's liking. We never got into a feeding frenzy but the bite was steady.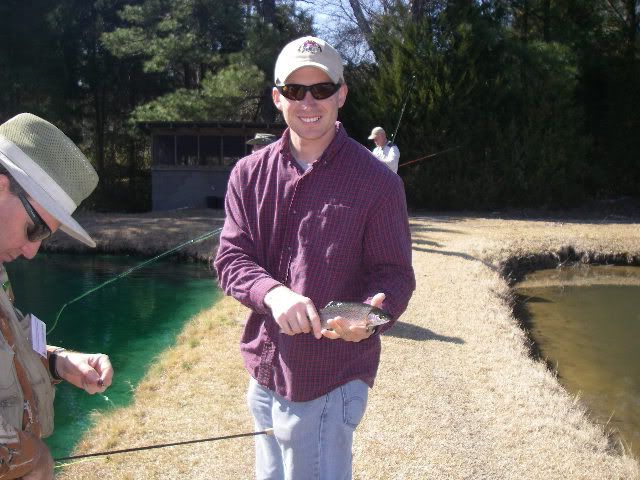 This fellow, a soldier from nearby Ft Bragg, had pretty good skills before attending our clinic. He and several others succeeded in accomplishing a "grand slam" by catching all three species of trout in our two trout ponds (Rainbow, Brook & Brown)
Our youngest volunteer, the son of a deployed soldier, displays a nice catfish caught on a fly rod. These catfish, along with some nice size bass, bream and hybrid stripers will be the stars of the show at our warm water clinic about the middle of June. All are fairly easy to catch with a fly rod.
Once the majority of participants departed for the day many of our volunteers broke out their rods. Most matched their skills with the trout but a few were enticed to try the hybrid stripers. They are finicky feeders but if you're lucky enough to fool them they will reward you with a serious bend in a 4 or 5 wt fly rod.
And so ends another great day at the NCWRC Pechmann Center. We had great weather, a great group of participants and an equally great cadre of volunteers. Mix that all up with hundreds, or is it thousands, of willing fish and you are bound to have a good day.
Boy Scout merit badge clinics are next on the agenda. They will be held on Mar 6th and Mar 20th . The next fly fishing clinic open to the general public will be the warm water clinic at a date yet to be determined sometime in June. Once the date is announced registration will be through Lake Rim Park (424-6134) The cost is $5. Pre-registration is required.
The NCWRC Pechmann Fishing Education Center also hosts Wounded Warriors, NC Handicapped Sportsmen and any military and their families on the 2nd Wednesday of each month from 1-5pm - (That's March 10th next month) We offer fly tying and basic fly fishing instruction. At least half of the afternoon will be spent fishing. We currently have trout in two of our ponds and a variety of other fish in the other ponds. All are available on a "catch and release" basis. The Pechmann Center provides all equipment for these events, however participants are encouraged to bring and use their own gear. If you're not into fly fishing we have spin cast outfits and bait for use on the catfish ponds