Saturday, March 12, 2010 was Boy Scout Fly Fishing Merit Badge qualification time at the NCWRC John E. Pechmann Fishing Education Center. Scout troops from as far away as Durham NC were in attendance. A few of them slept over, thus making it a weekend camping trip. Thankfully the weather cooperated but they were prepared in the event it had not been so nice. In years past we have seen some cold and wet Boy Scouts but even then they smiled, laughed, joked and told stories on each other.
Most of them had never held a fly rod before and a couple had never been fishing before. It was obvious that our work was cut out for us. Not to worry - We have assembled a great group of volunteer instructors, most of whom have the patience of Jobe.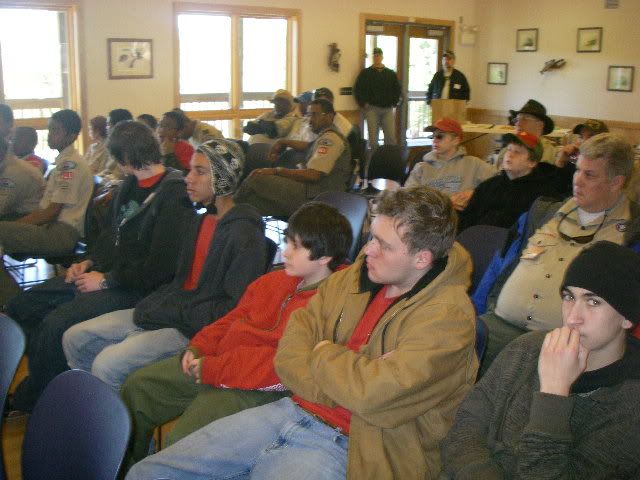 We follow the same basic curriculum which we use with our introductory fly fishing clinics. Everyone starts off in the classroom for a brief overview. Lots of interesting questions - i.e. "Has anyone ever caught a whale with a fly rod?"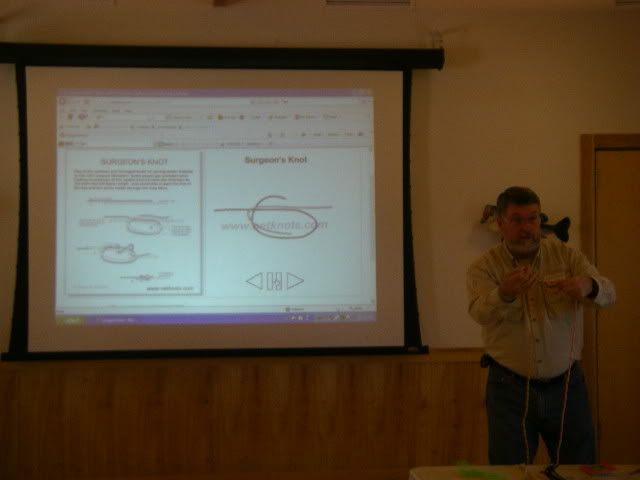 Our "knot guys" have discovered a new knot website which allows then to start, stop and reverse the animation on screen as they talk the students through " hand's on" knot tying.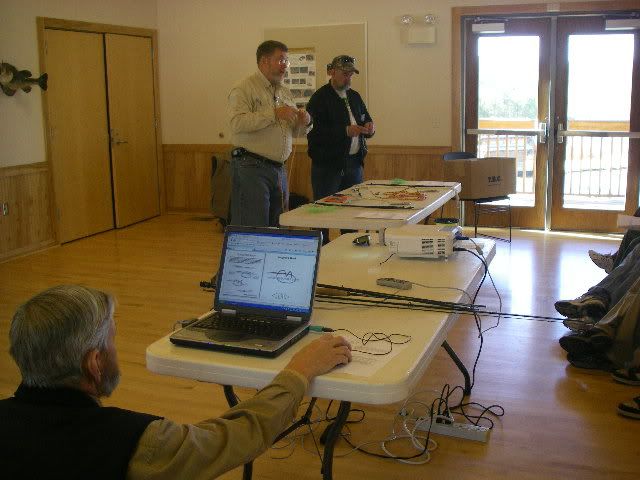 The Center has internet access in the classroom so we gave it a try today.
Everyone loves the interesting "healthy habitat" station. We were impressed - Most of them knew exactly what the NCWRC instructor was talking about. Maybe our schools are doing a better job then we are being led to believe.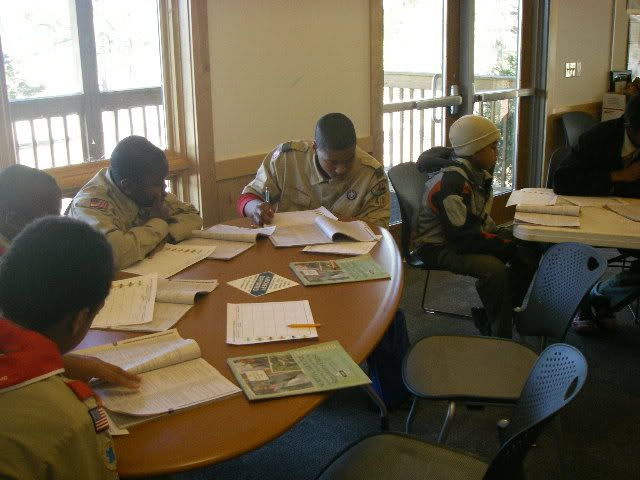 Rules and Regulations - "This seems a lot like school. I thought we were going fishing!"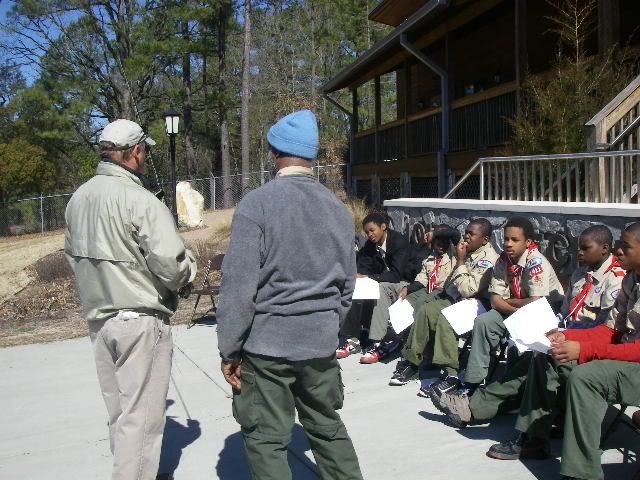 "That castng stuff looks pretty cool. Enough talk already - when do we get to try it?"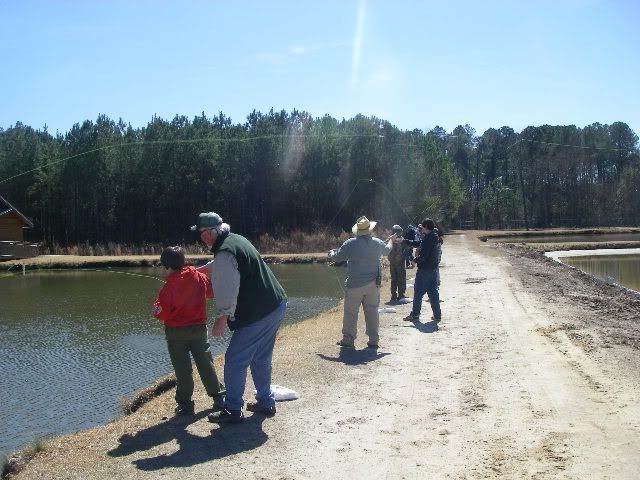 "Hmmmm, It's a little harder then it looks. Mr. Jay, how'em I doing now?"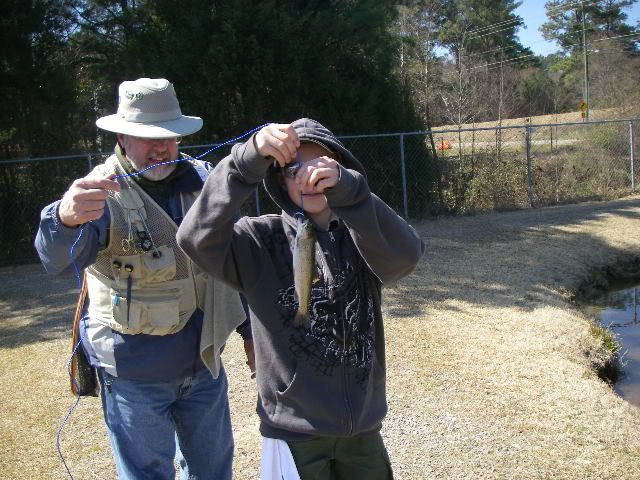 "I caught the first one!"
[imghttp://i3.photobucket.com/albums/y92/Allieworm/IMGP2965-1.jpg][/img]
"Could we get a little assistance please?"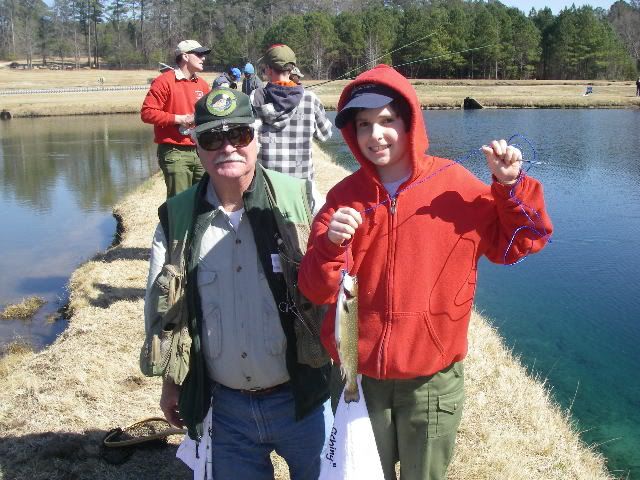 It doesn't get much better then this!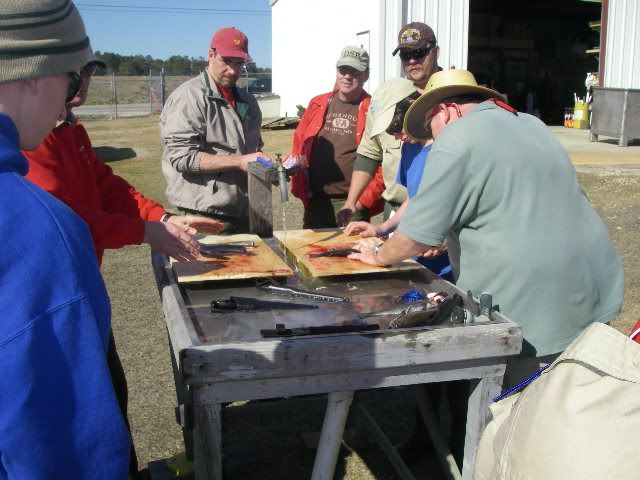 Part of the merit badge requirement was harvesting at least two fish. We challenged them to catch all three species, ie brookie, brown and rainbow. One young fellow did just that and proudly proclaimed "I'm still fishing but it is catch and release now!"
Those with fish brought them to a cleaning station where they cleaned their catch under the watchful eye of scoutmasters.
Everyone was then treated to a fish fry prepared by NCWRC staff.
We will host a 2nd Boy Scout Fly Fishing Merit Badge qualification on March 20th . That will wrap up the scheduled round of fly fishing clinics for 2010.
We also continue to host Wounded Warriors, NC Handicapped Sportsmen and any military and their families on the 2nd Wednesday of each month from 1-5pm - (That's March 10th this month) We offer fly tying and basic fly fishing instruction. At least half of the afternoon will be spent fishing. We currently have trout in two of our ponds and a variety of other fish in the other ponds. All are available on a "catch and release" basis. The Pechmann Center provides all equipment for these events, however participants are encouraged to bring and use their own gear. If you're not into fly fishing we have spin cast outfits and bait for use on the catfish ponds.