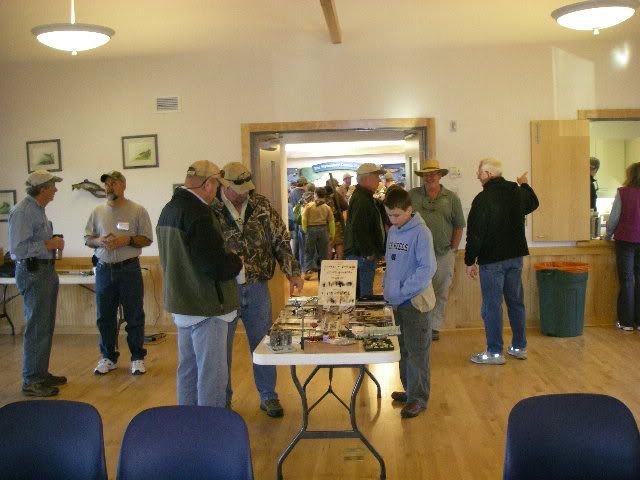 WOW, we had a crowd at the NCWRC John E. Pechmann Fishing Education Center on Saturday, March 20, 2010 where we conducted the 2nd Boy Scout Fly Fishing Merit Badge qualification course. We normally try to hold attendance to 35 participants but a last minute request from an out of town group pushed us close to the 50 mark - The total was well over that if you count the scout leaders and accompanying family members. Thankfully some of the scouts brought their own fly rods or we would have had to take turns fishing.
One of our volunteers put on a fly tying demonstration in the lobby while we waited arrival of the scout troops, some of whom travel great distances to take part in this very popular event. Some arrive on Friday evening and camp out on the Pechmann Center grounds.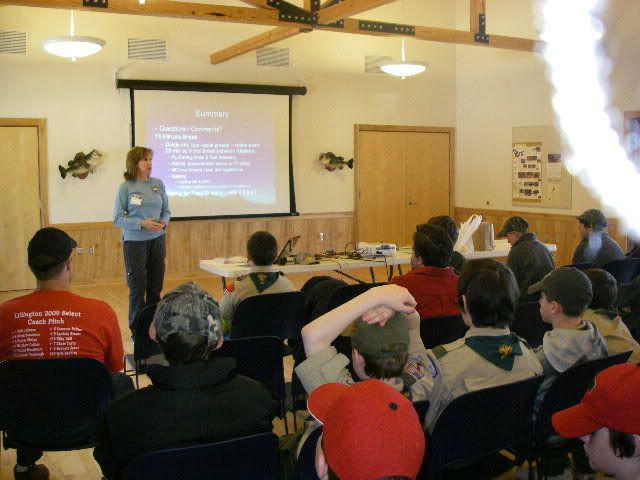 All of our clinics start with an overview of fly fishing given by two of our experienced volunteers.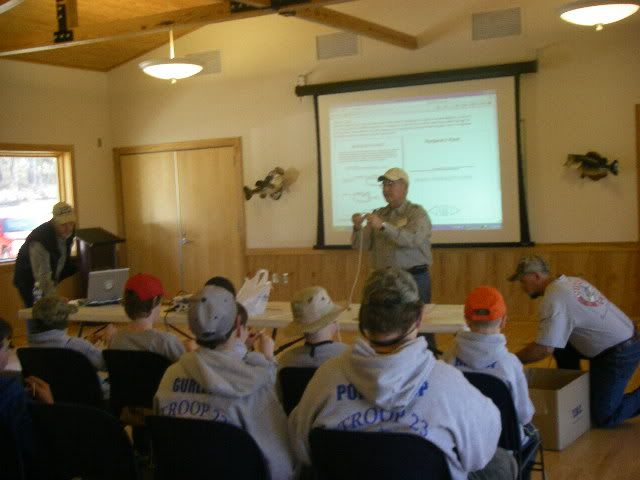 You can't hook and land a big one unless you know your knots!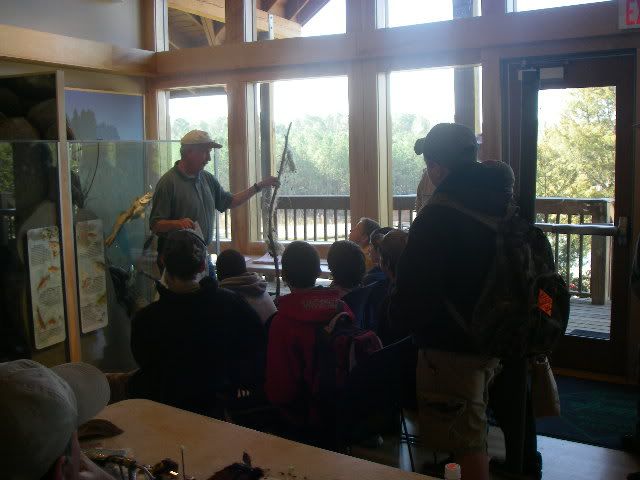 The "infamous" piece of drift wood which was found at nearby Lake Rim entangled with monofilament line, sinkers, flies, lures and hooks helps make a point during the "Healthy Habitat" instruction.
Everyone receives an item for their "goody bag" as they move throughout the instructional stations. When they finish they end up with a small tackle box, lures, stringer, towel, regulation book and handouts which explain what was taught at each station.
The casting station starts off with a talk and demonstration which not only shows the basic casting steps, it also explains the various techniques for fishing dry flies, streamers and nymphs. Participants are then moved to the casting pond where they practice under the watchful eye of several experienced volunteers.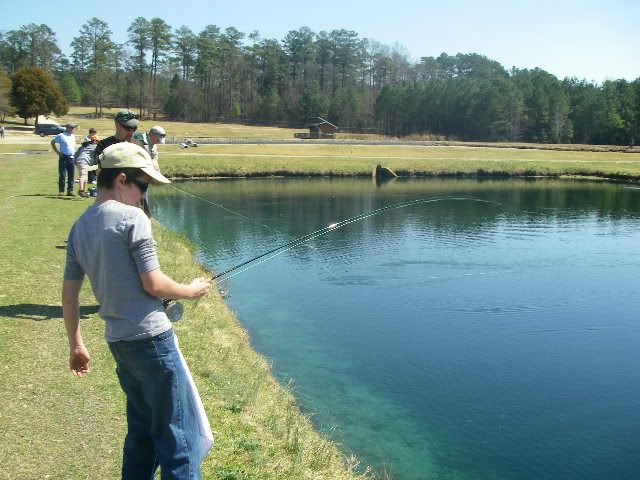 We reserve the afternoon for fishing. As you might imagine placing 50 novice fly fishermen around two small pounds can become a little hectic. That much "thrashing of the water" tends to put the trout off their feed - Nevertheless we were soon rewarded with the shout of "I got one".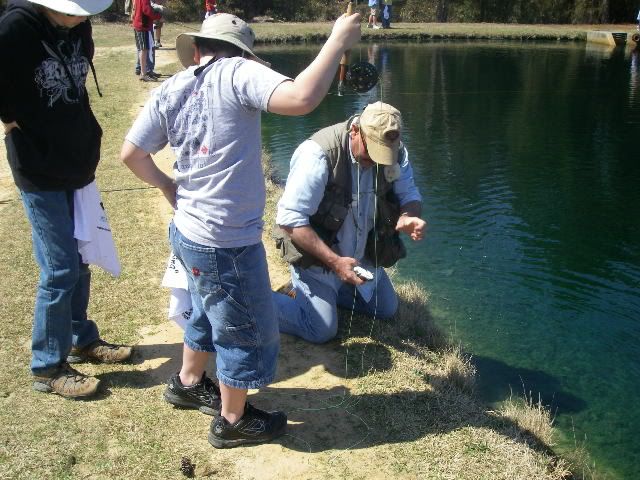 We are thankful for the unselfish dedication of our many volunteers. Many of them make 250 mile round trips on a regular basis to help us out. All give many hours and willingly share their knowledge and passion for the sport. They let me think that I am in charge but I know that without them we would not be able to put on these fly fishing clinics. Thanks guys and Jeanette, you make me and the NCWRC John E. Pechmann Fishing Education Center look good.
[img]http://i3.photobucket.com/albums/y92/Allieworm/IMGP3114-1.jpg[
The boy scout merit badge requires the scouts to harvest and clean their fish. We do this under the watchful eye of NCWRC technicians who insure all fingers remain intact.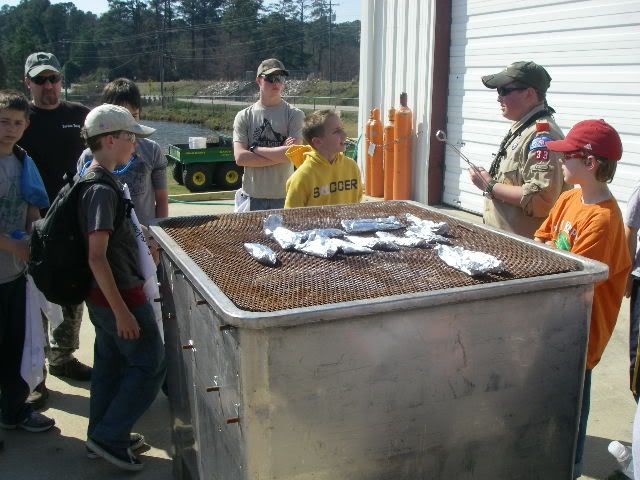 The fish are then seasoned, wrapped in tinfoil and placed on a giant grill. Add a few fries and cold slaw and the scouts end a good day.
The day does not end so easily for our volunteers. Each of over 50 fly rods must be made ready for our next event. As you might guess, some the rods come back with tangled lines, bird nest leaders, etc. When the bearer of such rod is asked how it got that way the response is often, "I don't know - it was that way when I picked it up". Our volunteers, just smile and go to work.
That's it for the 2010 round of cold water fly fishing clinics. We will keep the trout around as long as the ponds remain cool enough and hope to have them for the upcoming Fly Tie-a-thon
http://www.FlyTieathon.com
being held at the Pechmann Center on April 10th and the Wounded Warrior / Military Appreciation event on April 14th. We will also likely hold a warm water fly fishing clinic in late June - exact date TBA.