Went to a well known western Carolina stream to do a little hiking, fishing and mostly to beat the heat. Got started in the early afternoon Satruday and couldn't get things going. caddis, sallies, midges all flying around, but couldn't buy a strike in the first hour or so. At the same time, I seemed to hang my fly on every tree branch, rock, or bush within a few feet of my position. Finally, though it didn't make sense I tied on a big bushy #14 gray caddis and flipped that out there even though there wasn't anything like it in the air or on the water. WHAM! A fish. WHAM! Another fish. and so on. Who knows why.
Max is a good dog. I'm not a big fan of taking a dog fishing, but my wife was out of town and there was no one to watch the bowzer. Fortunately Max understands the word "back" and will stand behind me while I fish...until the hooked fish jumps. He won't go in after it, but he can't help but to take a few steps forward. Max likes fish. Probably a little too much for their safety.
The next day I headed up to the brookie water. Nice hike. Found a couple of vehicles abandoned either down the side of the gorge or up on the old railroad grade. When junk like that has been around for sooooo long, I almost consider it part of the environ. ALMOST.
The waterfalls are beautiful in this locale. They also provide a natural barrier to keep the brook trout safe. Bows below, brooks above. Nice.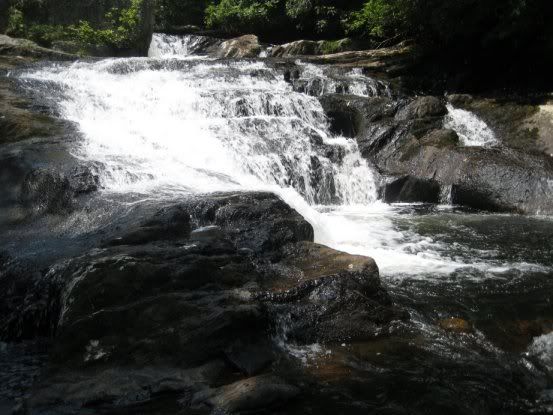 Other than the cahnge of species, the fishing was just as good upstream with the same oversized caddis and a prince too. I consider the prince to be the plaid suit of flyfishing, but it works well.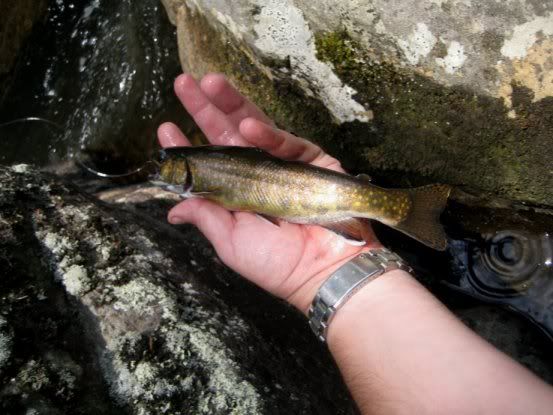 One fall into the drink and several fish later I hopped out of the creek to head back to camp. Found this guy "clinging" to my ankle. He was nice enough to pose on my thumb for the picture.
Good times. Wish you could have come along.
Take Care,
Timbros.