After 13 days of not fishing, I was having some serious withdrawals.  I couldn't eat or sleep, I was grumpy, I was starting to go into detox.  I'm a trout junkie and can not go that long without hitting the stream and getting my fix.
The day started off pretty strong.  Had I been creeling, I could have had two limits in the first thirty minutes.  Nothing too big, mostly 7-8 inch rainbows and a few browns.  
I finished up that section and hit up another little section of stream.  Nothing too fancy, but I did pick up a few bigger ones.  I must have been getting tired because I "LDR'ed" quite a few later in the day, a few that were of decent proportion.  Big Daddy Rainbow and Grandpa Brown both gave me the slip today.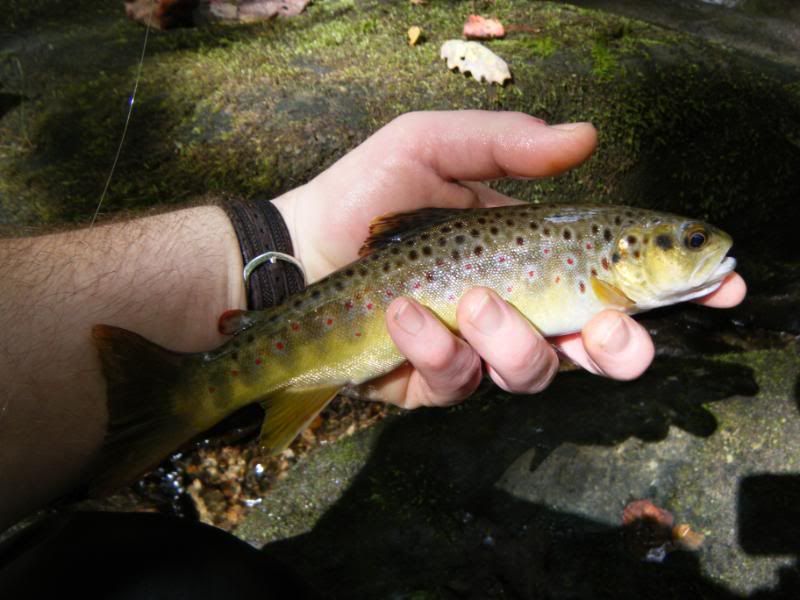 I finished up that section and decided to go way down stream and fish a section I had never fished.  I was not impressed to say the least.  I caught a few adult trout, at least a dozen chubs and horny heads, and about a half dozen baby browns and rainbows.  I guess the baby trout are a good sign the stream is reproducing.
How old y'all reckon this beast is?
All and all, I had a blast and it was a great day on the stream.  I did see another angler today, only the second time I have ever seen another person out there.  
I laid off the green weenies, I used standard nymphs for droppers today.  Most fish were caught on nymphs but I landed maybe a dozen on the dry.
Had I used bead head weenies, I know I would have brought triple digits to hand.  Trying to be a purist is killing my catch rate.

_________________


Wild troutin', blue linin', fly flingin', camo wearin', redneckin' elitist.