A good buddy of mine made an exploratory trip into the mountains Saturday to check on the brookies and see if the spawn was winding down. He made this trip while I stayed at home to watch my beloved Hokies take down the hated Miami Hurricanes and book their trip to the ACC championship game. There are priorites and then there are priorities I guess.
Anyway, he reported back that the spawn was definitely over so we headed out this morning for a blitz up a new to me crick on the Northern East slope of SNP. I had been wanting to try a new creek that I've heard good things about but we arrived at the parking lot to find a couple anglers already heading up the trail. Since you can access 2 creeks from the lot, we were forced to go up the alternate, adding some grueling distance to the hike in. I wasn't too bummed because the alternate was new to me also and I was in the mood for new water.
It turned out to be a nice little stream with some good gradient in the upper stretches, which created some nice plunge pools and deep holes. The bottom of this one is pretty flat and good water is few and far between. We didn't start getting into fish on a regular basis until we got above the first waterfall. Even so, we caught a few small ones down low. I snapped a pic of this little fella because I admired his enthusiasm. I'm not even sure he could have swallowed that nymph...
Things started to look a little better as we got higher up the mountain.
And we started to pick up some slightly better fish. This was the best of the day for me.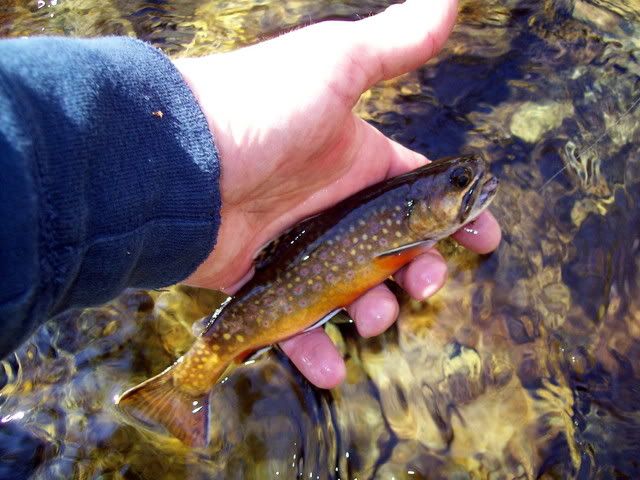 The fish seemed sluggish and a little worn out from the spawn and the takes were very subtle. Things should improve over the coming weeks, if the levels and weather hold up, as the fish start packing on the calories to recover.
All in all it was a great day with another new stream checked off the list. We still have to get back out there and try the stream we originally intended but we've got all winter to get that done.