I caught up with Al, down at the Pechmann Center, on Wed. for the February Wounded Warriors program. The turnout was a bit disappointing, especially considering what kind of day it was, bright and sunny with no wind, although it did stay down in the 40's.
I only took a couple of pictures. One of John Smith's fly tying class. This activity has become increasingly popular as John shows the guys various techniques and introduces them to new materials. He coached these participants through the process of tying 2 flies, and then took them down to the ponds to try them out. I watched the soldier in the middle catch a nice bream on his. I could kick myself for not getting a picture of that (I was across the pond) when I found out it was his first fish on the first fly he'd ever tied.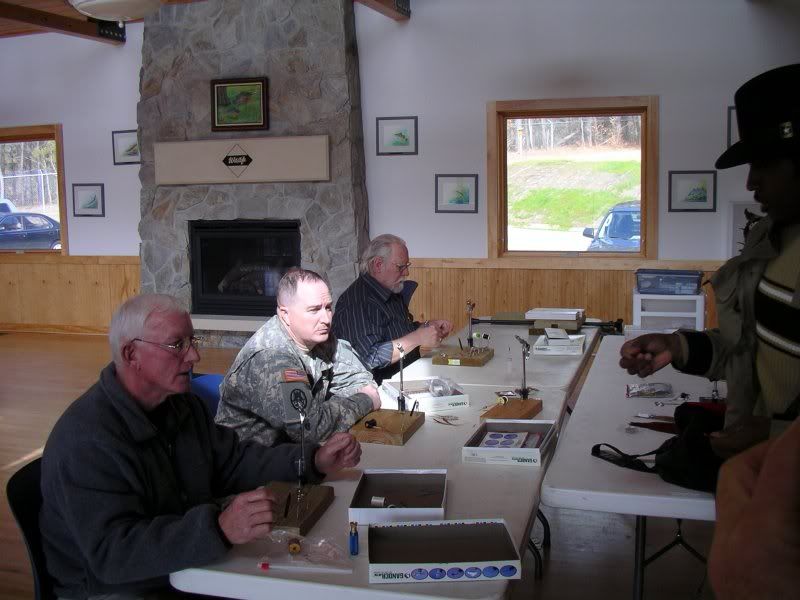 Later in the afternoon, Al and I were giving the trout some exercise. We both caught a lot of fish, although the bite was a bit tentative. At one point, I was getting 6 to 8 takes for every hookup. They just weren't holding onto the fly. This was a nice brown that slipped off just before the shutter snapped. I don't think Al meant to let it go quite that soon.
...but I managed to get this nice bow that I caught.
This Sat. is our 3rd basic clinic. The fish are in great shape and raring to go. It should be a good one.