I've given myself the goal to visit as many streams within the Shenandoah National Park as my legs and lungs will stand. To that end, Marty, new guy Andrew, and I hit up another new crick today on the western slope. Once again, this stream has no trail and requires a substantial bushwhack to even get to it's upper reaches. From that point, you continue down as far as you like and fish your way back up. I was excited about the days prospects as soon as we parked the truck this morning but also knew that there was going to be some pain and suffering involved. This was our starting point - the creek is down there somewhere.
After the initial scramble down a very rugged hollow, we were greeted with this beautiful waterfall that's located on the upper reaches of the creek. We took a few minutes to admire it and continued on down the mountain.
Shortly thereafter, we came to another steep drop that forced us to take the long way around. This is the view from the bottom. As I snapped this photo I was thinking that I was not going to be having much fun making my back up around these things at the end of the day.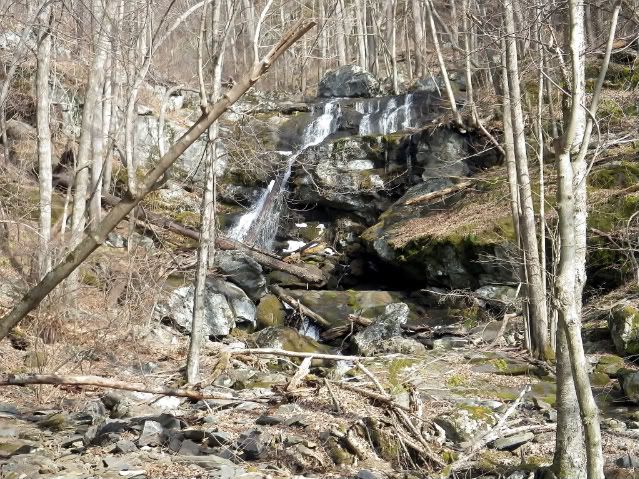 We finally made it down to the point that we felt would give us plenty of water to fish and still make it out of there before darkness set in. Immediately we noticed fish hanging out near the surface - a welcome sight. I clipped off the nymph I had tied on at the truck and switched to a dry. It didn't take the fish long to show us that it was the right decision.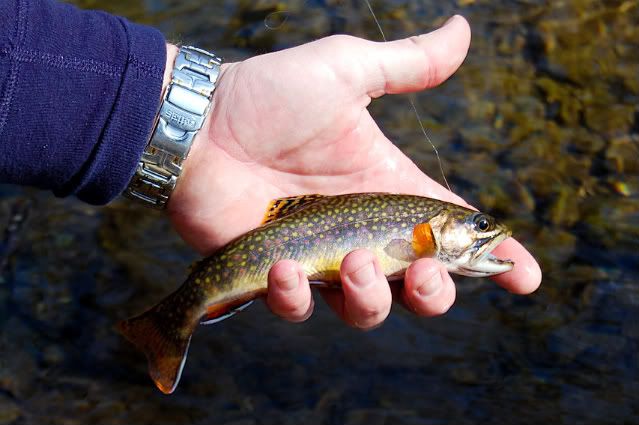 The morning clouds gave way to midday sun and it turned out to be a beautiful day on one of the hidden gems of the Park.
The shafts of light coming through the water made for a nice effect on this shot - a good brookie hanging out after the release.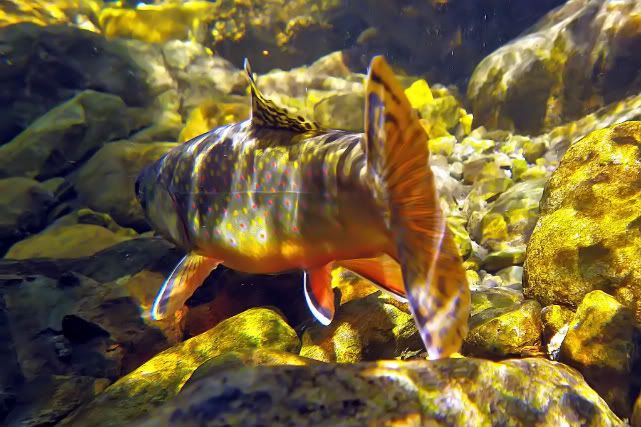 There were a bunch of olives hatching as well as some stoneflies and little dark caddis. I was expecting to see some Quill Gordons but they never showed. They started hatching last year in February (in the snow) so I was surprised we didn't see a few. It didn't really matter though because pretty much any dry fly was drawing a strike in almost every pool.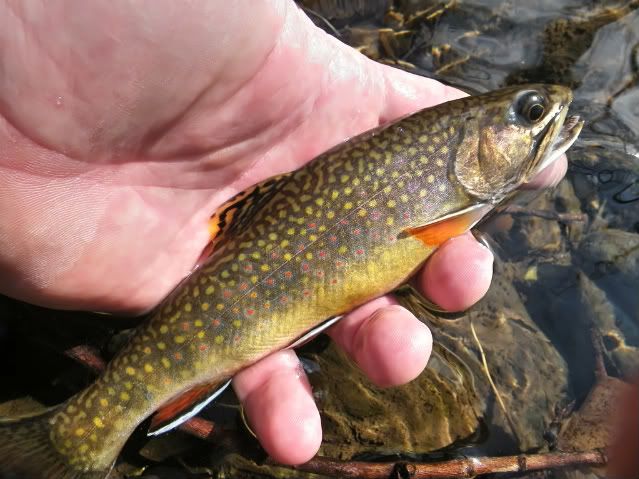 Even the snakes were out enjoying the warm day - luckily we didn't encounter any of the dangerous kind. I entertained the thought of picking this little fella up to try to get over my girlish fear of snakes - but the idea quickly faded and I ended up wussing out.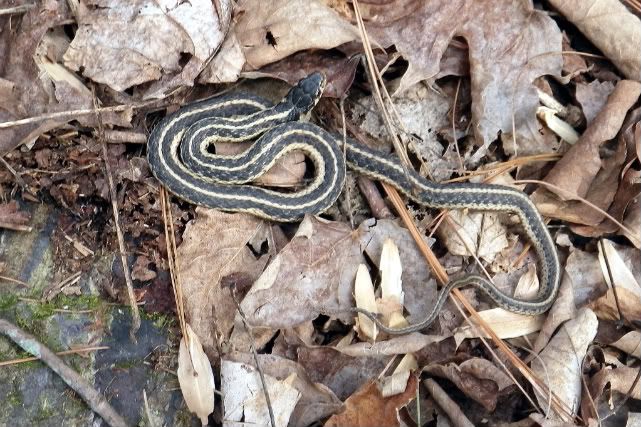 We fished back up past the waterfalls and then made our way (slowly) back up to Skyline Drive, where I was happy to peel off the waders. The hike out did indeed involve some pain and suffering, especially for someone of my particular build, but was definitely worth it for that kind of fishing.