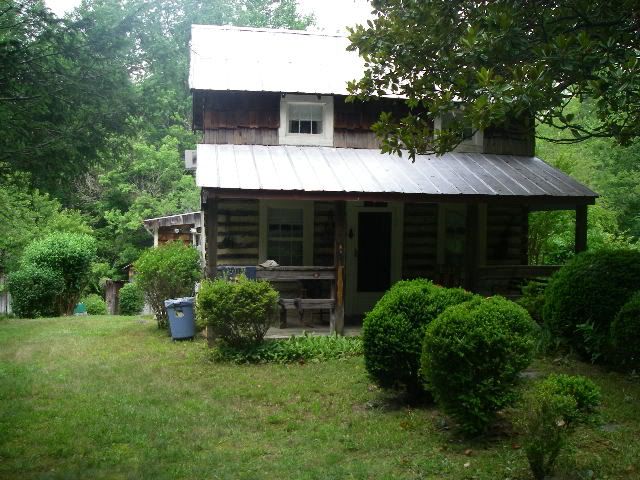 Several of the NCWRC John E. Pechmann Fishing Education Center volunteers who unselfishly donate their time and talent to make the annual fly fishing clinics and the monthly Wounded Warrior events possible accepted my invitation to gather at my "get-a-way" cabin just across the state line in the town of Bassett Virginia. This town is the home of Philpott Dam whose cold water discharge into the Smith River provides thirty miles of excellent tail water trout fishing. I've made this an annual outing to show my appreciation to the folks who do all the work while letting me think I'm the one in charge.
Because a few of our volunteers were new to wade fishing for trout I enlisted the help of a couple fellow Smith River Trout Unlimited members. The guys who did not take advantage of the invitation missed the opportunity to be guided by this gal who knows the river well and also understands how to work around the Corps of Engineers generation schedule which was an issue Friday afternoon the first day of our outing.
Those who arrived early hopped ahead of the generation flow and caught a few fish a little south of Bassett.
By mid afternoon a few more guys had arrived and got settled in at the cabin. Because generation on Friday was from noon to 6:00 pm we sat around and talked, washed a few snacks down with cold beverages and was pulling on waders up near the dam just in time to catch falling water.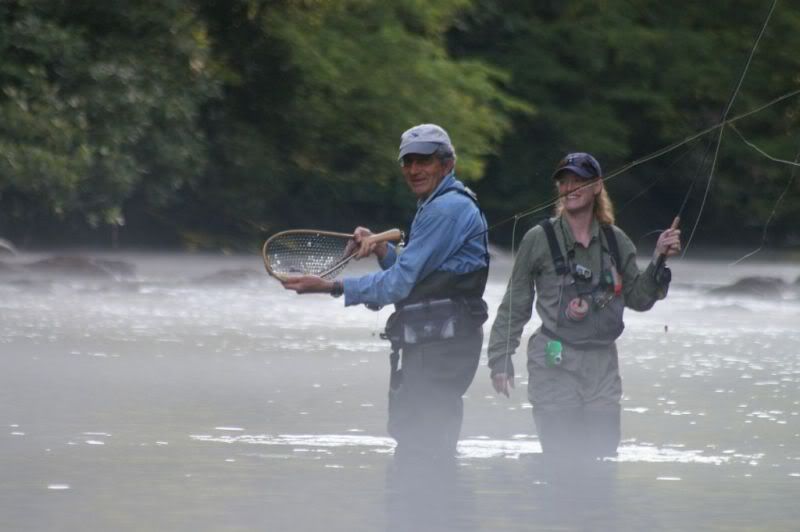 There wasn't a big hatch that evening but the flow of generation had broken a lot of midges and other bugs loose which triggers a "good bite" on falling water. Everyone caught fish. I caught a half dozen using Ben's Beetle and Zebra Midge. Those new to the river marveled at the fog bank and distinct change in air temperature as you got close to the river. They also took notice of the 44 degree water on legs and feet. One fellow's waders sprung a leak which cut his evening short - luckily I had a spare pair his size back at the cabin so he was able to fish the following day.
Late dinner of venison chili washed down with a few adult beverages. Good natured ribbing and retelling of favorite stories. Everyone slept well that night. We were rejoined Saturday morning by our local SRTU guides and a couple of volunteers who came just for the day. After a good breakfast of wild hog sausage, scrambled eggs, toast, etc we felt sufficiently stuffed to fan out along the river to try our luck once again.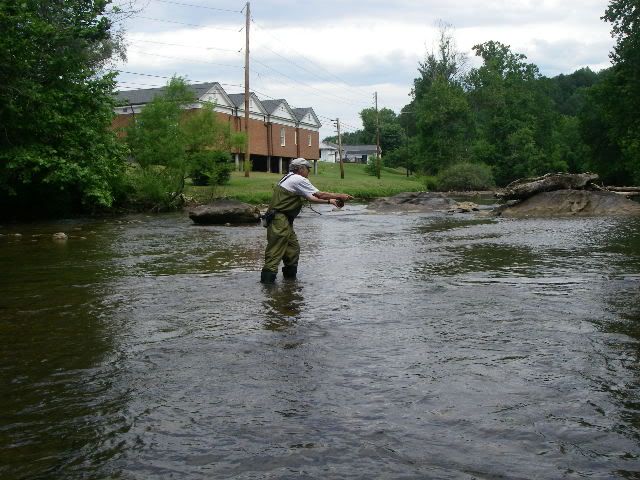 The fishing was good but the bite was off.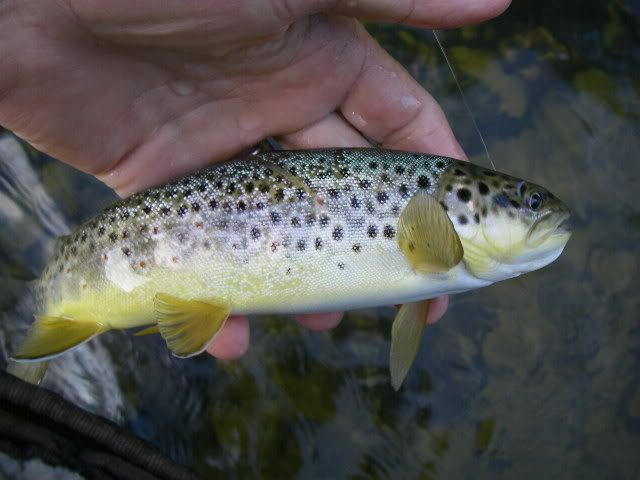 A few such as this were caught. A check at mid day revealed it was the same for our group all along the river. I did check later in the day with a friend whose vehicle I had seen at a prime spot and was told it had picked up by late afternoon. Our "easy on the eyes" guide also fished at dusk Saturday evening and reported doing real well.
We quit at mid afternoon and everyone assembled back at the cabin for some good cheer, tall tales and venison kabobs. Just as we were rolling out the grill a nasty storm blew through so the other half of our local guide crew entertained us with "true stories" from his past. Once the worst of the rain had passed we put the grill on the front poach and proceeded to satisfy hungry appetites.
I had let out the news that my birthday was on the 17th so the damsel side of our group conspired to sneak off to bake a cake and make up a card for the occasion. Thank you all. Being 59 (plus) makes me appreciate little things like that.
About an hour before dark several of the locals showed up to entertain us and also let us know they might consider being the entrée at next year's gathering.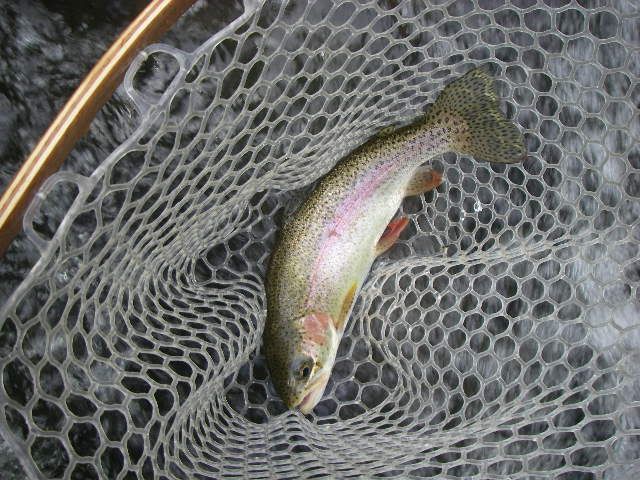 We packed up the following morning with some going directly home and others heading to the Smith for one last shot at catching some stream spawned trout. This rainbow might not have been stream spawned but he came from an unstocked area and had been in the water so long that all the hatchery abrasions were gone and he looked real pretty. He was also a nice one.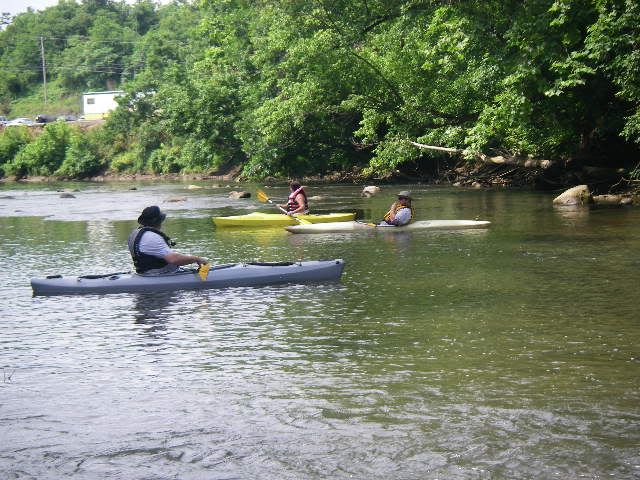 We were treated to a "kayak hatch" the last morning. They did not bother our fishing one bit. They probably planned to shoot through a big pool we were fishing but instead were courteous and slipped behind us through a skinny riffle I was pleased to see them and told them so. In my opinion more folks using and enjoying the river gives them "ownership" which will translate into support for the betterment of all, including the fish.
And so ends a very good weekend. I certainly enjoyed showing off my home water to those who support me in my role as the volunteer coordinator at the NCWRC Pechmann Center. I can't say enough good things about the cadre of volunteers we have assembled. They put in a lot of their free time to help bring others to the sport of fly fishing. NCWRC provides the venue and equipment but without the time and expertise of the volunteers these programs would not be possible. Thanks also to SRTU members Lisa and Paul for providing local guide service and Brian for helping with the pictures. The Good Lord willing we will do it again next year