Been real busy getting our tornado damage squared away, plus I've got some other things going on but contrary to what you may think, I am still fishing. This report is a little dated but I did test the new Smith River weekend generation scenario last weekend and found it to be a great opportunity to put a good bend in your fly rod. As many of you know the COE and Dominion Power have agreed to a 4 hour burp of water with one turbine on Saturday's from 1:00 to 5:00 pm starting on July 2nd and concluding on September 3rd. This weekend generation was requested by local organizations in hopes it would stimulate tourism in the form of paddlers and float fishermen who heretofore were limited in their use of the river without generation on weekends.
A Smith River TU buddy and I headed for the dam area about 4:30 pm so as to be ready for what has traditionally been good fishing soon after the turbines shut off. We call it "fishing falling water". When we crossed the Hwy 666 bridge near the Trent Hill canoe ramp we observed several kayakers taking advantage of the high water. We also saw several empty canoe and kayak racks on vehicles up near the dam which indicates folks were riding the surge downstream.
We both initially fished just downstream of the dam. I was fishing "Ben's Beetle" with a Zebra Midge dropper and had several hits before finally hooking up. Once I got my timing down, I caught several just like this.
Paul fished just downstream of me and reported 7-8 fish in a row on a Caddis indicator with Pheasant Tail dropper. Note the bank of fog which develops soon after generation. The air temperature was 87 degrees but the water was a bone chilling 44.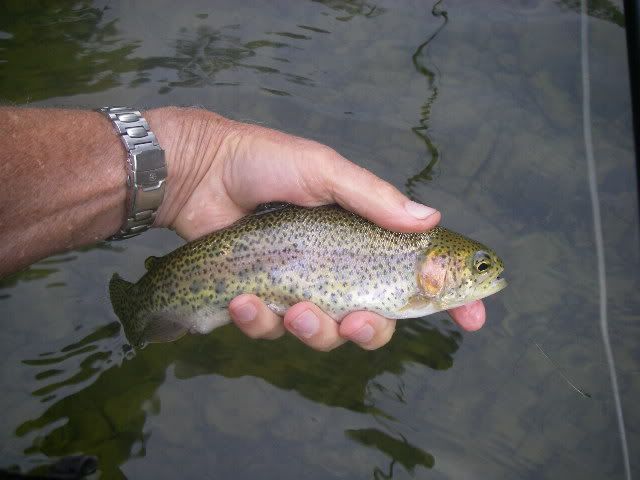 We moved downstream to a section where DGIF shocking survey's have rolled up fish by the 100's. I was still fishing a mini-trotline consisting of a bushy stimulator, "Ben's Beetle and midge dropper. This is a handful to cast when you're tired and I was spending more time untangling then fishing. I finally cut the whole thing off and tied on an indicator and Allieworm and proceeded to catch fish just about every 5th cast. Lots of rainbows in this section.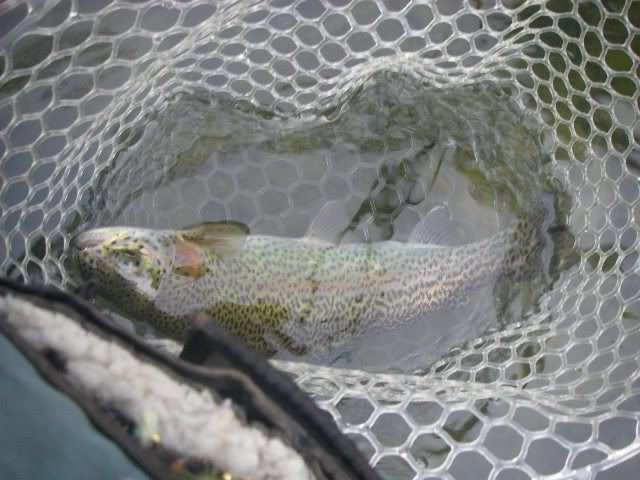 One was a real nice one. Glad I had my net.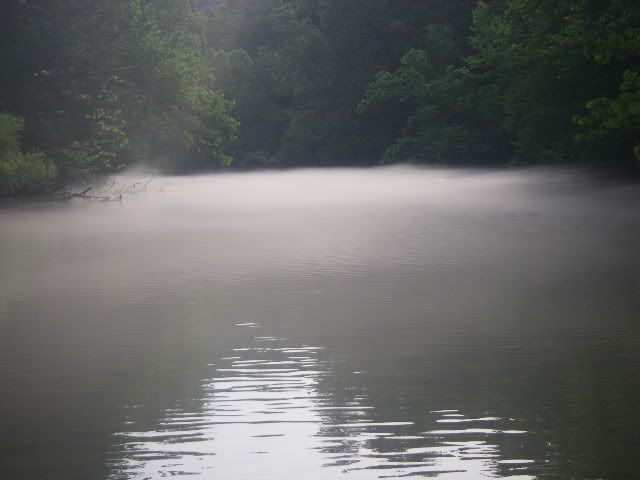 The fog really rolled in. At times I had to shorten my cast in order to see my indicator. No worries, I ended up well past double digits - not bad for a short time on the water.
The following day I did a little deer scouting and even tried to pick a few black berries. (They are not ready yet - be another week at least up where I was picking) - Took a fellow SRTU member to a secluded pond where I have a Jon boat stashed. The bass and big bream were easy pickings and lots of fun.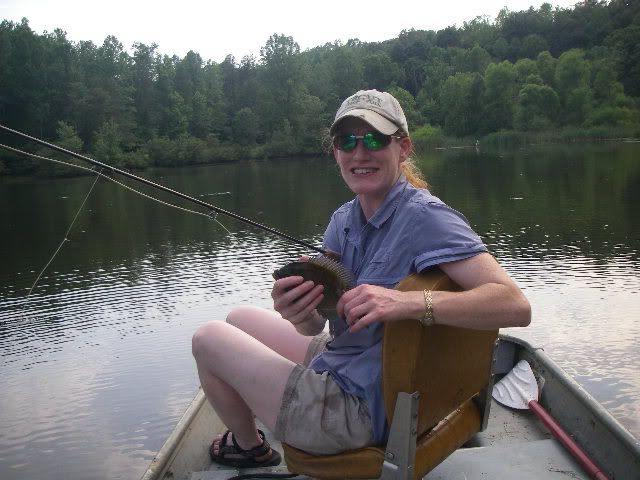 BTW this gal is an excellent fly fishermen (or is it fisherwoman) - She has started her own guide service with an emphasis on getting women into the sport. I've sold my guide service to her for $1
and will be referring all folks who contact me to her. They will be in good hands.
Good weekend and good to be back doing a little fishing. Tested my theory about the weekend generation and found it did not bother me a bit. Could have fished all day by moving around a bit and for those who can stay late, there is some excellent fishing up near the dam and even down in the old Spec Reg section if you move downstream with the falling water