Possessed and I hit a small stream today. The plan was to fish a tributary I have never fished before. I fished a short section while hiking with my family and have been itching to get back since. We packed up the rain gear, mentally prepared to get wet, crawl over and under stuff, and head up the mountain looking for trout.
We hiked in and geared up and I noticed that the water was down noticeably. We head on down the the trib and start fishing. Several holes and nothing. Change up fishermen, nothing. Nothing rising, taking droppers, no fish holding in good spots, and no fish spooking. Nothing, nada, zip, zilch. Before we got too far in we had a pow wow and decided to head back to the main stream. Hoping that more water was the solution. We were right, kinda, but just barely.
Generally I like fishing for browns when it's overcast and rainy. I've had some great days like that. But today was not one of them. We had one brown hooked all day. We got into a couple brookies early, but even they were tight lipped.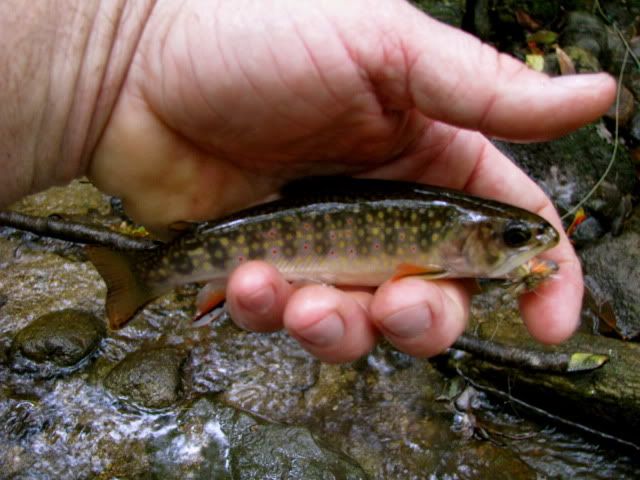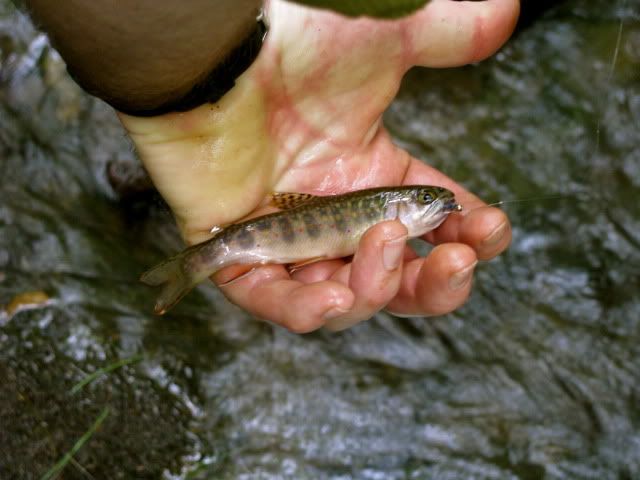 I can't say it ever really turned on. But we kept at it and managed to squeeze out a decent day of it. Beautiful creek, a hand full of fish each, good company, and a fishing partner that was not on the verge of death makes a good day. I nearly killed a guy last year taking him to a stream across the road.
You never know what your in for with a new fishing partner. He did not even complain about climbing on hands and knees up the hill and working through the rhodo thickets, though that's probably because he was too busy trying to breath.
Steep is just not an accurate description for that hill. Any steeper and we would need ropes. Though we did follow someone else's footprints through the rhodos.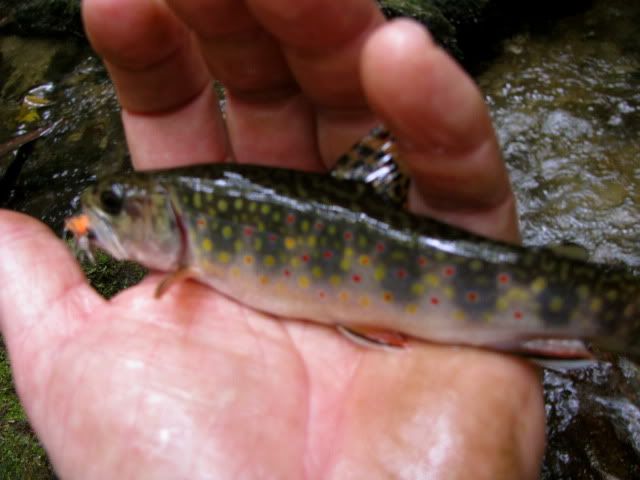 We also seemed to be following a coyote up the creek. Tracks were everywhere. I don't think yotes eat brookies, but we'll blame it on him too. And had a young bear track on one sandbar. Beats sitting at home.