With 2012 just around the corner the NCWRC John E. Pechmann Fishing Education Center, located on the west side of Fayetteville, is busy preparing for their annual series of fly fishing clinics. Preparations began several weeks ago with the draining, cleaning and refilling of two ponds which will be the home for 1000 trout who make the long journey from NCWRC's Bobby N. Setzer Hatchery in Transylvania County. Volunteers have also been busy inventorying gear and changing reels and fly lines on the Center's fly rods. It all came to a head on Thursday, December 15, 2011 when NCWRC fishery technicians and fly fishing clinic volunteer assembled for the arrival of the trout.
The fish looked healthy and were exceptionally large this year. Fat and chunky would be a good way to describe them. Most appeared to exceed the 12 inch mark. They will put a serious bend in a fly rod.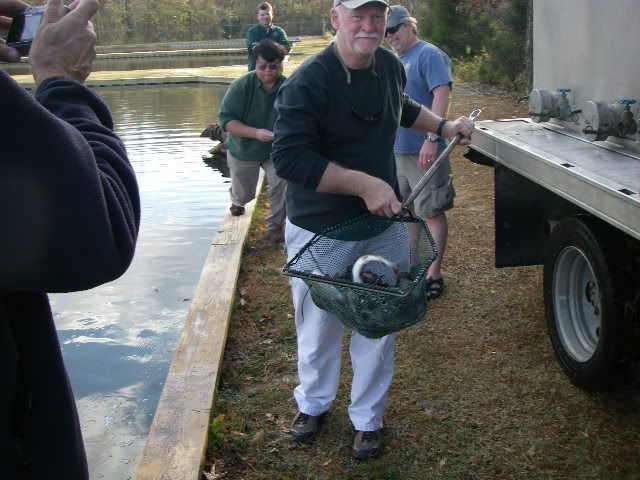 Amy Pechmann, widow of John Pechmann, joined us to welcome the trout. She said "it's moments like this that I feel John's presence"
Lots of cameras .
I expect you will see some of the photos on the NCWRC website and in the NC Wildlife Magazine.
While the trout are adjusting to their new home the Pechmann Center staff and volunteers will be making last minute preparations for the first fly fishing clinic scheduled for Saturday, January 7, 2012. A complete list of clinics is posted below.
January 7 1st Intro to Fly Fishing Clinic
January 21 2nd Intro to Fly Fishing Clinic
February 4 3rd Intro to Fly Fishing Clinic
February 18 Advanced Fly Fishing Clinic
March 10 1st Boy Scout Fly Fishing Merit Badge Clinic
March 24 2nd Boy Scout Fly Fishing Merit Badge Clinic
We will also resume the Wounded Warrior / Military Appreciation fishing events in January. These take place from 1-5 pm on the 2nd Wednesday of each month.
Lake Rim Park (424-6134) handles the registration for the 2012 clinics. The cost is $5. Pre-registration is required. The basic clinics fill very fast so pass this information along to all of your friends. All dates are on a Saturday with a start time of 9:00 am and end time of 3:30 pm. All equipment is provided. Participants should dress appropriately for a day outdoors. For safety purposes we also require each participant to wear a hat and some form of eye protection (safety glasses, prescription glasses or sun glasses are all acceptable)