Some much needed rain came through last week to recharge the streams but since it happened late in the week the opportunities for good weekend fishing seemed limited. So, I sat at home on Saturday and kept my eye on the gauges. By late Saturday, they were back down to the very upper range of fishable. Somewhere between 180 and 200 seems about right to me and anything above 300 is usually a waste of time. By Sunday morning it was at 299, so I packed up the truck and headed toward the Park.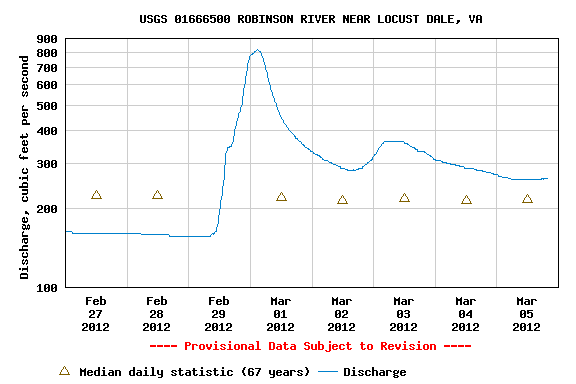 A couple buddies from school have been wanting to try brookie fishing for a while and they decided to tag along even after the requisite warning that conditions would not be ideal. We consigned ourselves to the idea that we may be making a long hike with nothing to show for it except some nice scenery. The numerous waterfalls on this little crick were pretty impressive with the extra water volume and I was happy that my friends seemed to appreciate them as much as I do.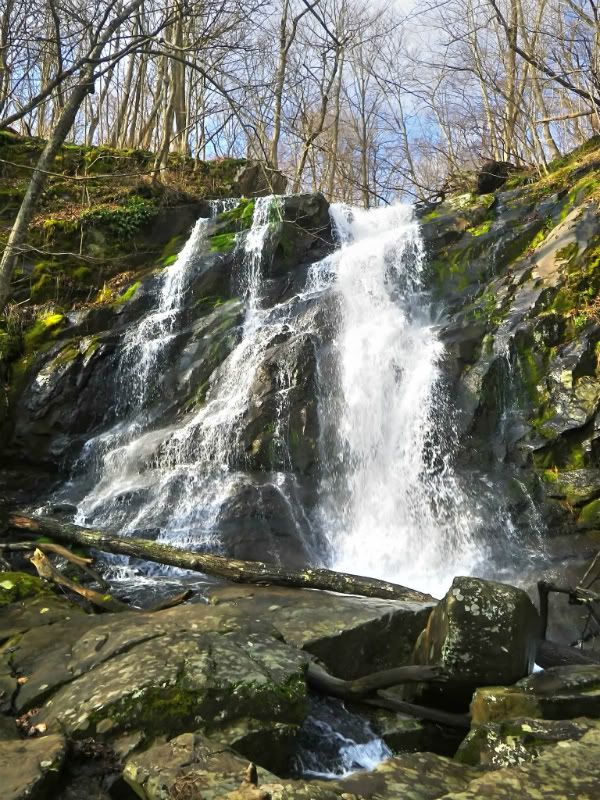 With this amount of water in the stream, I knew it was going to be a day of dredging the bottom. No fish in its right mind was going to come up through all of that water.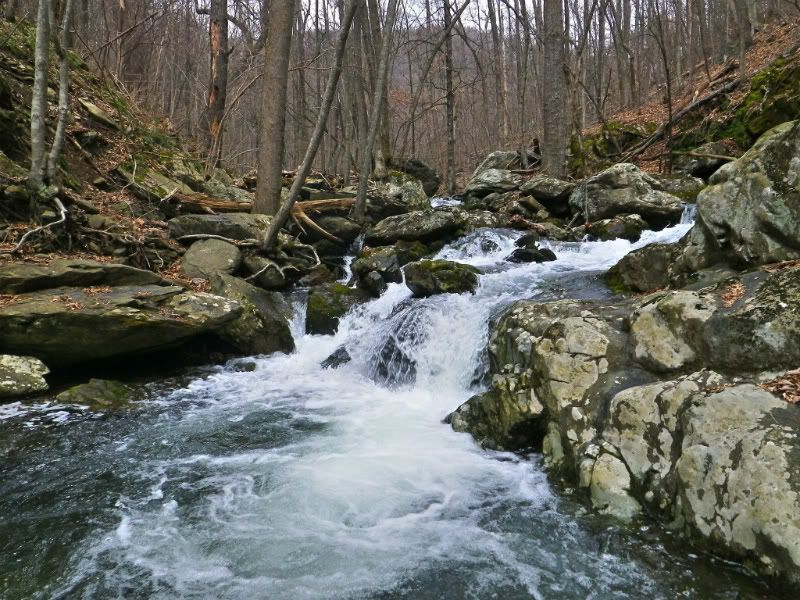 The fish have been on dries all winter (no matter what our resident brookie expert says), so a day of dragging the bottom was actually a change of pace. By concentrating our efforts on the tails of the pools, where things were a little more calm, and staying deep, we were able to coax a few fish from the depths.
My friends are pretty new to fly fishing in general and brand new to mountain creek fishing, but they managed to bring a few fish to hand as well.
You always want someone to have a good day their first time out so I was happy that my buddy connected with this nice fish. Not a bad fish at all for a first timer.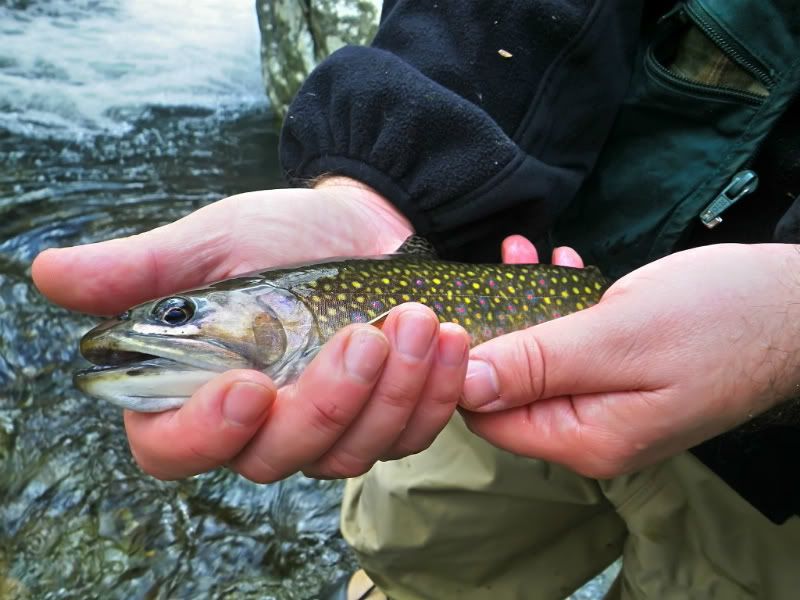 We continued making our way upstream, skipping a bunch of water that was too fast, and picking up a few fish here and there.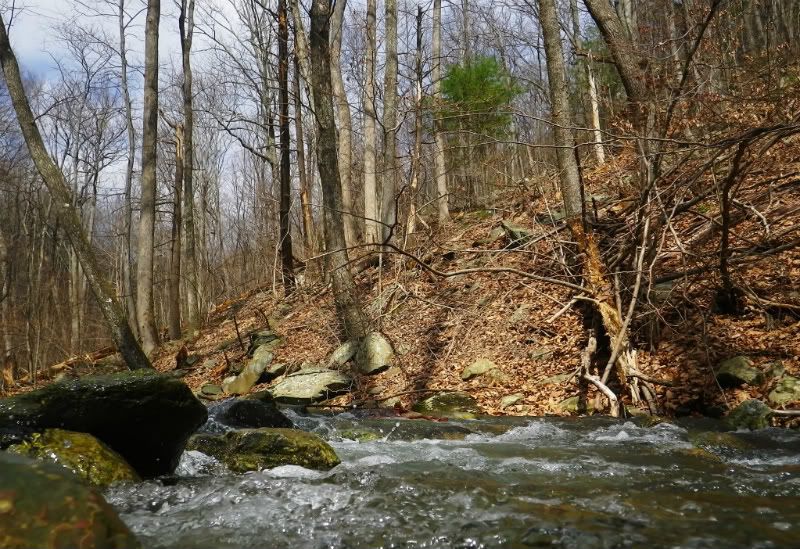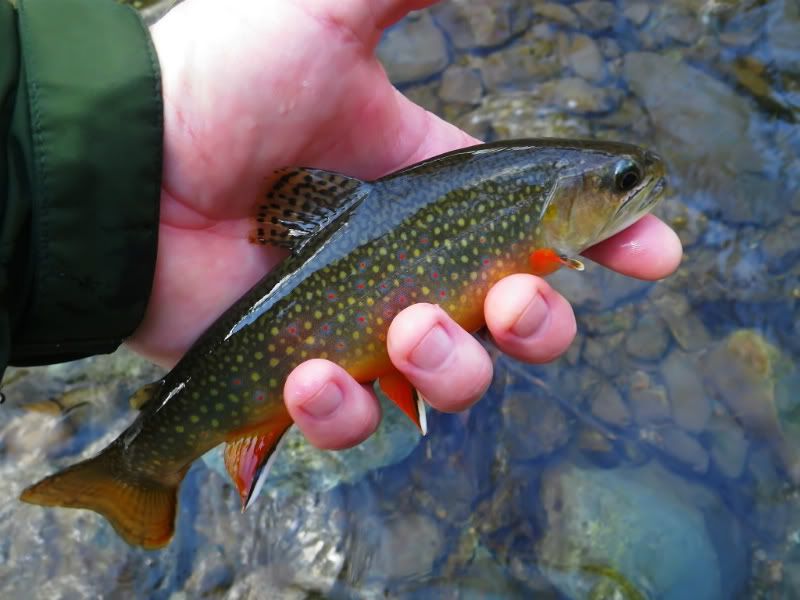 Some of the big pools produced well with heavy flies and a few split-shot.
But things were more manageable when we got above several feeders that were contributing some volume.
I also warned my buddies about the hike out of this drainage but it never sounds as bad on paper as it is when you actually have to do it. I could see the dread written all over their faces as we finished fishing a few last pools and prepared for the walk out. 2.5 miles from the valley floor up to Skyline Drive is pretty brutal even for someone who does it on a fairly regular basis. We made it without too much trouble, but it took a while. Let's just say that for once I was the strong hiker, which is not something I get to experience very often fishing with MFTG.