For a little over a year now, I have had a young guy working with me on almost a daily basis.
He has listened to all my stories of fly fishing and of PFF's and has always said it was something he would like to do as he likes to fish. But he has heard horror stories from family members about fly fishing misadventures. I told him someday I would set the record straight on this fly fishing nonsense.
Well as all young men do, he has fallen for a girl and they need to move to Houston for a job opportunity for her. Our fishing time table got moved up since he is leaving next Wednesday.
I decided that I would go ahead and take him out and arranged for he and I to have the day off. I also decided to let Devin go too since Dev knows him fairly well. I could not think of a better farewell for my friend than for him to spend a day on the water with Devin and I witnessing first hand our passion for the sport and the great relationship Devin and I have as father and son.
Our destination was supposed to be Stone Mountain and the Mitchell River, We actually drove through Stone Mountain, one end to the other, but for reasons longer than I care to explain, destiny ended up finding us at Helton Creek, which is where I originally wanted to go to begin with. Strange how things work out sometimes.
After a few casting lessons in the lawn by the stretch at Zydeco, it was time to go ahead and get in the water. Fishing from the bridge down towards the big pool at the bend at Zydeco. Immediatly had fish rising to check out the woolly bugger but no takes.
Black one.... Nope....White one...Nada.... Brown...Huh uh. What the crap is going on. Finally back at the bridge I had to replace a leader and tied on the old tested egg with a prince nymph dropper. Bam....fish on..... next cast BAM fish on. All caught on the prince nymph. Several more fish rose but were missed.
Since my friend is of Puerto Rican decent, as a joke, I tied up a nymph in the Blue white red colors of the PR flag. The next hole just for giggles I tied it on to see what would happen. I told him I would crap my pants ifit actually worked. 3 Casts, 3 fish brought to hand. We laughed our asses off over than one, But you can bet I will be tying more "Serrano Specials" up before kids and dad's . GUARANTEED. I fished a little, but not a lot. I spent most of my day insuring my friend had a quality experience. He was grinning ear to ear most of the day, so I think he did.
In all he landed over a dozen fish, broke off a monster, LDR'ed about twice as many, and missed so many strikes I gave up counting. He and Devin even had a double hookup. We laughed our butts off, had a great streamside lunch at the campground, and enjoyed a couple of ice cold beers streamside to boot. The weather was perfect, the stream levels good with a slight stain to the water. Just an incredible day spent with my kid and my friend. I could not think of a better way to send him off. He is one of the best people I have ever met in my life, I will miss him a lot.
Sharing a laugh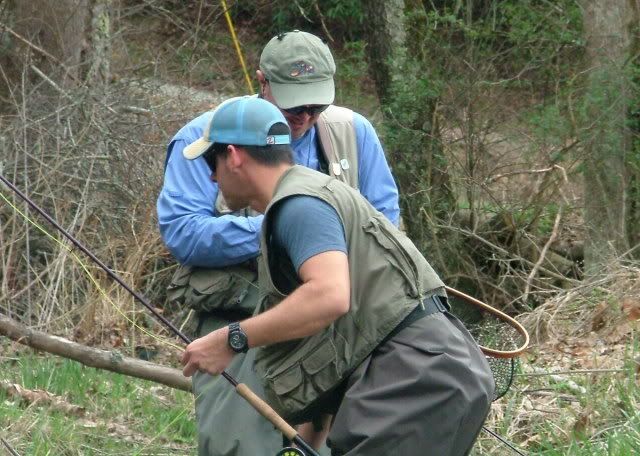 Searching for troots
First of the day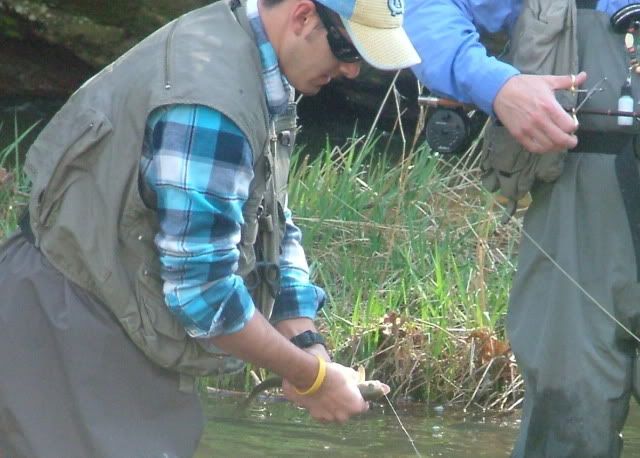 gotta love a streamside Sam Adams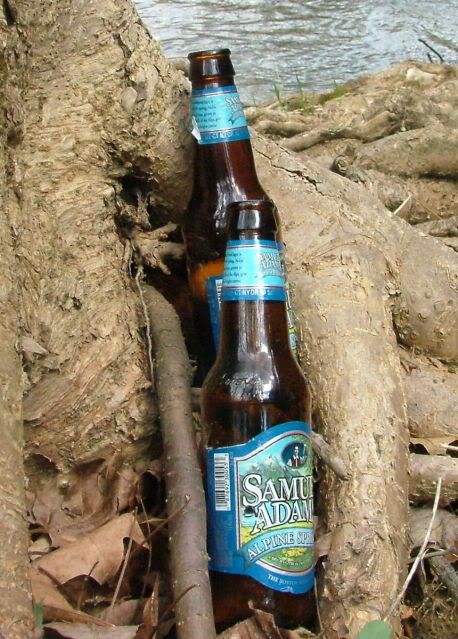 Bet ya'll know where this one was caught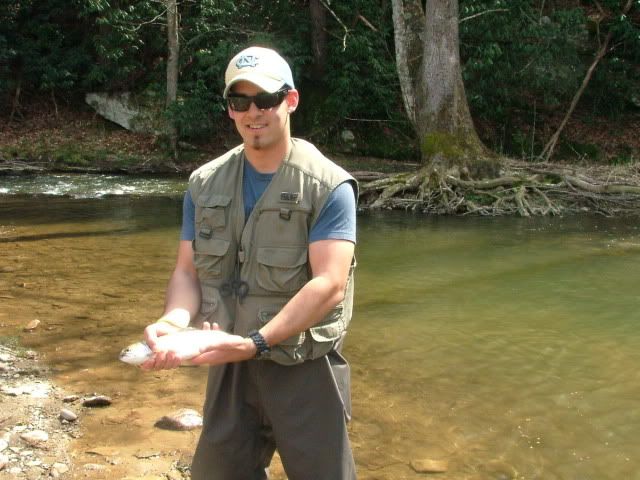 double hook up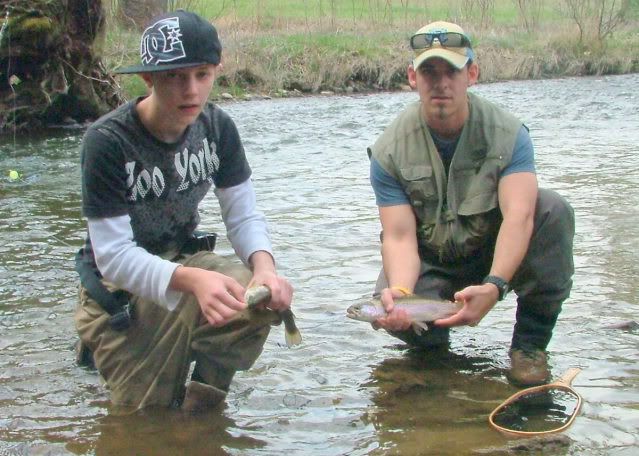 reading the water