The repairs appear to be complete at Philpott Dam and they are now back on a generation schedule. The schedule is not great for afternoon fishing but at least it is a schedule. During the 70 or so days while repairs were underway most of the time the release of excess water was a little too fast for comfortable wading. The norm now is for minimal flows during non-generation times and full bore during generation. Learn the flow rate and you can still stay ahead of the fast water well into the afternoon. Afternoon fast water is good for the "paddlers" who are relatively new to the river. Personally, as a long time Smith River fisherman, I welcome the paddlers because the more people who use the river the more clout we have in making changes which will benefit us all. As always call ahead (276) 629-2432 to check the schedule. They normally update the announcement on Friday but it does not hurt to call the day you're going fishing to make sure there has not been a change.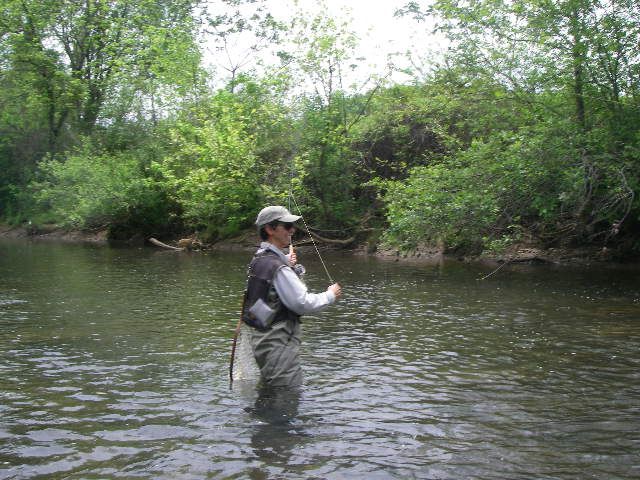 Sunday morning I linked up with a good friend and fellow member of SRTU for a little fishing. We had worked a Boy Scout event the day before and felt we owed ourselves a little time on the water. This lady is a good fly fisher but had not gone fishing in awhile and it took her time as she said "to work the kinks out of her casting". The fish were there and she had the prime spot but ......................................
I honestly tried not to catch any coming behind her but this one decided to commit suicide on a zebra midge.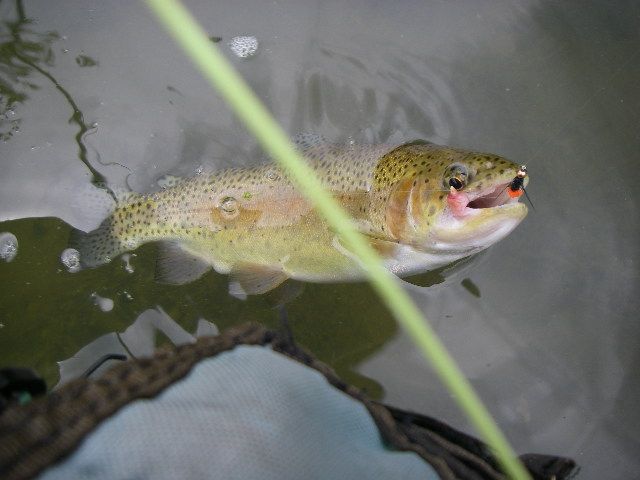 Several more alternated between some silly orange butt nymph and the zebra midge while my companion worked the kinks out of her cast. We soon worked our way through the best of that run and decided to relocate to a similar section a short distance down river.
The prime lie went to my companion while I worked a section well downstream. I am happy to say I glanced up and saw a substantial bend in her rod. She had it in and was unhooking before I could get my camera out.
My downstream section gave up several small browns and one stocked rainbow. Time to head back up stream to see what a regular bending of the rod was all about.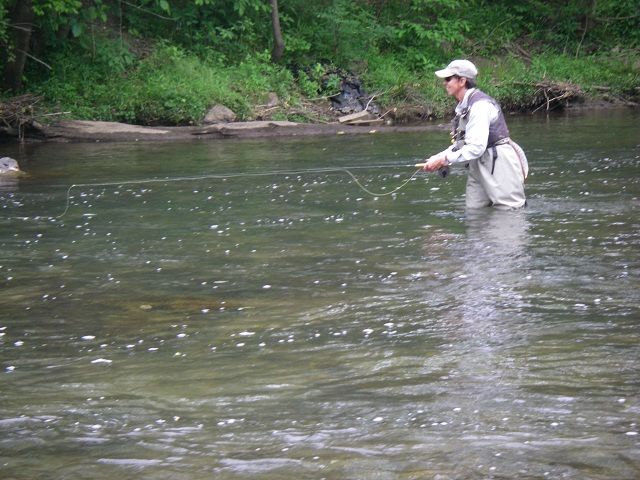 What a difference a few fish make. That smile is what it is all about. She got that kink worked out of her casting and found a seam of fish which made her look around for landmarks so she can return to do it all over again. Ya got to love it when the day ends like that! Great company, good looking water, a few fish and lots of smiles.