Well - it was a great trip - one we will never forget - my youngest decided to skip the trip, so my oldest (Jay Jr.) and I headed out Friday after lunch - we headed right into a heavy rain, but it cleared as we got to our destination and had clear skies for setting up camp. We immediately got rigged up and he threw on his waders - we were hitting a wild trout stream as his first experience. My prayers were answered quickly, as within 5 minutes, and a joint cast - we had this: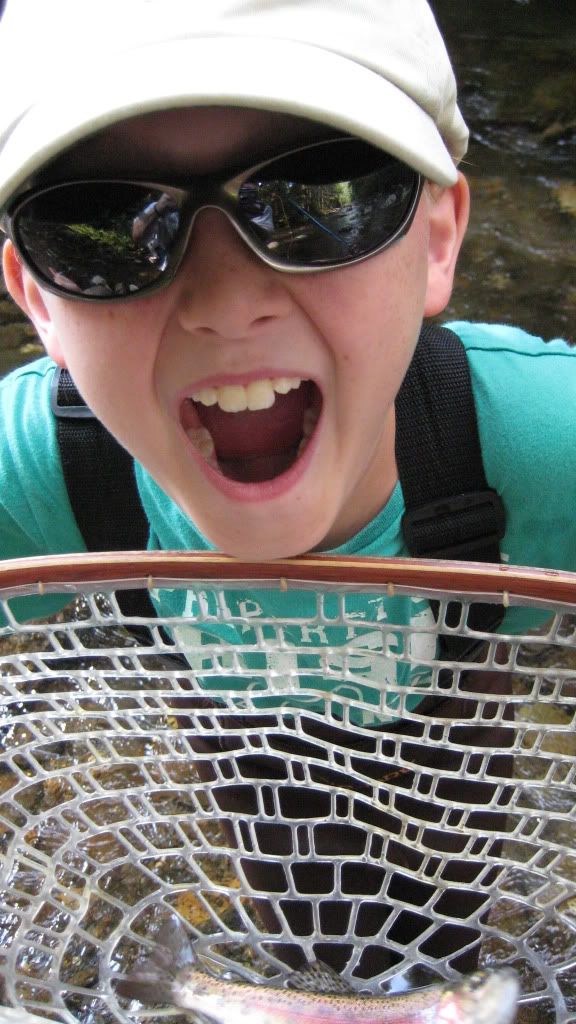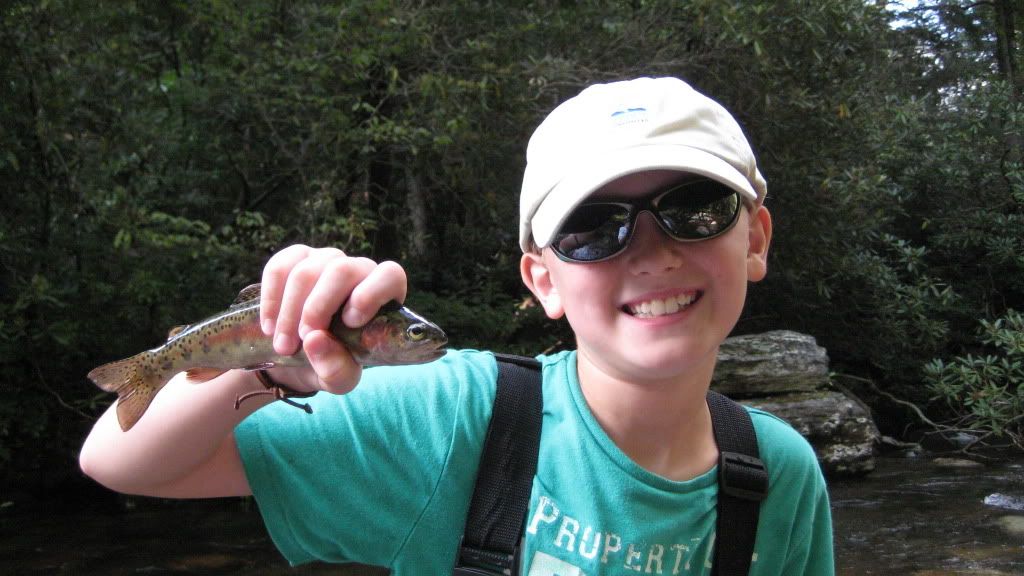 He caught a couple of dinks (solo), and we went back for dinner. Now, JFey will attest to this - I frequently have some comedic disaster on trout fishing trips - this one is no different. We barely got dinner cooked when the skies opened up again - and we jumped into the tent - me with brats - and we watched the intense lightning show through the tent roof for the next hour, rain smashing down. As we hit the sleeping bags, we noticed the tent seams dripping - great I thought - I have 2 REI tents (backpacking and 6 man), but brought the 4 man P.O.S. from walmart
- well - the dripping began from the top too, and we got splattered laying there - I finally had to throw a tarp over the tent to eliminate the headshots. Fortunately we were on a slight incline and the water dripping down the sides collected toward the entrance - we had some dampness but no real catastraphe. Looks like I'm going to REI again... We woke Sat am at 7 for grub and at 8 he says to me "Dad, can we go fishing now?"
(how awesome is that?) so we hit a brookie stream for a while and managed this: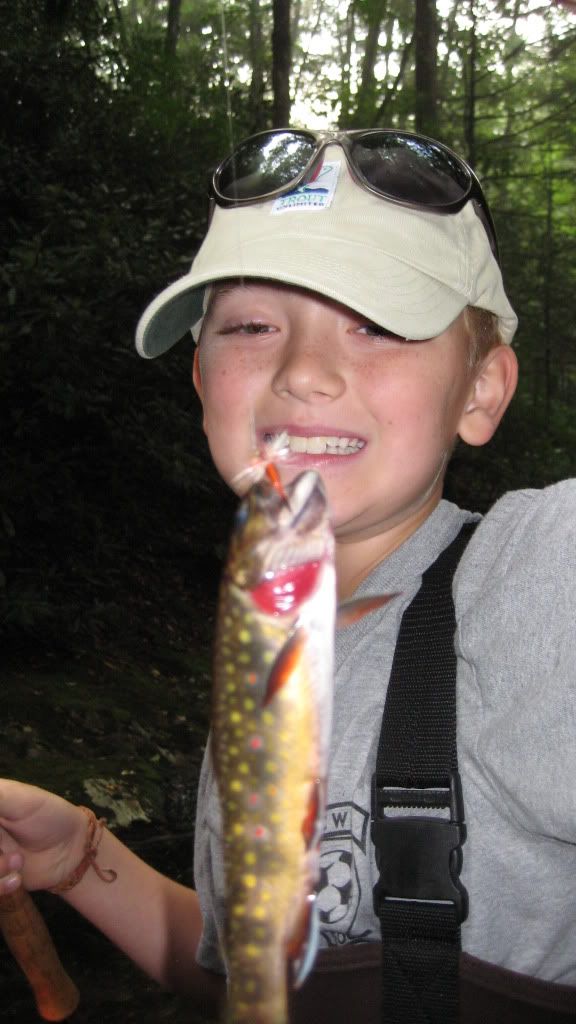 We caught one more, but the perfect first cast was not really there yet (ummm - in a rhoddy covered brookie stream???? - could I have set him up with a more difficult second day?
) - so we returned to the main water and I had fun watching him cast:
After one discussion, he had mending figured out - amazing. He put hundreds of casts with good mends in great runs, but we only managed a few more dinks - there was a lot of pressure on that stream Saturday, and we were not the first to hit those runs. All in all, though a great formative day for a young man. He excelled at rock hopping too. Ten hours later, we had a nice meal by a campfire (no rain!!)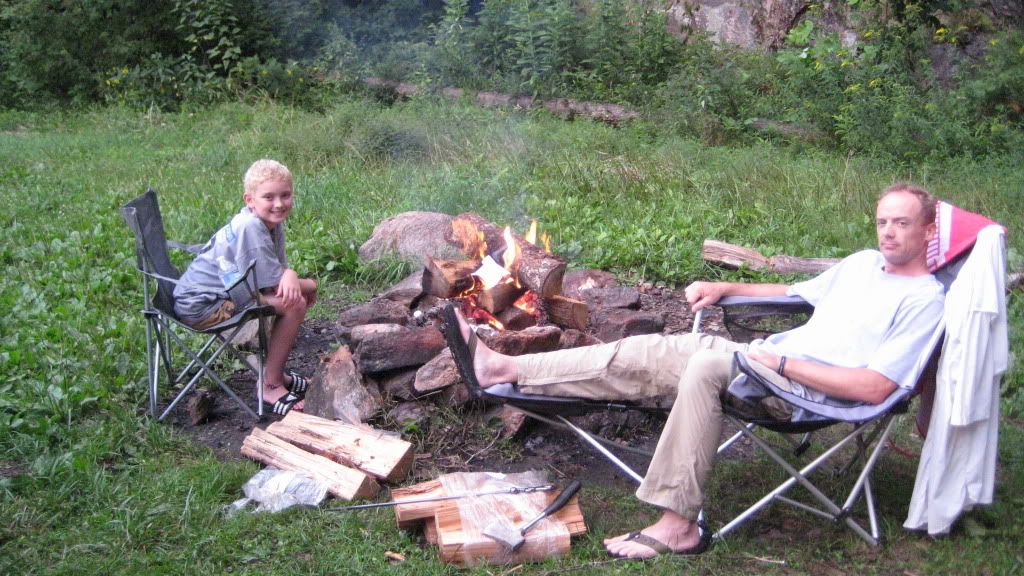 Sunday we were at it again at 8. His waders had started leaking pretty badly Saturday and by Sunday he was wet wading in neoprene. I dried his socks out by the fire - until they melted
But he trudged on and we were determined on our last day to catch a better sized fish. We patiently worked a nice run, and he finally had it all come together - great cast - 2 perfect mends and a take by an 8" wild rainbow - he set the hook and he slow stripped the line, rod tip up with a look of amazement on his face
- as I moved to get my camera and net out, the fish pulled loose
and the poor guy broke down in tears. It was a sad scene. He had it textbook, and that is all that matters I told him, but we all know how losing a fish can feel - those are the ones you remember the most. That will be what we talk about forever, not the ones we caught. I leaned over to him saying all the fatherly things, and everything in my Orvis Sling tumbled into the stream - where my kind words became a little off color
- cell phone somehow managed to survive that (reference check: last two trips it was the camera that did that). After he ran down stream to collect a water bottle, and we drained my flyboxes, we rounded out the day with a few more tiny rainbows and wrapped our trip up with more smores by a fire, some air rifle shooting competition (he nailed beer cans at 20 yards 11 times in a row), broke camp and headed back. The quality time we had as a father and son is irreplaceable and I can't wait til next time - and to do this with my other son.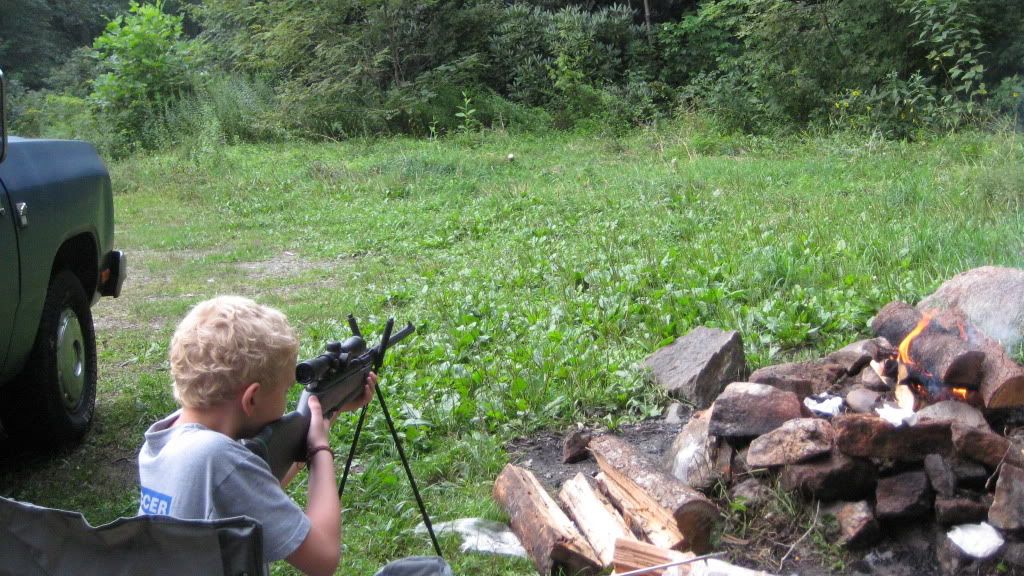 My newest and lifelong fishing partner:
Thanks to all of YOU who have helped make me a better flyfisherman and tier so that I can pass this amazing gift onto my kids - and so they can tie on my 8x tippet to my size 26 midges when I'm older
Oh - and for his tenth birthday next week, he wants a deer rifle
Jay