Spent three days in Western NY chasing lake run browns and steelhead or whatever appropriate term it is for lake run rainbows. Quite possibly some of the best fishing I have ever experienced. I was totally unprepared for hwo strong these fish are
. I lost many more than I landed and trying to land one solo a challenge. I had some really big fish on and I just laughed knowing that there is no way I would win the battle. The crowds were heavy early in the week, but tapered off. On Sunday several pinners either cast over me or let their float run into where I was casting, but by Wednesday you could find plenty of room and even a little solitude if you got away from the named holes. Couple of highlights were:
* scotch and lots of it
* assisting in a bird rescue after a blue heron fly threw a guys flyline that was downstream of me. Closest I have ever been to a heron and it was rescued safely
* having all 4 guys I was with hooked up at the same time
* meeting a bunch of really cool people on the stream. Only met one real asshole and he was from Canada
* watching hopelessly and running up and down the bank as several steelhead almost spooled me
* Fighting a monster steelhead without hope of landing by myself until a fellow angler offered to help. He netted and then tripped on a rock and dumped the fish in the water as he was walking back to me.. He looked up and said "Sorry dude, that was one of the biggest fish I have ever seen on this stream"
; I think I cried a little
* fishing next to "Wild Turkey" who carried several flasks of Wild Turkey and graciously offered a sip to anyone around him who landed a fish, then yelled "gobble, gobble, gobble!" after he took one. I'm not sure is he was lying, but he said he was a high school teacher in Pennsylvania
From what I understand, most of the big fish had moved out of the water and the male browns were also gone. It didn't matter to me since these were all big fish for me. Most of the pics suck because I was by myself often and it made the battles last longer so I was eager to get the fish back to the water. Here are a few pics
Caution: Hero shot warning
Only was able to land a few steelhead, but got a few pics. This first one is my first steelhead, so it like special, you know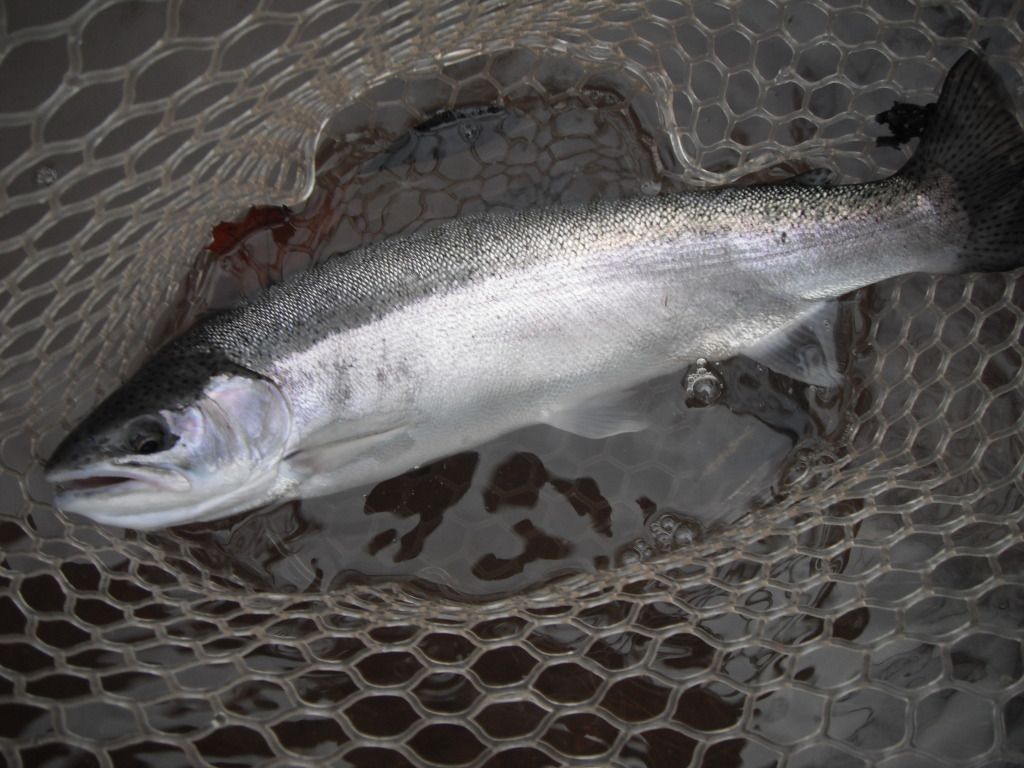 The start of the creek mouth lineup
Its going to be tough to get back into small stream fishing. I am sure I will, but it might take a while after this trip