I'm posting this for Al, since he has trouble uploading pictures. These are his words and his photos.
---------------------------------------------------------------------------------------------
It was "stick your hands in your pockets" temperature at the NCWRC John E. Pechmann Fishing Education Center the morning of 2-2-13 when we hosted the 3rd Basic Fly Fishing Clinic of the season. The sun was out most of the day but it only got up to the mid 40's by noon. Burrrrrrr - we certainly will not have to worry about the ponds warming up too much for the trout anytime soon. Thankfully the wind was not too bad.
In spite of the brisk conditions we once again had a full house. By the time everyone signed in we had over 40 folks who wanted to learn the basics of how to fish with a fly rod.
We've changed the format a little this year. Participants receive a comprehensive handout which goes over, in picture and descriptive word, most of what is taught throughout the day. Those who arrive early have the opportunity to practice their knots under the watchful eye of one of our volunteer instructors.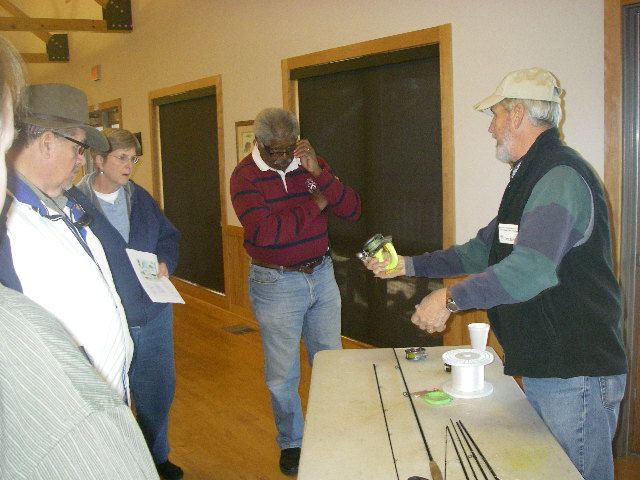 They also learn a little about rod assembly.
All clinics start with an introduction and overview of fly fishing by two of our veteran volunteers. With today's cold temperatures no one was in a hurry to get outside but we operate on a pretty tight schedule so by 9:50 am all of the inside instruction was finished. Time to button up those coats, pull on gloves if you have them, and brave the elements. (BTW we have only canceled once in the past ten years and that was because the ponds were frozen over)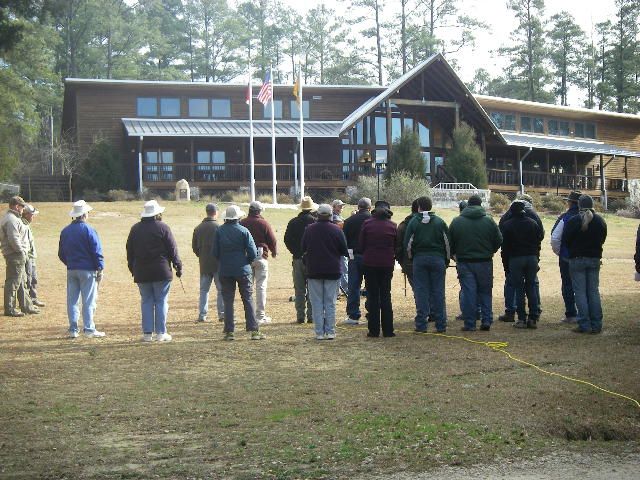 Everyone is given the first section of a fly rod to follow along as another of our veteran volunteer instructors demonstrates the proper grip and the "five essential elements of fly casting" (eliminate slack line, timing, casting arc, power application and straight line path)
Participants are now divided into small groups where they are issued their fly rod for the day and ushered through a series of drills which practice each of the the elements of a successful cast. The parallel line drill demonstrates the proper casting arc and also shows the importance of letting the rod do the work, ie loading the rod.
"Ball on the stick" demonstrates the importance of proper power application.
The back cast station demonstrates the importance of eliminating slack line, casting arc and timing.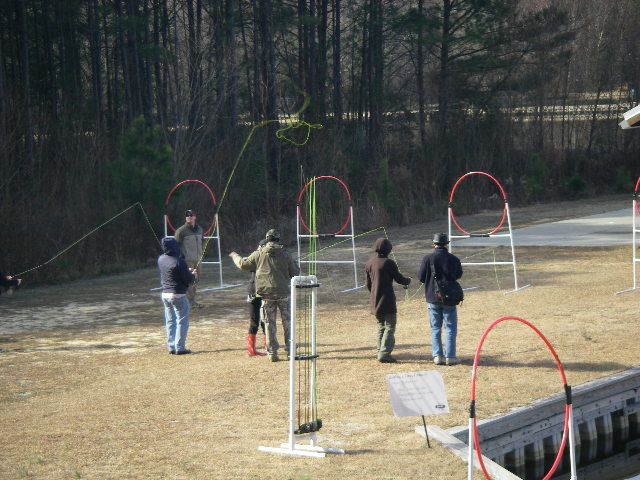 We pull it all together with the challenge of casting to and through the hoops. Observers with a good eye can see the participant with his line high in the air casting what is known as a tailing loop - We had several fly lines today with a perfect knot 15-20 feet from the end. The students all scratched their heads and marveled at how that happened. Luckily we caught them before the knot was pulled too tight which would have ruined a good fly line.
The afternoons are reserved for putting it all together with some actual fishing.
The quick change in the weather put the bite off a bit but there was enough action to keep everyone's interest up.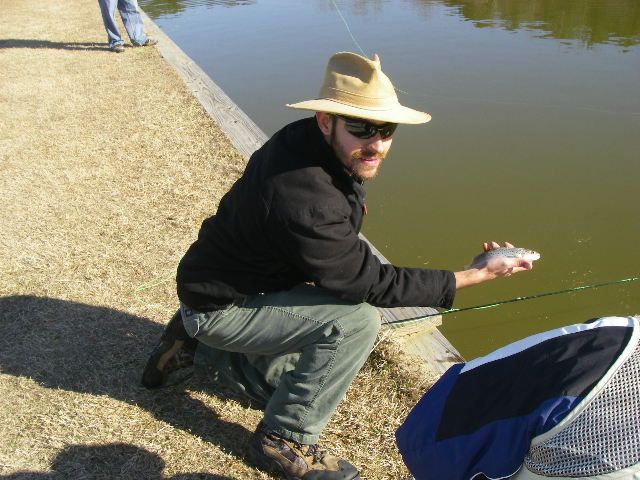 Each of the two trout ponds hold 500 trout. We have a good mix of browns, rainbows and brook trout.
Nothing like a fish brought to hand to make you temporarily forget the cold and put a smile on your face.
If you think this looks like fun and you have been procrastinating about coming out to one of our clinics, the window of opportunity is about to close for the 2013 series of basic fly fishing clinics. We have only one more clinic open to the general public and that is on February 16 from 8:30 a.m. to 3:00 p.m. Interested anglers should contact Fayetteville-Cumberland County Parks and Recreation at Lake Rim, (910) 424-6134. A fee of $5 for each participant is due at the time of registration. A fishing license is not required and we provide loaner fly rods. Participants should be dressed for cool weather conditions to include a hat and some sort of eye protection (eye glasses, sun glasses, safety glasses are acceptable).
We will also conduct the final phases of Boy Scout Fly Fishing Merit Badge qualification clinics on March 2 and March 16
The NCWRC Pechmann Fishing Education Center also hosts Wounded Warriors, NC Handicapped Sportsmen and any military and their families on the 2nd Wednesday of each month from 1-5 pm (That's February 13th this month). We offer fly tying and basic fly fishing instruction. At least half of the afternoon will be spent fishing.