This has been a tough winter. The drought of this summer and fall was completely erased for the year in 3 weeks of rainfall early this winter; washing out roads, boat launches and sections of rivers dramatically changed course. As of December 15th the snowpack on Mt. Baker was close to 130% of yearly average, and the snowpack on Mt. Olympus was close to 200% of normal. This past Dec, Jan, & Feb were some of the wettest and snowiest months that I can recall.
The first steelhead of 2016 came almost 4 days after the new year dawned. Note the lack of adipose fin, he smoked up pretty nice.
One of the few days in January where I could fish I fished a notorious river, notorious because of how difficult it is to access, and how difficult it is to row. Class 3 & 4 rapids are the norm with sections like Can Opener, Death Row, Chernobyl, and Clacka Gallows there are not too many folks that have the guts to row through it. This float was supposed to be the day I stick a few fish and recover from my Christmas Island debacle; instead it started one of the worst slumps of my life. That day I wont 0-4 on dead drifted goodies, and 0-2 on swung flies. From the 5th of January till March 22nd I hooked over 20 fish and did not land one. Let that sink in for a moment, most people are happy to simply
hook
a fish during a week's stay for winter steelhead in this state. Over 12 weeks I got 6 days on the water, hooked 24 and did not land one.
On the last day that the Puget Sound 'S Rivers' were open my buddy swung up this porker. Kinda glad he did it, he is one of the guys I've been helping with their spey casting and swing fishing. To put this in perspective, the guy pictured is 6'6" and about 220lbs. His first winter fish is one that was flirting with the 20lbs mark. Effin' unreal.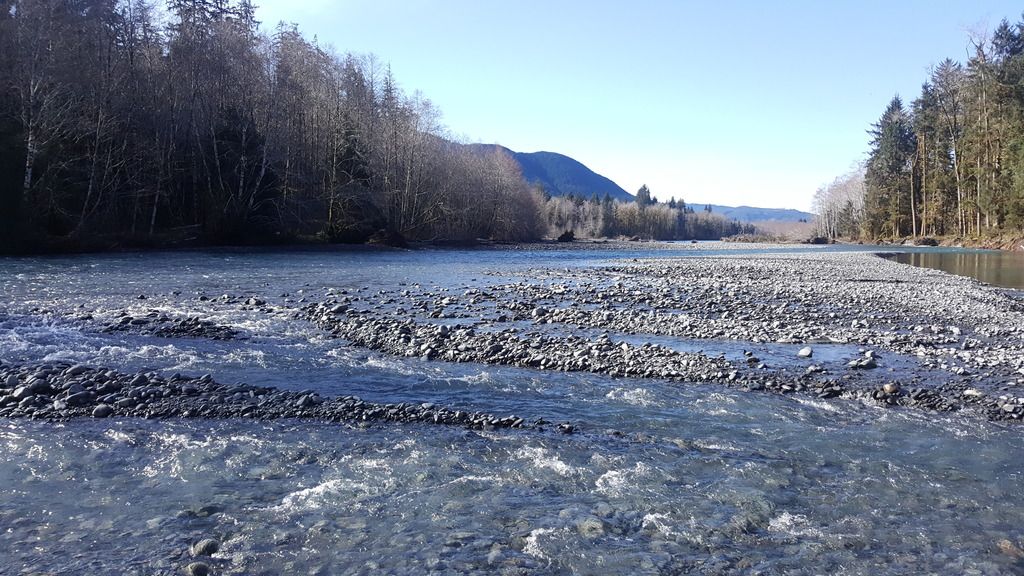 From the 1st of January to the 15th of March there were 8 total days in which the Hoh river was below the magical 3500cfs mark. This is the only photo I took from one of those days. This is a day which will live in infamy as this day my favorite spey rod & reel were taken from me. A log jam grabbed the rod and drug it off the Watermaster raft I was rowing; and before I had a chance to reach for it, she was gone. The next day 2.5 inches of rain fell and the Hoh crested at nearly 14,000cfs. My 7133 Winston B2X is probably in ten-thousand pieces and the Hatch Finnatic 9 Plus reel is probably crushed and twisted into an unrecognizable form. That is an $1,800 mistake I won't repeat.
Hey guys, where are these steelhead?
Last week I did some traveling. Sunday and Monday I fished again and on the first day it started to look as if the streak was destined to continue when first part of the float a mid-teens fish fell off as my buddy was going to net it. The rest of the day I had a few hard grabs and a few more bobber'd fish fall off in spite of there being no drift nets in, good flows, good weather and a good stick jockey. That Sunday I had hooked 4 fish and gotten 3 grabs and not a single one stuck. Then on Monday, March 22nd the streak was over when the world's smallest winter steelhead came to hand on the aforementioned notorious river.
Ok I got the skunk off me, finally! Time to get serious and swing up a fish. I mean, we swung some GORGEOUS water, often times we were the first people to wet lines on some water but not even a whitefish grab.
We then dropped into a run that I had good feelings about. On the other side were two goons casting away and making an awful racket for two people without fish on either of their lines. Then my problems started to accumulate; on one of my reels there is a fair amount of space between the frame of the reel and the gap in the spool. For most fly lines this is not a problem, for a monofilament shooting line that is less than .020" in diameter, this is a problem. The line will pop out and wrap around the reel, the reel seat, and things go all caddy-whompus. You can imagine why this would be bad news, particularly when the chance at hooking a fish fresh from the ocean that weighs in the double digits yanks on the other end of your line.
This is exactly what happened. I'd swung my way into the tailout of the run and all day I had been throwing some GORGEOUS casts through there when my situation went pear shaped. My shooting line wrapped around the reel and just for fun, knotted up during my cast. After un-fouling all of that I go to pull down a loop of line to start fishing when it hangs up. I may or may not have let out an audible F-bomb because I was pretty sure I had hooked a rock. I hadn't thrown a mend, or even tried to fish this cast and with the boulder structure and current speed snagging up was a real possibility. The thing is that the rock started to headshake, "Wait a second, rocks don't do... oh shit... FISH!!!"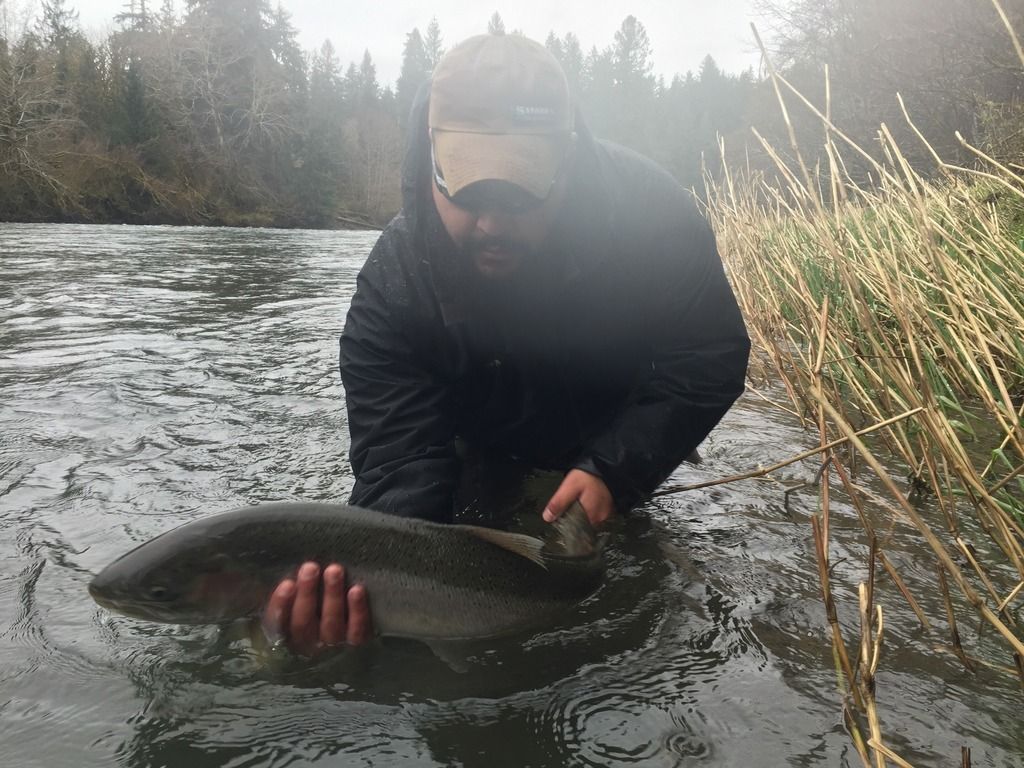 This is the only pic, and it was taken midway through a fumble. Oh well, a nice 12ish pound fish, too bad it was a cell phone pic. This fish was just starting to get some color on it's flanks and was very pretty. I don't think I've seen a cell phone pic that has ever been able to do justice to these fish.
That Tuesday I fished the Cowlitz and bobber'd up some fish and even hooked a spring Chinook, too bad I left the camera in the car. Wed night after work I made the drive down to Portland to meet up with a buddy to fish some North Coast Oregon steelhead rivers.
Day 1
Day one you can see my buddy loading up his road about to send out a cast into a run. What you can't see is the beast lurking beneath. Shortly after this photo was taken I hooked and promptly lost the largest steelhead of my life. A couple of head shakes, a flash and boil was all the fight I got. The fish blew up on the surface just after it fell off and I got a decent look at it. 20 pounds. Easy.
Day 2
Day two I was on the sticks and I called the shots. The first run I stuck a little Sea-Run cutthroat trout after my buddy fished through. Things were looking up, in the shot above you can see my buddy again sending out a cast. What you can't see is the 4 fish we saw hooked and landed by other boats passing through this run, and the hard grab my buddy got from a fish that pulled line off his reel.
During our two days of fishing the weather could best be described as schizophrenic. At times the sun shined and it was nice, nice enough that I even felt a few drops of sweat on my brow. Perhaps leaving my rain jacket on was not such a great idea, but the dark and ominous rain clouds threatened those precious few hours of sunshine. Those times when the clouds won the weather battle; it rained as hard as I have ever dealt with on the water. The wind howled and made the rower's job a chore in that high-side aluminum drift boat. Apparently that adds ounces on the down-payment for your next steelhead. At least that is what I told my buddy when he was rowing me through that shit
Yesterday I hosted a trip through the shop I work at on some storied waters, the lower Quinault river. For those that don't know there is only 1 river in North America that has produced more 30lbs fish than the Quinault, it is kind of hard to not get excited with statistics like that. The man pictured is Rich Underwood, you may have seen him in the Drake magazine a few issues back. He is THE guy that is pioneering spey casting and C&R fishing on tribal rivers; he is changing the narrative and understands that these steelhead are worth more alive, than dead. I've said it to others and I'll say it here; Rich is
the
man that will build the bridge between sport anglers and tribal anglers to build a better future for these precious fisheries.
Not only that, the dude can bomb out a spey cast as good as anyone else I've run into.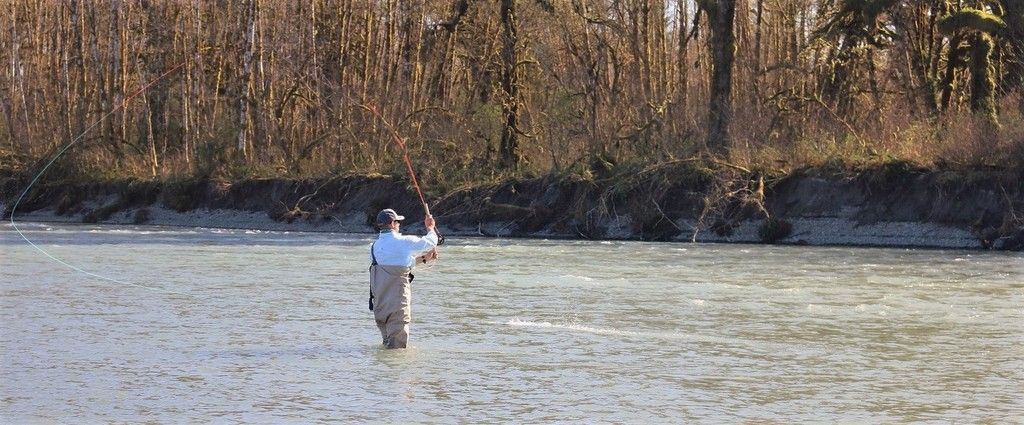 Here is one of my customers that was on the trip that day, this is the first time he's ever fished his spey rod and he came a long way in few short hours Rich and I spent teaching him. Not bad for an Auburn Tiger. Today was not our day though. Beautiful weather, good water conditions, and even a few tugs, the only fish to hand were a few smolts and a sucker-fish. We'll get'em next time.
Sorry for the long winded post, it has been awhile and I have been pretty busy in between. With only a few weeks left until our steelhead rivers close, I thought I'd show you my winter & spring fishing as it stands. Hope you enjoy.