While planning our vacation, my wife told me to mark off a day for fishing. I've not been on a trout stream in over a year. So it's long past due for me. Works been crazy, holster making is booming, kids sports, sick kids, rain; everything seemed to get in the way. So I sorted through my gear; rods, reels, fly boxes, backpack, and assorted junk. We packed up in a flurry of activity on Monday and Tuesday and headed west to Bryson City. The plan for Thursday was to hike in 3 miles and fish a creek in the Smokies I never managed to get to while I was in college. It's been on my to do list for a long time.
While sorting through gear on Wednesday before rafting the Tuckaseegee it hit me; where are my boots? No wading boots. This is not good. I started considering fall back plans. But before that, we had rafting to take care of.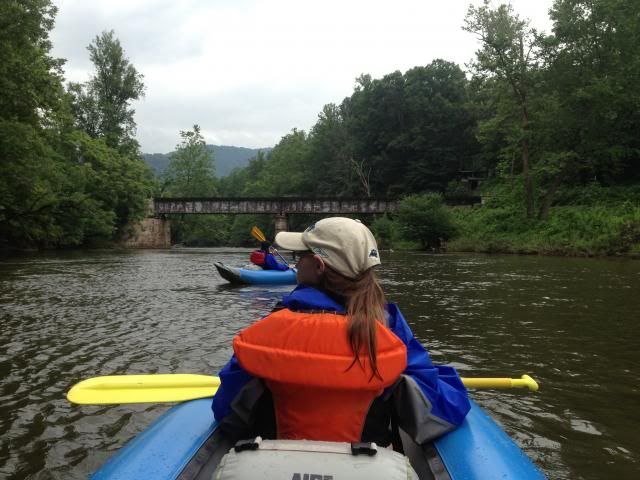 Back at the cabin I did some more research on another stream I had looked into. Not on "the list", but it's trout water. And honestly, it's more my style. All the water in the area was high and stained. I checked water shed area and drainage and decided a smaller, high elevation stream might be a better option anyway.
I wake up and grab breakfast. Mark the spot on my phone and hit the road. Miss my turn, make a u turn and I'm on my way. Pavement ends, good sign. State maintenance ends, that's odd. Private property, no trespassing. Uhm, uh oh. What's up with this? I pull in and speak with someone who tells me I'm in the right spot and directs me to where to park. Whew, starting to worry. Park the van and start getting ready for the day. Then it starts to rain. Switch some gear out, wait a bit; looks like I'm just gonna get wet. And considering my wading attire, I may get really wet. And sore. And hope I don't break me or a fly rod. Ever wade in Crocs? I'm not coming this far and not giving it a solid shot. I need time on a trout stream.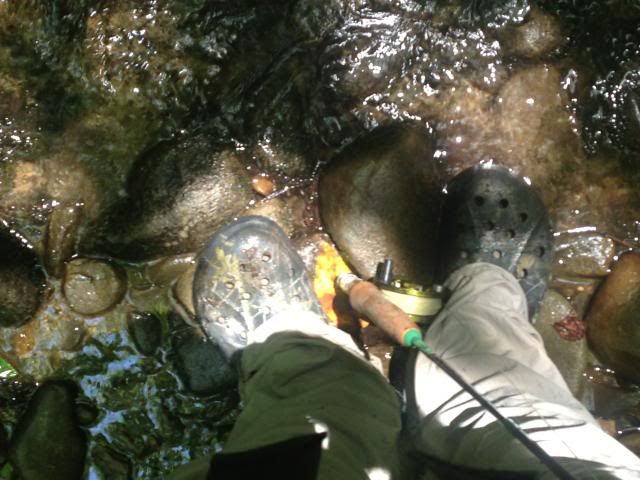 Water looks a bit high and off color. Nothing terrible, but maybe a bit more of a challenge than normal.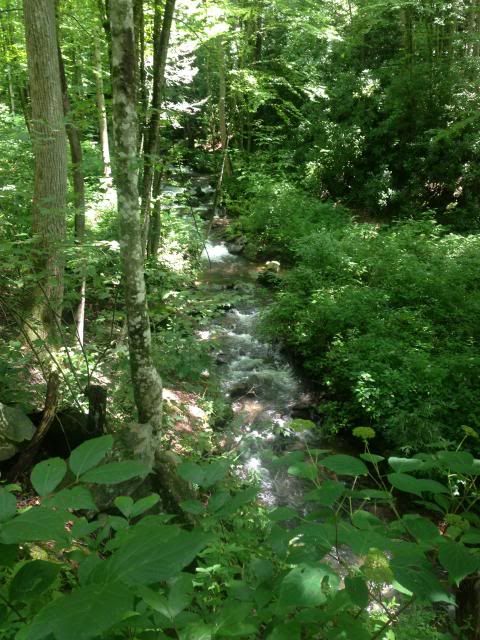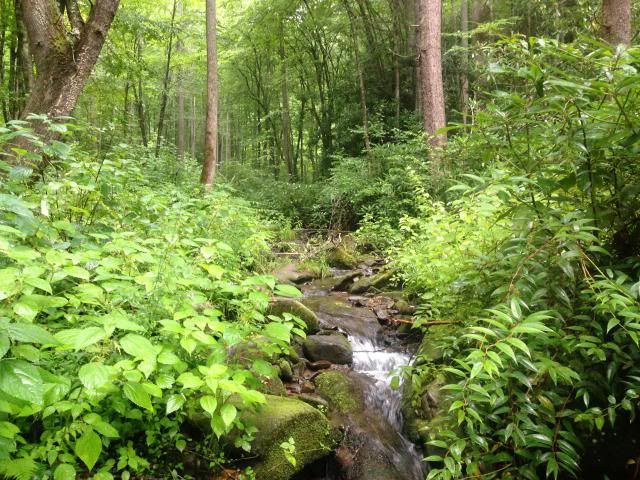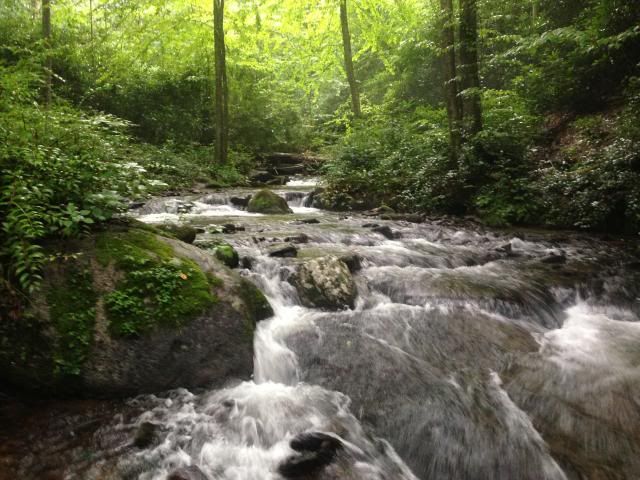 The first couple runs yield a couple smallish rainbows. Good start, even if it's still raining. The water makes a couple odd turns and splits and things slow down. Then I start into the rhododendrons and things pick back up.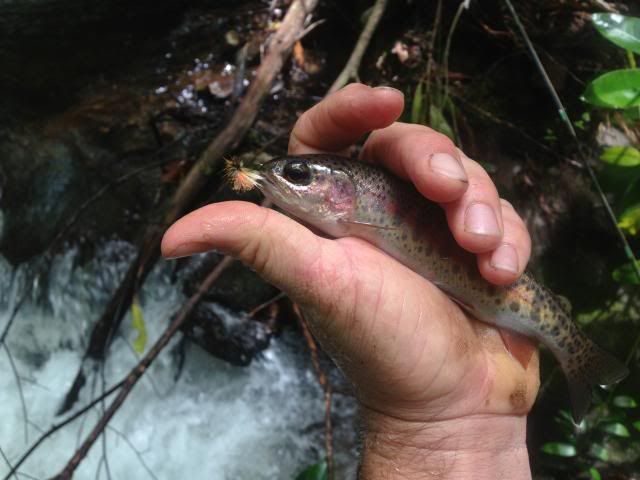 And basically it turns into a string of, "If I can find some flat deep water, get a cast in, not drag too much, and manage to set the hook; I get a fish." Setting the hook managed to be the toughest part, if I could manage a cast. I managed to miss or barely hook about as many as a caught from hitting my rod tip on the low hanging brush.
A rare open spot.
The fish and the hole I pulled him from.
And one of the best shots of the day. Lighting was just great. What little bit was making it through the rhodos. But hey, sunshine means it has quit raining.
I stopped and talked to the landowner on the way out. Made a point to thank him for the access and give him one of the flies I have a lot of success with for brookies. We both love chasing specs it seems.
Managed to grab a couple hours Saturday evening on another stream. Higher water and poor footwear made it tough again. And I've got the scraps and bruises to prove it. At least I managed to not take a swim. Fewer fish, but I did not expect much for a popular stream right by the road.
The only fish I took a pic of.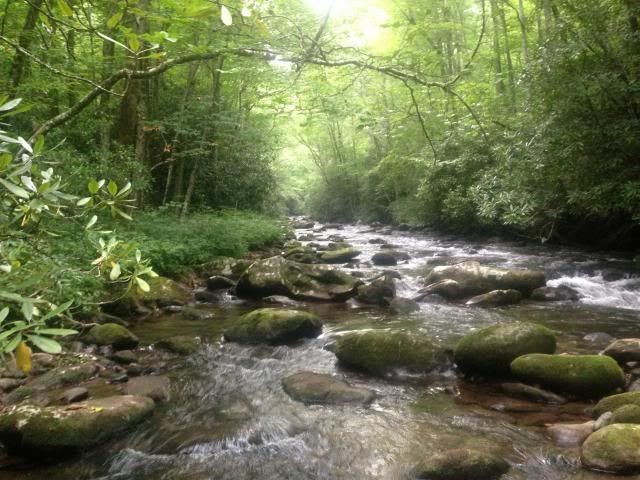 And it seems the local stone flies like my holsters too.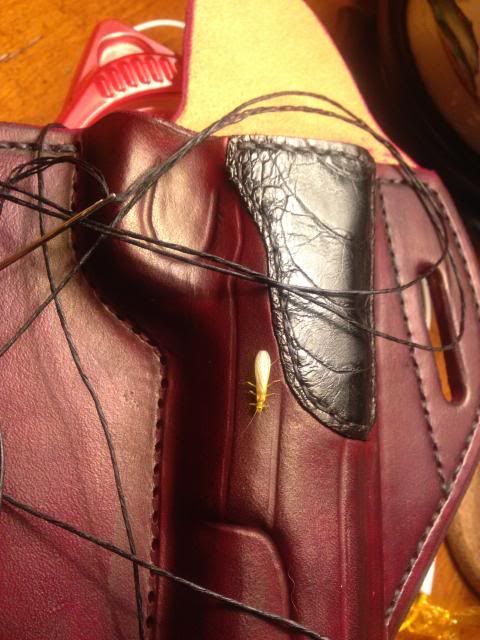 On the way into Dillsboro I caught another fishermen trying to ply his trade on the Tuckaseegee.
Sometimes everything works out, and it's great. And sometimes it's great when everything falls apart. I stumbled backwards and barely shod into one fantastic little creek. Boy am I glad I left those boots in the garage.