As usual, Judy and I went back to Pickens, SC for Thanksgiving, and to spend time with her family. Part of what has become tradition for us, on Friday, Judy goes shopping with her sister, and I go fishing.
Usually, I've gone up to the Davidson River, but this year, I decided to check out the DH fishing on Little River in DuPont Forest. I've been there several times before, but I've never explored the full extent of the DH stretch.
When I first arrived, the temperature was in the mid 20's, and there was still some snow on the ground from 2 days before. I parked at the lower parking lot, below the bridge, and headed down stream to see how it looked. What I found was a river running high with just a tinge of color. Several places that I've fished before were too deep and too swift.
After flipping my fly upstream a few time, I realized that this was going to be a good day to do more exploring than fishing. My first stop was the lower end of the DH section, which is 100 yards below Hooker Falls. As I passed by on the trail, I took this picture:
Hooker Falls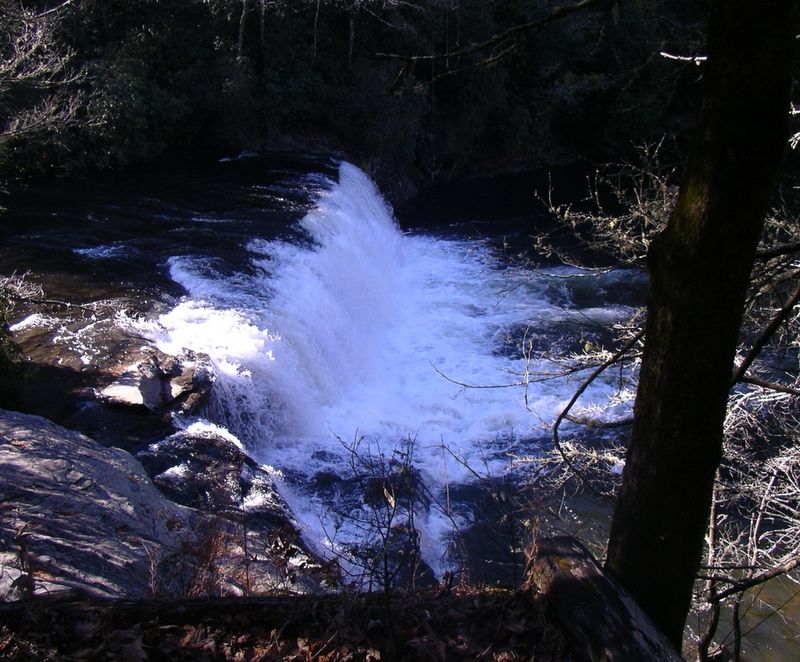 The tail out from the falls shows a lot of promise, but the water was too high and too swift for me to do anything but make a few feeble drifts along the edge, to no effect. After 15 minutes, or so, I decided to check out the upper end of the DH section, where the river would be a bit smaller.
I moved to the upper parking lot, on Buck Forest Rd., and, crossing the gate, hiked down Buck Forest to the covered bridge. I couldn't see any fish off the bridge, so I decided to hike on up the 1/2 mile to the beginning of the DH section. I followed a forest service road, along with every one else, all the way up. There were only a couple of places where I could get down to the river. The river wasn't overly large at the upper end, but the water was still high, the banks steep, and very limited access. I did find a few places to get in, and made a few more drifts. I got a couple of taps, but nothing to hand.
On the way back, I circled down below High Falls, and took this picture. You can see the covered bridge above the falls. On the right, in the shady areas, you can see some snow.
High Falls
A bit frustrated, but not willing to give up, it was only about 1 pm, I decided to go back down to the lower parking lot and try a hole that has produced for me before. I put on an olive squirrel leach, and after a few drifts, took this brookie right under my feet, well, OK, about 5' from my feet.
Brookie
The skunk off, I made a few more drifts, and tagged this rainbow about 20' downstream from where I was standing. You can tell from the lighting that, even though it was between 2pm and 3pm, there wasn't a whole lot of light.
Rainbow
I spent another 1/2 hour working that hole, but wasn't able to get another take, so I moved upstream to try a few more spots. Wading was limited by the high water, although I could see that it had gone down an inch or two since morning. I got a couple more takes, but nothing to hand.
Around 3pm, I decided I'd has about enough fun for one day, and packed it in.