Man, has this place been dead lately. When I first joined, what seems like decades ago, every week saw multiple threads about outings to various streams. Either we don't go fishing much anymore, or no one is willing to share. I hope it isn't the latter.
This past week, on Nov 11 & 12, I hooked up with Steve, another member of Triangle Fly Fishers, and we headed up to Dillard to fish the Tuck for 2 days. Steve had won a 1/2 day guided trip from Hookers Fly Shop, in Sylva, at our club Barbeque, and asked me to go along to split the costs. As I hadn't been on a serious trout trip in months, I took him up on the offer.
We stayed at the Best Western in Dillsboro, right on the Tuck. Since the Dillsboro dam was removed, they now stock this section. I didn't see anyone fishing it while we were there, though. The hotel is just a tad on the high side, but you can't argue with the convenience. The amenities are typical Best Western amenities with breakfast included, free WiFi, etc.,etc.
View of the Tuck from the hotel
Our guide was a young man named Miller Watson, of course, when you are 69, anyone under 40 looks young. He did a pretty good job for us. We kept him pretty busy tying on new flies, untangling leaders and netting fish. In his spare time, he dragged us over shoals and coached us on how to fish certain runs. I picked up several tips that I'm anxious to try on other streams.
The first day, we waded between "the mud hole" put in, and the island above Webster Bridge. They were turning one wheel, so the water was up a bit, but only a couple of inches. I wasn't real comfortable stepping into the river, at first, but after an hour or so, I became acclimated. I still wasn't scampering around like a kid, but I got to where the moving water wasn't throwing me off balance anymore.
Miller positioned us on several different runs, and set us up with a heavy nymph and midge dropper rig. The heavy nymph was something he called a Marvin. Basically, it's a girdle bug with a tungsten bead head and a bright red collar. Most fish hit the midge, but a few took the weighted nymph.
My version of the Marvin, size 8. The guide version used variegated chenille.
The legendary WoolyBugger once told me to always take a picture of the first fish of the day. It may turn out to be the best fish of the day, and sometimes the only fish of the day. This wasn't the best fish or the only fish by a long shot, but it broke the ice and got us in the mood for what turned out to be one of the best days I've ever had on the Tuck. I normally can't count past 3 fish, when fishing, but I managed to take more than 3 fish from each of 4 or 5 runs, plus a few scattered in between.
First fish of the day
The wading really wasn't bad, but for a couple of old geezers, it had its challenges. For those who don't know the Tuck, there's lots of ledges, lots of troughs, and a lot of bedrock. The footing can be treacherous, but those deep cuts give great cover for the fish during low water.
Both days started out chilly, requiring gloves and coats. By mid morning, though, it had warmed up and we started peeling off layers, and by noon we were fishing in shirtsleeves. Not bad for the middle of November!
Steve working into position on a new run.
The second day, we floated for 6 hours. We put in at the mud hole, so, basically, we fished the same stretch that we had waded, plus the area below that to the Webster Bridge. We had planned to float a bit further, but the water was so low that we had to spend too much time dragging the boat, so that's as far as we could get. It would have been a great run in a one man 'toon, though.
The perspective from the raft was enlightening. The water was clear, so it was easy to see the pods of fish. Most were, more or less, the same size, rainbows running 11" to 12", with a few running to 14", and the brookies running 9" to 10". Scattered, here and there, were a few "trophy" fish running over 18". Those big fish were highly mobile, moving quickly in and out of the shadows, and disappearing into deeper turbid water. The fish were really stacked up the the runs, though, so if you found one fish, there would be a dozen more nearby.
We anchored up, several times, to work a specific run. Usually, we couldn't actually see the fish, because of the turbidity, but a couple of times, we worked a pod of clearly visible fish in clear water. It was fun to watch the flies drift through the run, and see how the trout would stealthily rise near the fly and then quickly grab at it. Sometimes, though, I think it's actually easier to hook a fish when you can't see the take. Several times, I saw a fish grab at my fly, and I wound up jerking the fly away too soon.
Typical rainbow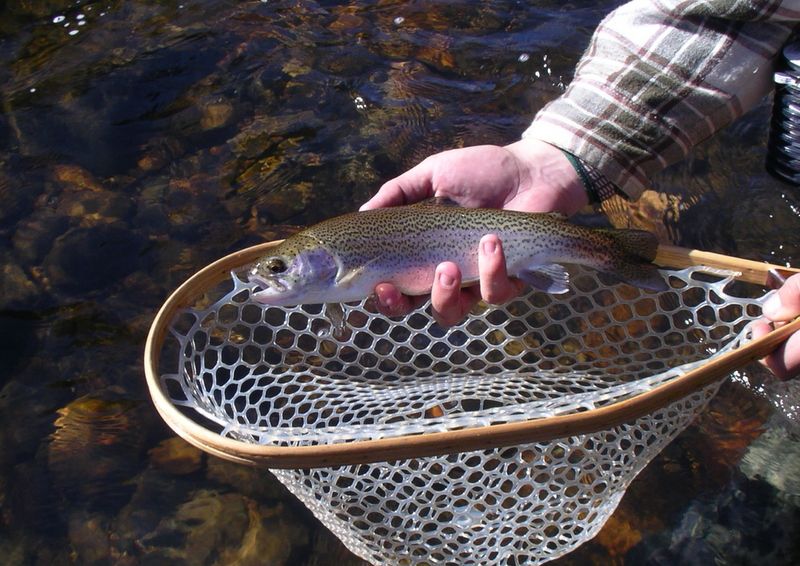 A little better brookie
Big fish of the trip
For the most part, I let the guide supply the flies. After all, that is part of the cost of the trip, and I did want to see what they were using, but, there were a few times when the guide was helping Steve that I too needed a new fly. On a whim, I decided to try a pine squirrel leach, size 12, that I had with me (I only had 2 boxes of flies with me.) That fly turned out to be dynamite! Over the 2 days, it accounted for at least 1/3 of my fish. I wish I could claim it as an original idea, but it's not. The fly is pretty simple. It's just a pine squirrel mini-zonker strip plamered around a Mustad 9671, size 12, with a gold bead head. It may not look like much, but, when wet, that thing comes alive!
Olive Pine Squirrel Leach