Ok, Plumbob asked for it....
I won't bore you with a day by day tarvelog of my adventures, suffice it to say that this was my first trip to Montana, and my first trip into Yellowstone National Park. To say that the park is sensory overload is an understatement. By the end of the week, I had covered about 75% of the roads in the park, and seen scenery so varied you'd swear that it couldn't exist on the same planet, let alone in such a small area. Of all the places I visited, though, I would have to say that the Lamar Valley was the most beautiful.
For wildlife, we saw bald eagles, golden eagles, osprey, white pelicans, sandhill cranes, bison, elk, mule deer, white tail deer, moose, grizzley bear, black bear, pronghorn antelope, mountain goat, flat footed ferret, and numerous ground squirrles, that looked like oversized chipmunks.
So, where'd we fish? We hit Slough Creek and Soda Bute Creek in the Lamar, the upper Madison in the park, the Madison between the lakes, the Madison near Three Dollar Bridge, the West Fork of the Madison, and Henry's Fork of the Snake River. I also went on a float trip on the lower Madison, getting out just above Three Forks, where the Madison joins the Missouri. Others in the group hit the Galitan, Greyling Creek, the Little Firehole, Warm River, and a few more that I can't remember. I would have gone for more variety myself, but I didn't have a car, so my options were more limited.
So, how was the fishing? Frankly, not as good as I expected, but in retrospect, not as bad as it seemed at times. When we first got there, there was a change in the weather, and the bite was definitely off. On Sunday, I fished Slough Creek for a couple of hours without a bite. At noon, we decided to move over to Soda Bute, to try our luck there. We stopped at several places, but it was not until we got up really high, near the Montana line, that I began to get any hits. Finally, after 6 or 8 missed hits, I managed to bring my first cutthroat to hand. I added 3 or 4 more to my total before we left for home, all in the 8" to 10" range.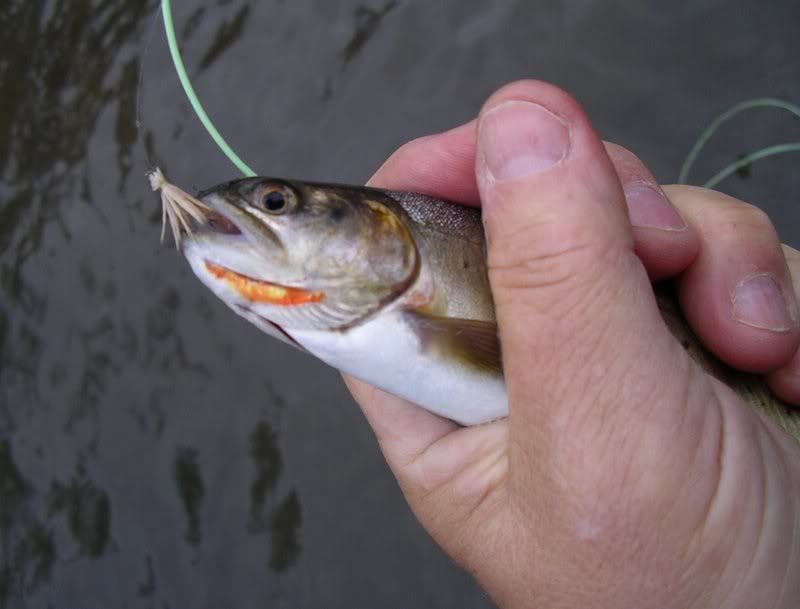 After Sunday, though, the days all run together, except for Friday. My first fish on the Madison was in the stretch between Hebgan Lake and Quake Lake. It was a nice 16" whitefish, that managed to slip out of my grip as I was trying to get my camera out. I fished hard after that, and got several more strikes, but I don't recall bringing anything else to hand. I also fished the Madison in the park with similar results. Lots of hits, but no fish brought to hand. My next trip to the Madison was to the fabled Three Dollar Bridge.
Once again, nothing. This was getting discouraging. Never mind that no one else was catching much either, this isn't what I came to Montana for.
Somewhere along this time, Peddler took a couple of carloads to the gravel pit below Last Chance on Henry's Fork to witness the evening hatch. Now that was something to see! Sometime between 7 and 7:30 pm, the flies emerged in swarms. Fish were jumping everywhere, and the flies were so thick you didn't dare open your mouth. This lasted until almost dark, and, as incrediable as it seems, only a few fish were caught, and while I did have 5 or 6 strikes, once again I walked away fishless. We hit the evening hatch on Henry's Fork several more times, before the end of the week, but each time the results were the same. Very hard fish to catch.
I was in bad need of a confidence boost. That came, after the fishless morning at Three Dollar Bridge. After lunch, Bob, another frustrated fisherman, and I teamed up and decided to try the West Fork of the Madison River, a small feeder stream a few miles further downstream.
That was the ticket! This as a small mountain stream, the kind I know how to fish. Even though we only had an hour to fish, I managed to bring several small rainbows and a nice brown to hand, all on an orange palmer.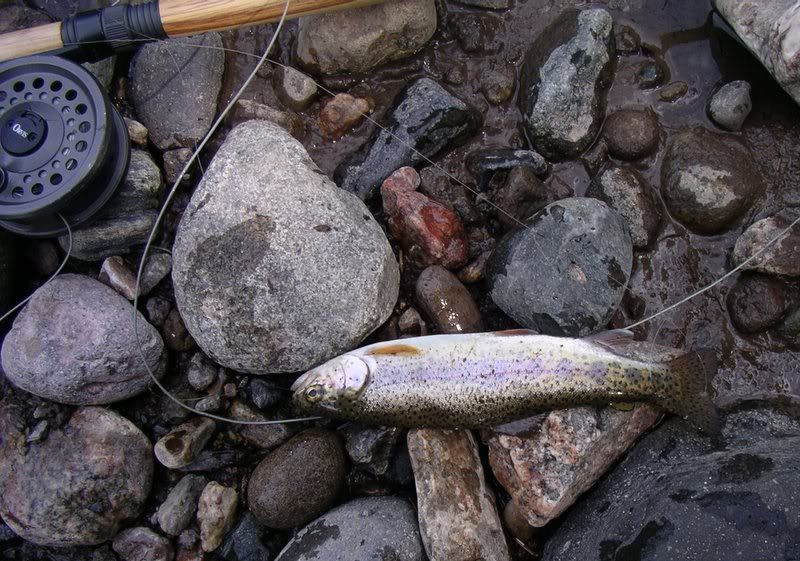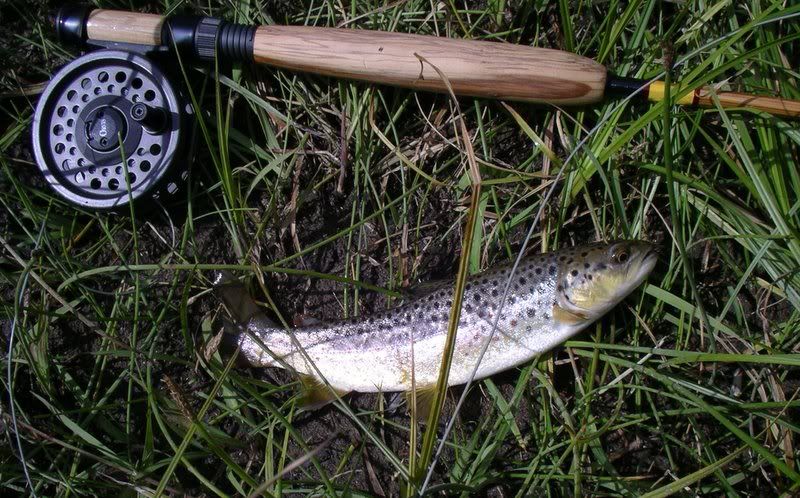 That evening, Peter P. asked me if I wanted to do a float trip on the Madison. Peter, Leslie, and JFey were wanting to go, and they needed a 4th to make it work. Well, I didn't really want to spend the money, but as I thought about it, it began to make more sense. By floating with a guide, I'd get some tips on how to fish the Madison, and what to fish with. With some reticence, I agreed to go. That float would be worthy of a report on it's own, but I'll summarize (again).
Jeff and I were in a raft with Hank, a young, smartalleck guide who teaches 3rd grade in the off season. He was disgustingly fit and knowledgeable. He rigged us both up with a double nymph rig, an olive woolybugger above and an olive crayfish on the bottom, and a thingamabobber about 5' above the bugger. Talk about a difficult rig to cast! I fought with that thing all day. I don't think I've ever tried to throw that much weight with a 6wt. Bring a 7wt if you want to fish with Hank. He and Mike, the other guide, did explain a lot about the river, though, and where to look for fish, and the importance of mending when fishing big water.
All pumped up, we shoved off. Peterp, Leslie and Mike set out first, and were quickly swept down the riff below the launch site. When Hank shoved off, he back paddled to open up more distance between the rafts, and pointed out a current tongue on the far side that he thought might hold a fish. Being in the front of the raft, I cast into it, and got a good drift. Within seconds, I was into the first fish of the day. A few jumps and several determined runs later, Hank was able to net him, an solid 18" rainbow!
It was all downhill from there. OK, it wasn't really. I caught several more nice fish, including this 16"+ Brown, and floated through some incredible western scenery.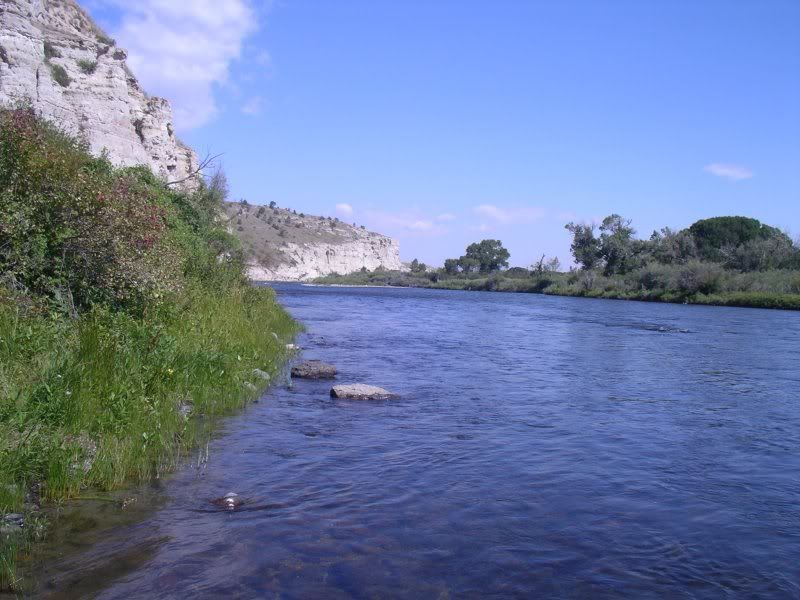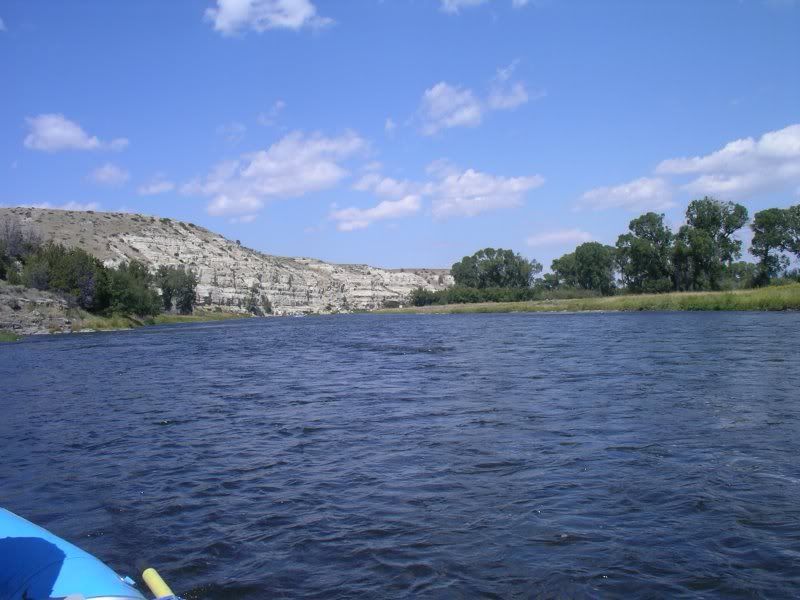 Overall, though, I found the fishing moderately slow. Jeff caught several more than I did, although none to rival that first fish. The frustration to me was that, toward the end of the float, I would fish though a run without a nibble, then Jeff would drift the same run, with the same rig, and pull out a nich fish! That happened several times. I figure I chummed up the fish for him to catch....
We ended our float 15 miles later, bone weary, sunburned, a little wet and very hungry! Mike recommended a small place in Three Forks, and even led us there, but declined Peterp's generous offer to buy him supper. I could say that it was the best steak I had on the whole trip, but that would distract from the fact that it was the only steak I had on my whole trip. Montana is not a good place to look for steaks. Steakhouses are few and far between, and most of them are national chains. I know someone is going to argue this point, but the city of Bozman has exactly 1 local steakhouse, I looked it up.
Thursday was interesting. In the morning, I hitched a ride with RiverGeezer and Nightcrawler to Three Dollar Bridge. I wasn't real enthused about hitting the Madison again, but beggars can't be choosers. Once there, we took our time rigging up and discussing strategy. It was a beautiful warm day, and there seemed to need to get in a hurry. I did finally work my way down to the rocks and started fishing. I had rigged a double nymph, similar to what Hank had show us. I had a black BHGRHE on top, and a red Serendipity on the bottom. I had also added a bit of weight above the BHGRHE, and set the thingamabobber at about 36", this part of the Madison being a bit more shallow. I looked for pools behind boulders, runs and seams, and after a few minutes found one I could fish.
A couple of drifts through a tongue created by two boulders produced a nice 16" whitefish.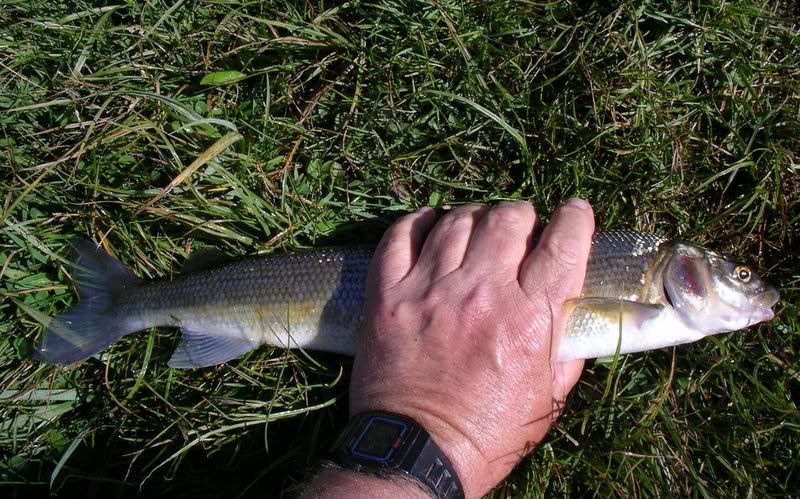 OK, it's not a trout, but if you aren't keeping, what difference does it make? They fight like a bulldog! I caught a couple trout like this:
and had several more hits. Again, seveal nice fish, but not exactly tearing them up.
On Friday, as a result of a breakfast discussion, Zzdruid and I offered to show Herb and Dave the West Fork of the Madison R. Tony and I had both fished it earlier in the week, so we were confident that the guys would be able to catch fish. The plan was to drop us off at 1/2 mile intervals, and we'd all fish upstream until 3pm, when we would go out to the gravel road the followed the stream to be picked up. I was the first one dropped off. I hit the water at about 10am, and promply found that I had left my sunglasses in the car. On my first few casts, as I fought the morning glare, a missed my sunglasses rather badly. After several hookups, though, I forgot about the glare and concentrated on what I could see. The stream was beautiful, the solitude almost complete, and the fish were hungry! Over the next 4 hours, I caught so many fish that I actually got tired of fishing! I took a few pictures of some of the "keepers", but I have no idea how many fish I caught. In the words of JT, "it was perverted!"
Worth mentioning, my rod that day was a 7'6" 3-piece Sir D, bamboo 4-wt that I built for this trip. Most of the fish were caught on an amber or burnt orange x-caddis.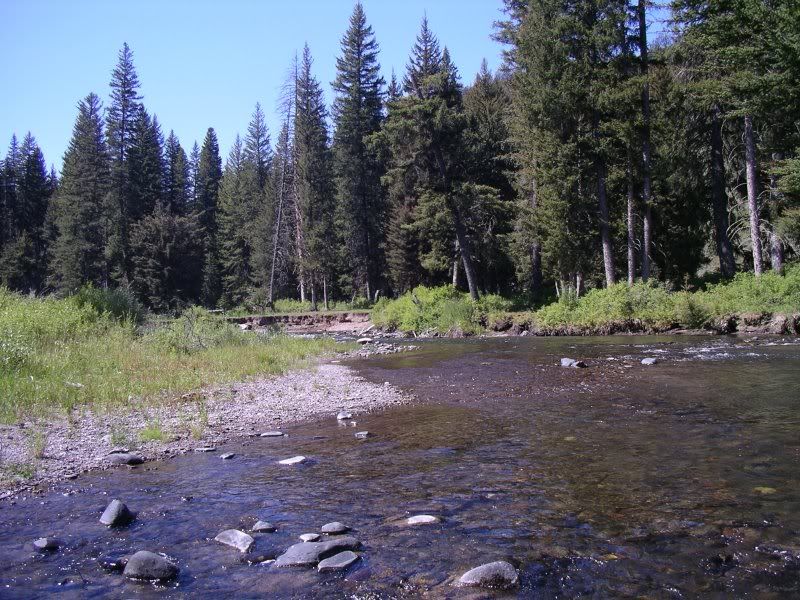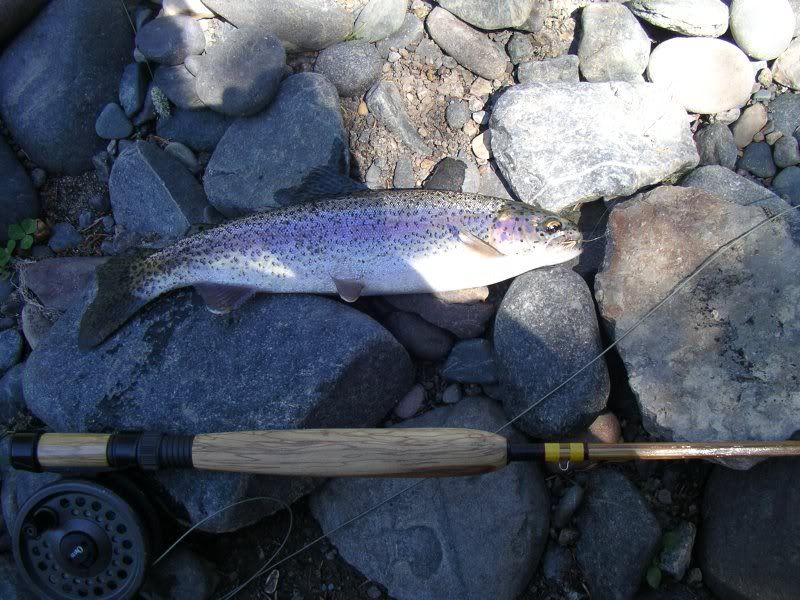 I've seen few pellet fed DH fish that were any fatter than this one: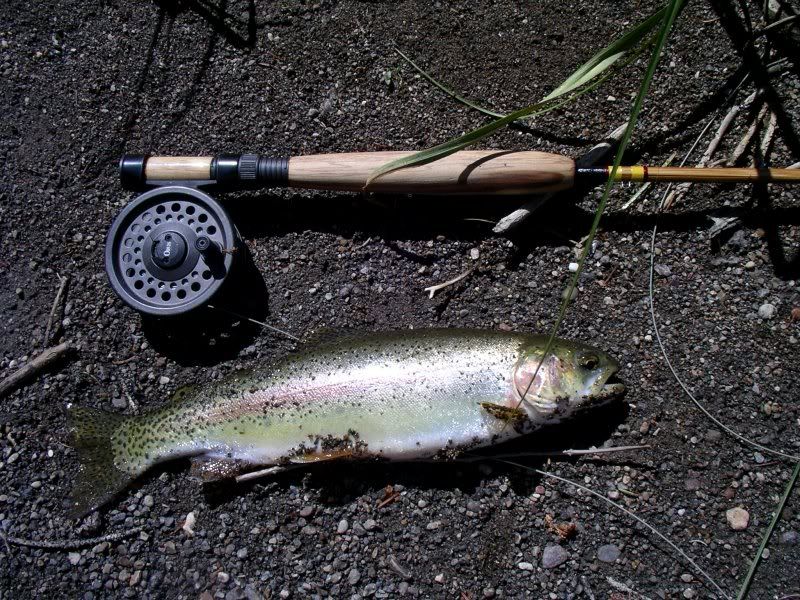 Saturday, Tony and I both having a Sunday flight, we decided to look for places to fish in Yellowstone. We set out with every intention of fishing several places on our way, but, frankly, after Friday's experience, anything else would have been anti-climatic. Besides, our gear was almost dry, so instead of fishing we became tourists, stopping to view water falls,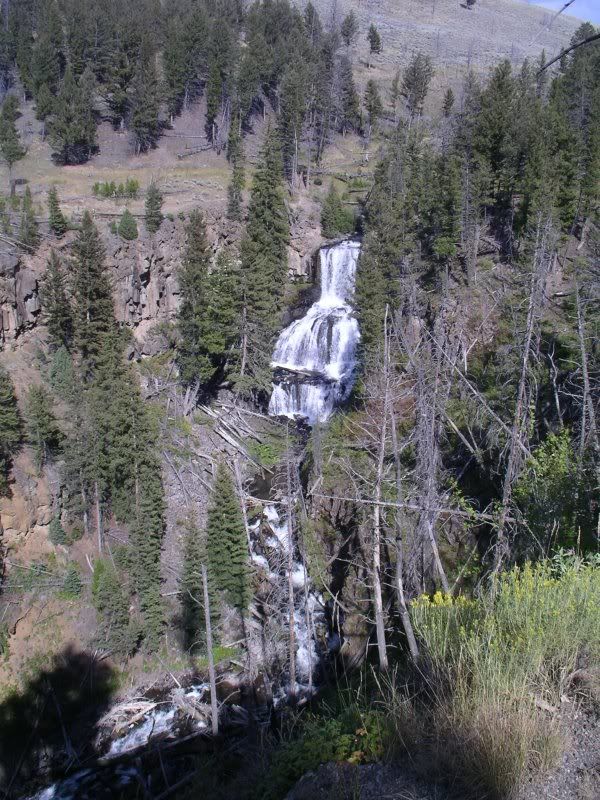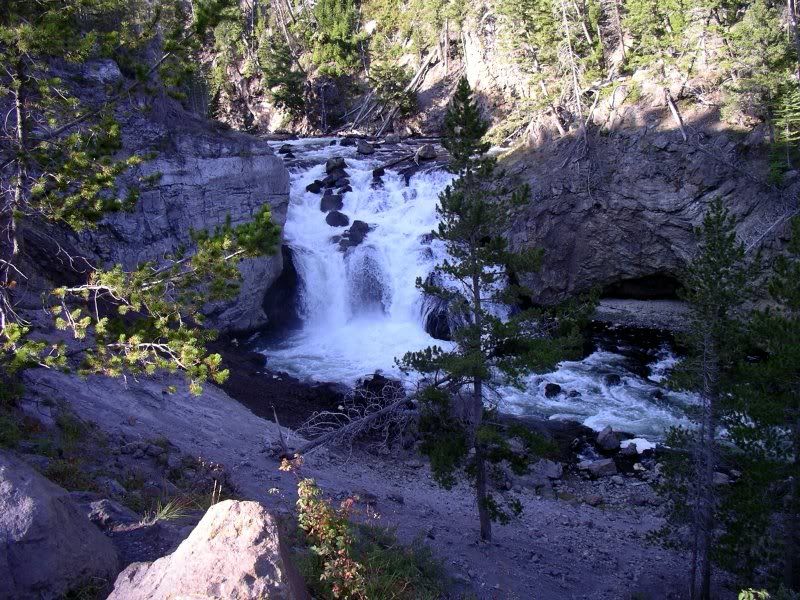 geysers,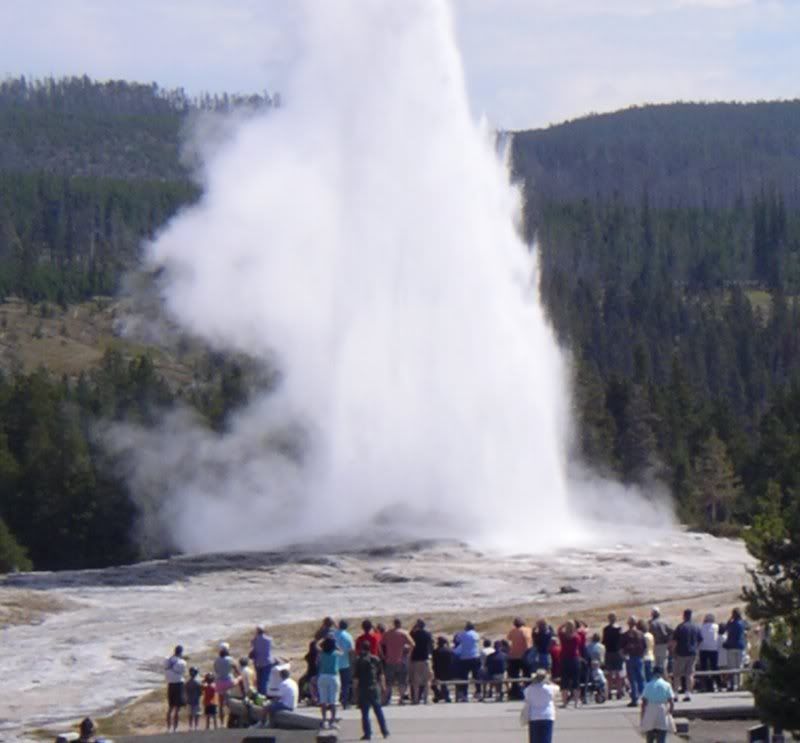 hot springs,
spectacular vistas,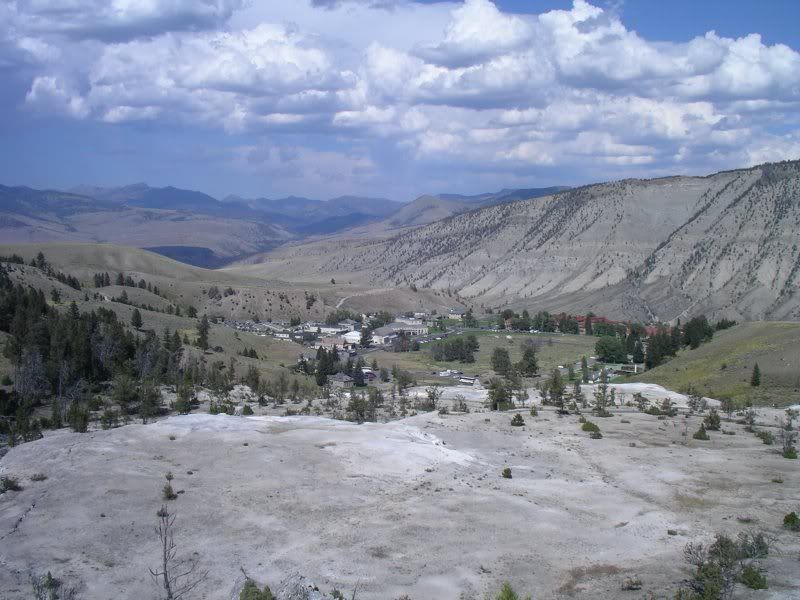 and, of course, the multitude of rustic souvenir shops.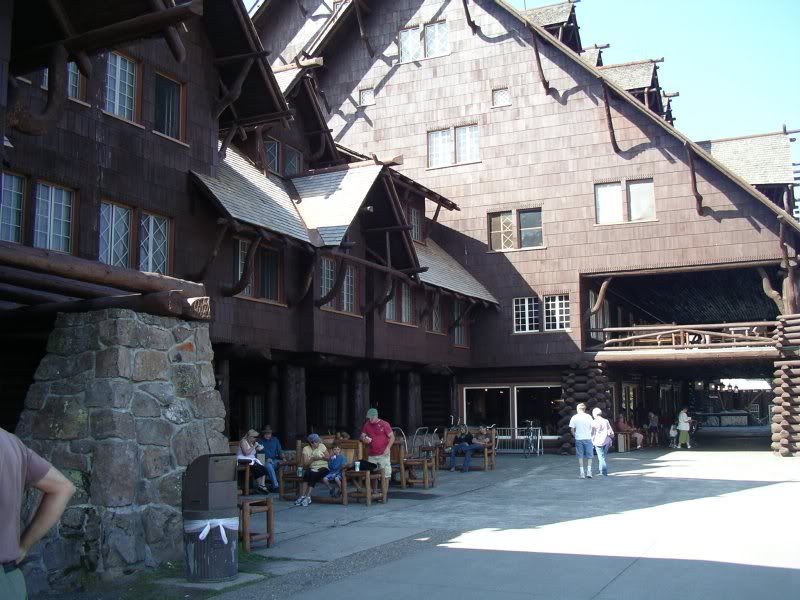 Oh yes, the lodge we stayed at. Sort of sets the mood....