Splashed the "stump jumper" for the first time since August '09. The river is full, just below flood stage.
Air temp @ 50 water 'bout the same. Thought I might get a Shad or two...
Stopped at a good spot fer a little while. Lotsa fly fouling trash in the water (leaves, branches and logs).
Tried a few other spots with no bites.
Figured WTH might as well take a boat ride...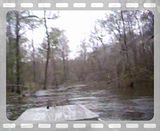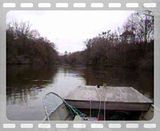 Won't be long before the Shad show up...