I really wanted to go to the river this morning...but for more than one reason...decided against it
Went out on the pond this morning.....took my new 10' 3wt out hoping to try for some bluegill....but they seem to be on the nest along with the bass....and are in very hard to reach places...and the 3 wt does'nt throw a popper very well
(I bought it wih small dries in mind) Anyway....switched over to a 6 wt...and tried to throw a zonker...and again kept seeing fish swirl in about a ft. of water...and in tough places to throw a fly....So I digressed once again....ran for the spinning rod
caught two small ones 1/2 to 3/4 pd. on my "snakey" lure as Blake calls it.....then saw a swirl in amongsts some trees about a ft. from the bank.....eased over and figured I'd switch up to a black lizard.....I threw it in the pocket and left it sit...smoked a cig. and leet it sit some more.....finally saw the swirl in the water where I dropped the lizard and figured he'd picked it up....so I set the hook.....just like last time....he peeled line and there was no turning him....he got me into a log and broke me right off!
I kept cruising around looking for good spots that should have a nest...saw a fishy looking little hole and threw in there....again...left it sit while I patiently smoked a cigarette....then saw my line moving sideways.....got a good hook set on this one...and he took me for a ride....after a minute or two and a couple of good runs....finally got him into some pads where I slowed him down....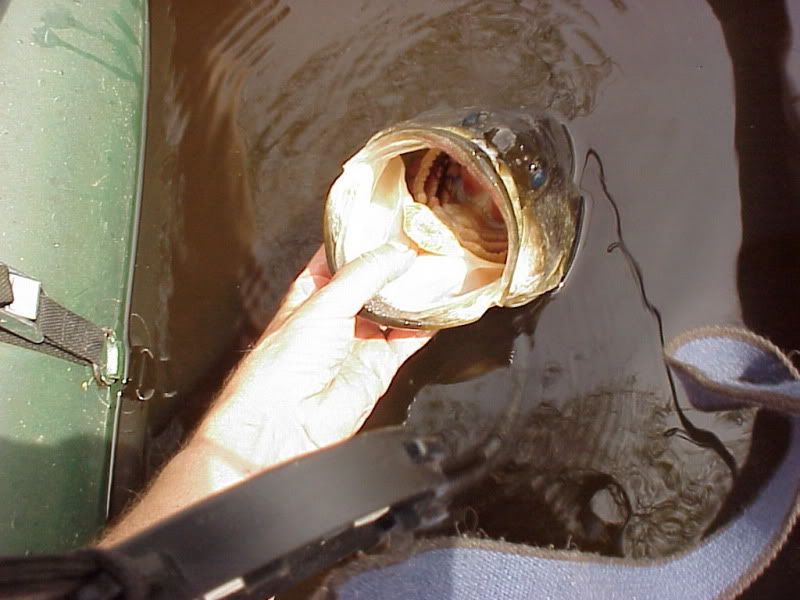 I'm figuring about 7 pounds ....he was a good 24"-25"
I know he was'nt on the fly...but I'll get out on the river soon enough...where I can throw some plastic line
Ammended: This was a good fish...and since I really suck at guessing weight and usually try to be really conservative in my estimates...I decided to go down and measure the frame on my toon...after I took pics of the fish I layed down the camera and rod..and layed the fish across and his nose touched one rail to the frame and his tail was a little over the other..... I'd put this fish at 26 1/2" and probably much heavier than 8 pounds
fish calculator puts it at 10.3 pds using 26.5" and a 15" girth !
I'm not so sure I trust that
http://www.bassresource.com/bassfishing ... lator.html

_________________


"The fish and I were both stunned and disbelieving to find ourselves connected by a line."

William Humphrey