With Billres bailing on me (just kiddin Bill) and me bailing on Peter and Josh
I was bent on getting out for a day....so I figured it was time to rig up a wheel on the pontoon.....Oh...it was a great idea on paper! And even upon completion I thought this was gonna be the greatest thing I've done yet.....Not!! In fact it ranks right up there with my "solar powered flashlight" and "inflatable dartboard" ideas. I thought I had it all figured out...I went to great care to make sure it would not allow the toon to drag on the ground...and not interfere with the anchor system......
and once in the water it would ride high out of the water...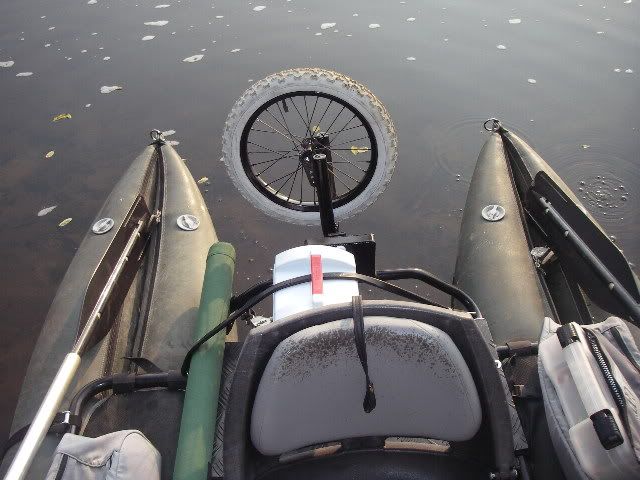 So....I'm thinking it would be an easy thing to roll this a mile or two up the tow path and then down the hill into the water to an enjoyable day of fishing....then even though I knew it would be a little work...dragging it back up the hill and rolling it back to the truck.
Here's a few of the things I did'nt count on....!st thing I realized was that I cant let my ramps down on the trailer with the side boards in...because they had the holding chains too tight....2nd...I thought they opened the gates at the pumping station...when in fact they never open them...I just got lucky and some dude happened to be nearby and came over and unlocked them for me and let me thru....how do I get back out though later?? I should have called it quits right there...but no....I'm a stubborn ass....so I fought this thing for better than a mile while the bracket kept tilting causing the toon to run in circles...and there wheel kept spinning instead of staying straight....I would have been as well off just dragging it! So I get to the point of taking it down a steep hill around 50 ft to the river...and halfway down I get it wedged inbetween two trees...then have to drag it up over a fallen tree...then over the rocks and down onto the beach....total times busting my *** about 15.
Now once I got it on the water it took me about 30 minutes to calm down and quit shaking enough to actually rig my flyrod up....I was so wore out and hot and out of breath I was shakin like Smokey's play toy. I ignored the worries of how am I ever going to get this back to the truck and went ahead and fished. It was actually a beautiful day on the water for the first 4 or 5 hrs then it got dreadfully hot....and it was really cool to finally be able to get around to places and fish and see where you cannot wade. The water was so clear you could see about 8 ft. deep. I saw just a couple of small 8 to 10 inch bass and a bunch of gar,carp and buffalo.
Some river pics......
I threw poppers without only one decent strike.....finally gave up and tried focusing mainly on the gar....though at a couple of points I spotted some huge carp probably in the 30 to 40 pound range...but the only fly I had that I thought might even interest them was the clawdaddy....I had one or two move into take a look...but that was as far as that went. I went on throwing at cruising gar....I would lead them by about 8 to 10 ft. and then strip it fast....they would chase it all the way back to the boat and then turn away. I finally got a grab but it lasted all of about ten seconds...just enough to feel a bend in the rod. I kept at it and finally saw some tailing in a shallow cove....I threw to a pod of about 5 of them and stripped it back...several chased it and then a big one came out of nowhere and grabbed it...so I paused and let him munch on the rope and as he began to swim away with it gave a good hard jerk....He was on and the fight lasted about 1 1/2 minutes and one good leap and a couple of good rolls...I saw the fly come out to the end of his mouth...it was hanging by a single strand of the rope....I got him up beside the boat and he opened his mouth and came off. Here is the beast....close to 4 ft. long and probably 15 to 20 pounds?
I thought I had a good shot of him coming out of the water but it turned out to be a total blur.
As time wore on I knew it was inevitable....I had to try to get the toon out....It took me close to 45 minutes just to drag it back up the hill and onto the tow path...battling the very same obstructions as I did on the way in...but compounded by the fact that it was uphill. I lost my footing at least 50 times slipping on those spiny balls from the gum trees! Finally making it to the top and onto the tow path....I was completely exhausted...sweating profusely and shaking with tremors again....thinking this was about the time for my heart to give out. I sat down and drank the last cold Mt. Dew I had....and thats when I had an epiphany! instead of wheeling this thing a mile and a half back to the truck....I would just float it back! I'm so brilliant....this is better than my idea of "glow in the dark sunglasses"! O.K. so I go ahead and roll it over to the canal on the other side of the tow path where I figure its a couple ft. down a mild hump and into the water....HMMMM...its not looking so easy upon closer inspection....its about 5 ft straight down...then about 8 ft of water in a straight drop off.....I figure I can ease the boat down the hill...find a footing and get into the seat. Heres how it actually went...I drop the boat over the bank it goes in a verticle plunge...I follow behind with knowwhere to stop or get a footing....as the boat goes into the water verticlly...I come crashing behing...the boat bobs back up out of the water knocking the daylights out of me...then levels out and starts down the canal with me in tow....I finally manage to work my way to the front of the boat lifting myself up into the seat completely drenched and beaten like a stray dog! So I drift down to where I parked my truck and trailer...I managed to pull the boat over into a patch of thorn bushes.and hang the boat up there while I scaled the side using the thorny limbs as a hand hold....I finally got out and fetched the truck ....returned to the bank with it....hooked a strap and pulled the thing out of the water using the truck...at this point not caring if I damaged it or not.
So...my next idea.....rig some shoulder straps so I can haul the toon on my back like a knapsack....take it to the mountains so I can float some of them purty brookie streams.....I think it'll work!

_________________


"The fish and I were both stunned and disbelieving to find ourselves connected by a line."

William Humphrey