Met up with Aaron on sunday....he really had is game face on.....and his finger up in the air as he passed by me on the way to the water.We got to the put-in...eventually...and Aaron only took like 45 minutes to rig his boat!
He told me this "craft was so fast on the water it was'nt even funny......look where he is.....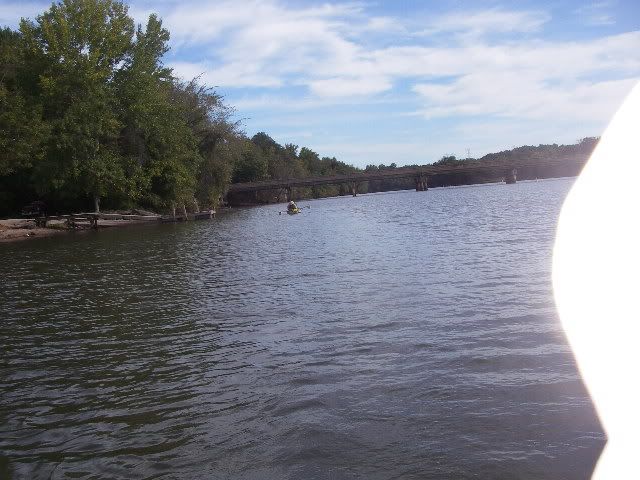 I thought I was gonna have to go back and tow him to the fishing hole.We finally get there....and guess what ....no gar to be found.....nothing else the whole day either he finally called his buddy to ask where the fish were....
His buddy said they were up river feeding at the dam
.....so we went home empty handed
well.....he did get one wall hanger...maybe he'll post a picture of it
. The fishing sucked....but the company was good. Sorry I had to cut out Aaron....but went home for a steak dinner and a movie with Michele and the girls....with ice cream....MMMMMM
. We'll do it right next time...tie a few flies,drink a couple of beers with some Q and fish the next day or something......but eventually you need to come down too....just not right now....fishing sucks down here too right now....
Got up this morning early early....thinking I have to catch one of these damn gar....it killed me not even to see one after tying up the killer gar fly....
This one casts really well and looks good in the water.....and a few mulberry flies for the carp....
So I hit the road early....only to find that there is a set of gates I was unaware of.....guess you have to wait till 7 AM to get in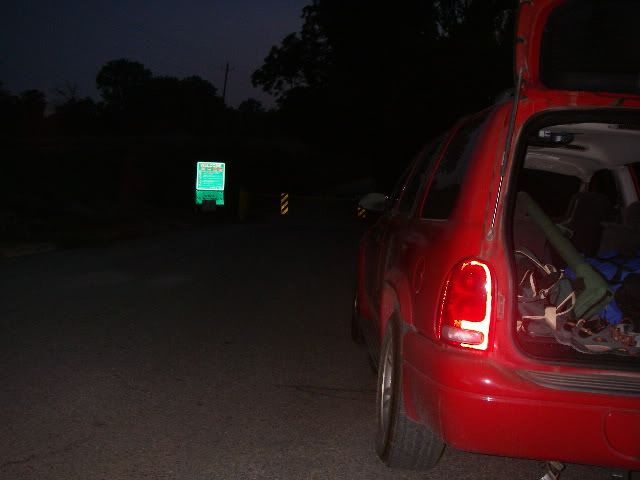 Anyway....finally get in....set up the toon wheel...made it thru the walkway by turning the toon on its side and sliding it thru.....walked the tow path and could'nt remember where I went down last time....so I chose a steep 5 ft drop followed by a 2 ft rock wall...and a bunch of brush the rest of the way to the water....Once there it was really pretty...
One of the two gar holes....
The other.....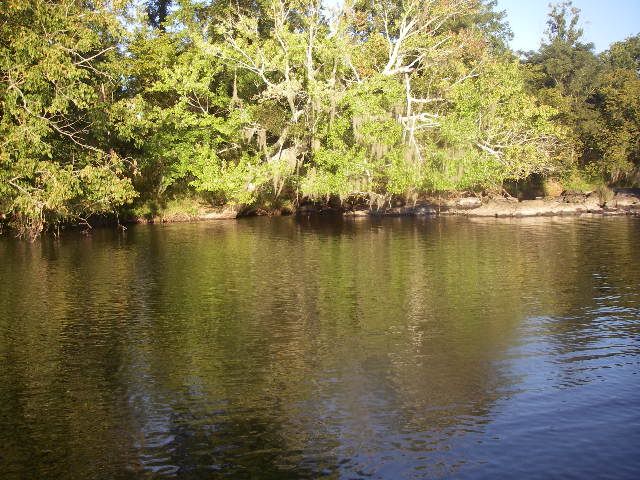 Early on I could'nt see much without the sun on the water....but on the very first blind cast I had a small 18 incher follow my fly back to the boat.....and as the sun came up I searched some more.....only to find some hanging in the rocks.... (center left you can see him in the rings in the water)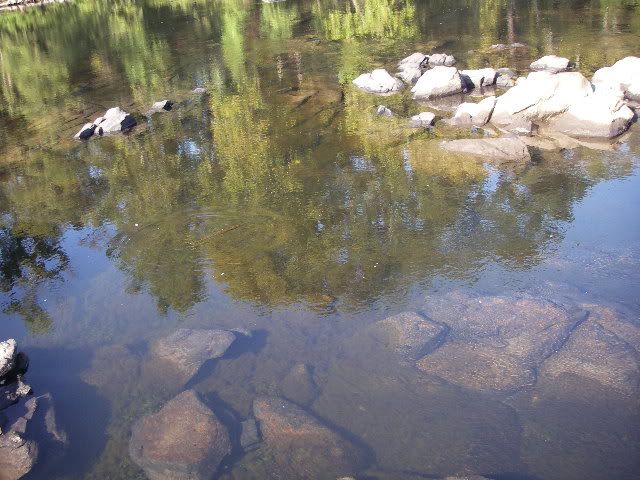 there turned out to be several...and had a few more follows....but no takers.
went back and looked in the big flat pools....but they were still not grouped up like usual....they were spread out and you would just occasionally run up on one or see one stick his snout up out of the water.....again...a few chases...even a couple of short nips...but no eaters. Same story throut the day....I saw a number of big carp...had no interest in the mulberry fly or nymphs....did get one sucker or whatever they are (16 inch fish with sucker lips white fins....look a little like a carp without wiskers)....saw a bunch of small largemouth about 8-8 inches and one that went about 3 pounds....same story....they would chase the flies....but would'nt eat.....long story short.....this was the wall hanger of the day.....
I can't figure it out....last several times out....all the fish would chase flies....but hardly a damn fish would eat
......is this why no-one else is posting reports??
Toon wheel worked much better this time....but still is'nt easy....actually the worst thing this trip was simply the long ass haul back to the truck on the tow path in the 100 degree heat at 2 in the afternoon.....bout killed me! but the wheel really did perform much better.
Bill....I spoke with one of the workers from the pumping station...he said it is 3.5 miles from the head gates to the pumping station....he said something about some stairs then crossing the bridge.....we really need to go by there sometime and scope it out...if it is a reasonabl put in....we could make the float from there down to the N.Augusta boat ramp easy....and theres some nice water between there....he also said he was'nt catching much right now....but had only been a couple of times after being put on a swing shift....but he said they should turn back on this fall when temps start to fall.

_________________


"The fish and I were both stunned and disbelieving to find ourselves connected by a line."

William Humphrey