Well we got out on the road for some fishing. Went down to the lake as we use to say. Folks have a camper down that way. I spent a lot of great times down there growing up and I want my son to have the same opportunities.
We had been down right before school started up and messed with the boat some. It had some pretty aggravating problems with the fuel system. Ran like sh-- for the most part. I couldn't fix it then. Bothered me ever since. Guess I got out of the lake fishing along time ago and just wanted to get back. As I told my folks neighbors down there boots don't seem to have so many parts to screw up.
I went with a plan on how to fix the fuel system and some strategy to get to fish. I planned to boat mechanic after the tailwater to the lake started generation each of the three days down. Saturday morning got down to the dam. They have been dropping the lake and the basin below was stained up pretty bad. Wanted catch carp but right off knew sight fishing wasn't going to pan out. Almost gave up before I started on the tailwater fishing. Guess that lets see what's happening attitude that keeps us out took over and I geared up and went at it. Decided the little Clouser pattern that had caught drum a month ago would be a start. Started flinging a fly. After about 20 or 30 minutes a solid hit. Set and off. Low and behold a fish I had coveted on a fly for a long time. Nice little sauger. Pasty colored walleye if you never caught one. Caught a bunch of them. They fancy a little C/W Clouser. My day was made. Love a first on a flyrod fish. Caught loads of them as child on minnows and jigs. They had stayed off the list seemed like forever. About noon I cast a couple more times and heard the alarms for the 15 min warning. Solid strike and figured it was another sauger. Nope it was a white bass also a fish that had alluded me.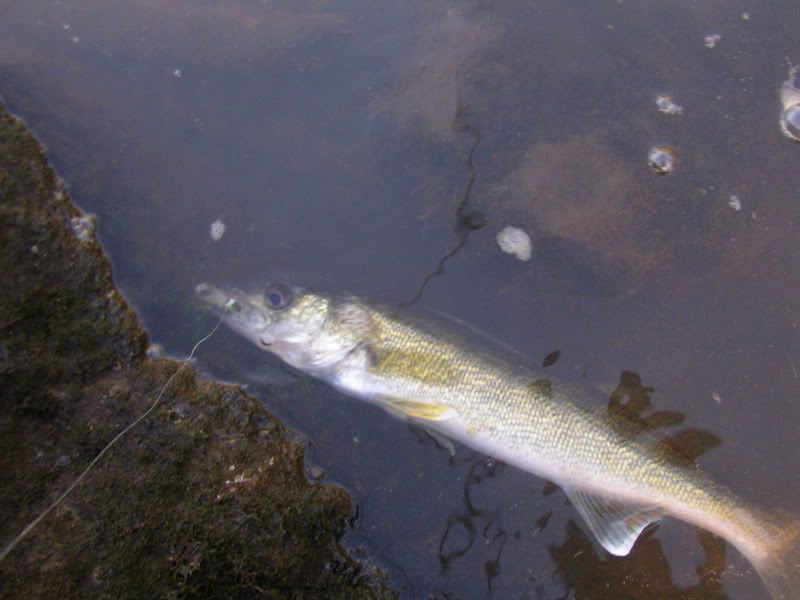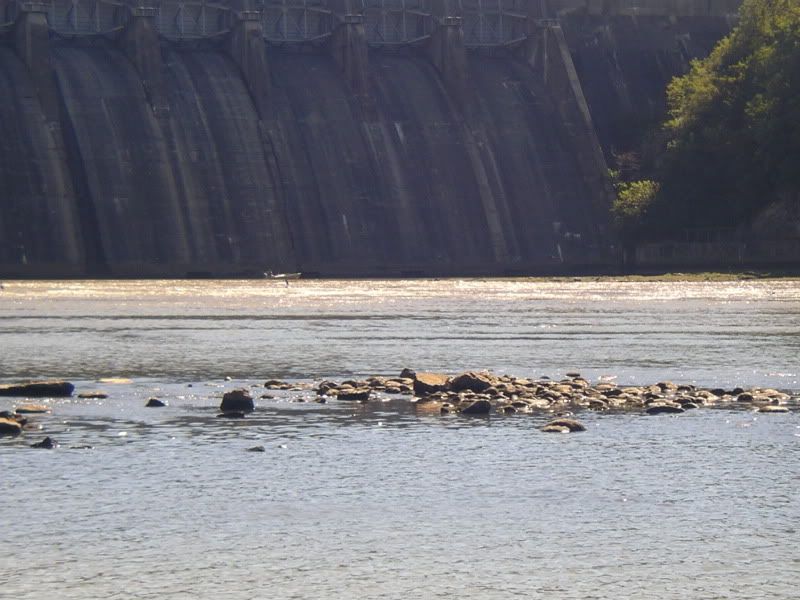 Happy with myself I went to the boat. Boots don't have fuel system to fail I kept thinking. Studied the problem some more and reached a conclusion. 'Take offending parts off and replace the crap'. Not a sound plan by any means but this boat has run one day in probably 3 years. Off to the parts place and back. Switched it out and sat back. Too late for a test. Grabbed a rod and started walking the shore around the campground. Saw a big carp feeding. Cast and spooked the fish to Knoxville. Might have cursed a little louder than I thought. Guy walking stopped and glared at me. Oops.
Next day the tailwater was muddier than Sat. I cast and hunted for 3 hours with no joy. Bait chunkers came and went. I persisted. Anthony Quinns character in Old Man and the Sea could have related. Finally near to noon a bit and a set. Carp! He ran and fought valiantly. Probably in the mid 20 lb range
Couple more cast and another white bass. Bob Clouser needs a shrine some where
(No carp pic. I would have fallen and busted my ass)
Launched the boat as soon we got back. Started which was in doubt. It ran which was also in doubt. Loaded up the crew and ran across the lake after some solo riding around to test it out. Cast to the cliffs till I found some responsive bluegill Yes I help my son fling crickets at hungry little bluegill. He had a fine time. Was more interested in going fast and what's over there at the time. Guess a 6 year old see's the world like maybe we ought to sometimes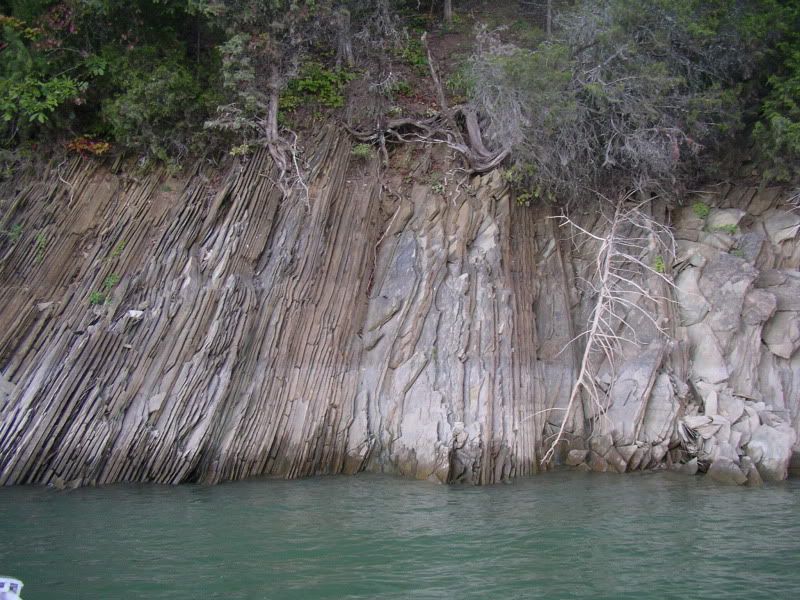 Son loves a digital camera.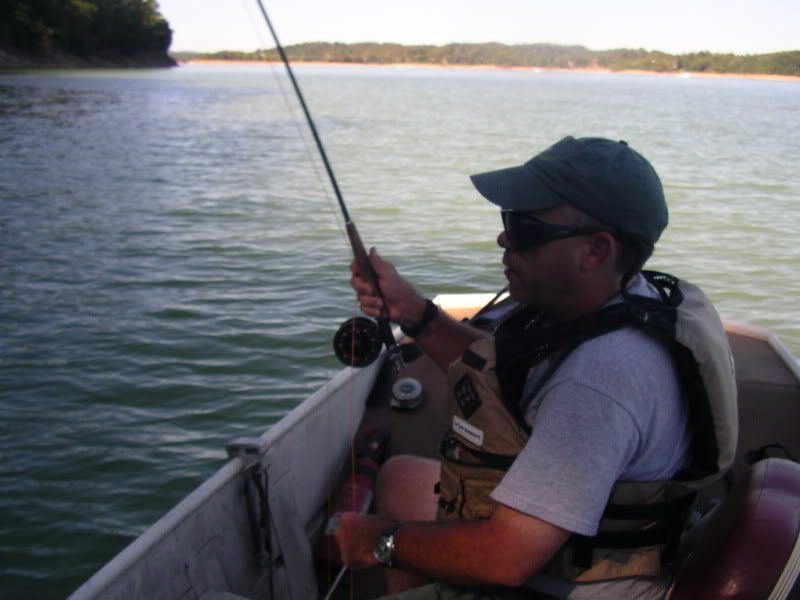 Fished this morning for half the day. The water was clearer. Caught several decent sauger. and pulled the hook on two nicer than average carp. Can't get them all and it's fishing I know