So after a crappy week...and pretty much a crappy year fishing wise....I finally got in this weekend with a lot on my plate....but I was determined to at least get out on the pond for a bit....maybe try a few new flies...and hopefully catch a few fish. I started out last evening throwing poppers for brim as some clouds moved in....a few obliged....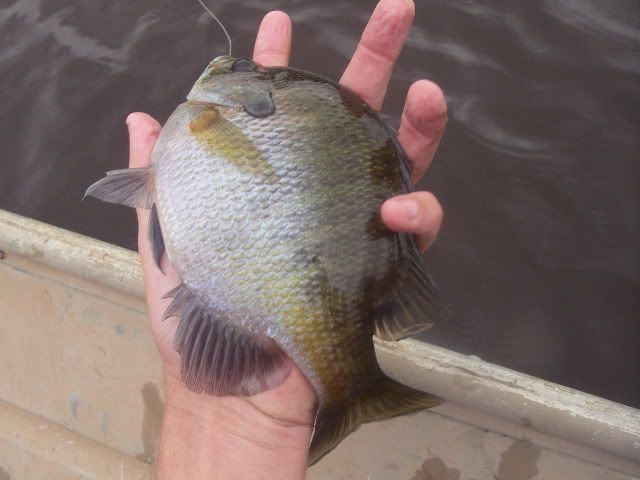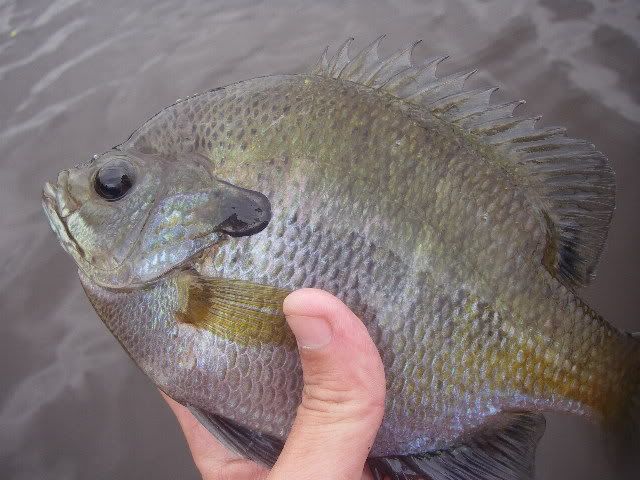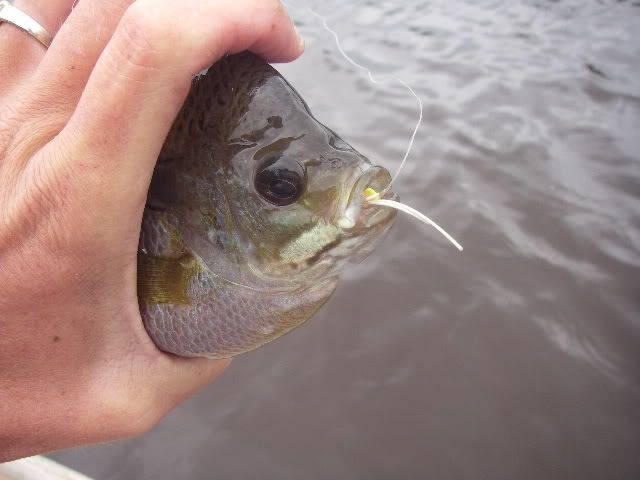 Maybe about two dozen in all with a few runts thrown in.....and a couple of bloated piggies....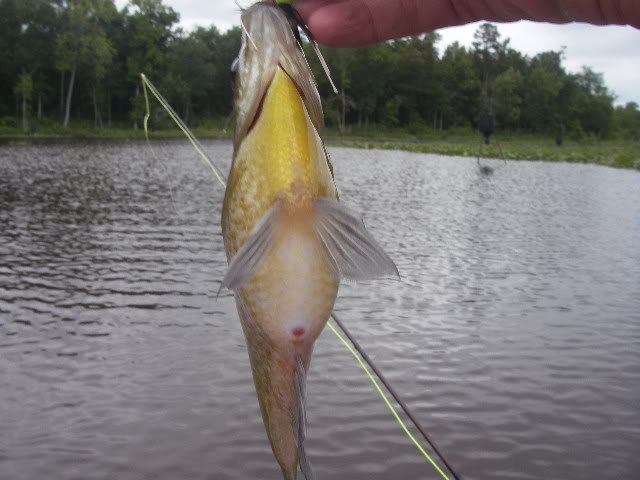 I tried a new fly ....a real simple tie with some DNA holofusion for the wing and a short section of white for the belly....some red cactus chenile for the gills and some big eyes coated with epoxy....my thinking was to keep it simple, give the illusion of a baitfish....and something that would have some decent "swim" to it. A few freinds that have tried them out caught a bunch of speckled trout and a couple of stripers on them....but I wanted to throw em' to the bass.....1st pitch...this tiny guy....
then a few casts later a crappie showed up....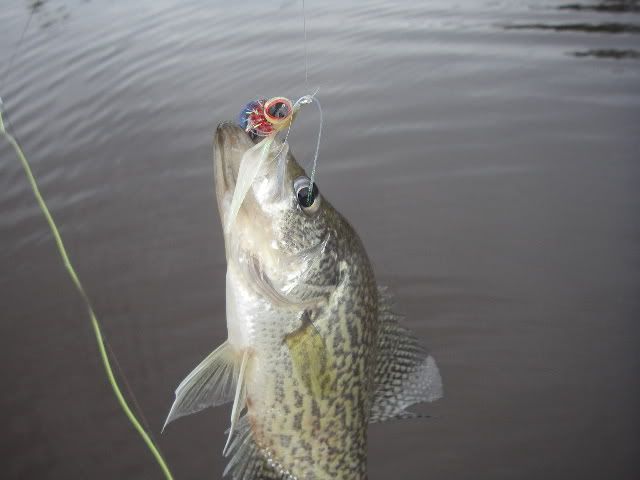 A couple more smallish bass like this one.....
Then it started to rain....I tried to hang tough....but the wind also picked up....so I went dirty and got out a spinning rod and some plastices and beat the lily pads and bank....I had five damn nice bass ranging from about 4 pounds to the largest near 8 pounds ...all either came unbuttoned or broke me off....the largest was the last as it started to downpour....so I called it a night. My wife hates it when I get frustrated fishing....because I come inside all pissy HA HA. So anyway....I hoped for a bit of revenge this morning....
I went back out and threw a popper for a bit just after dawn and they were'nt playing ( they had just been fed......and they won't hardly eat nuttin' right after the feeders have gone off) So I quickly rigged up for bass and caught a couple on the deadhead minnow....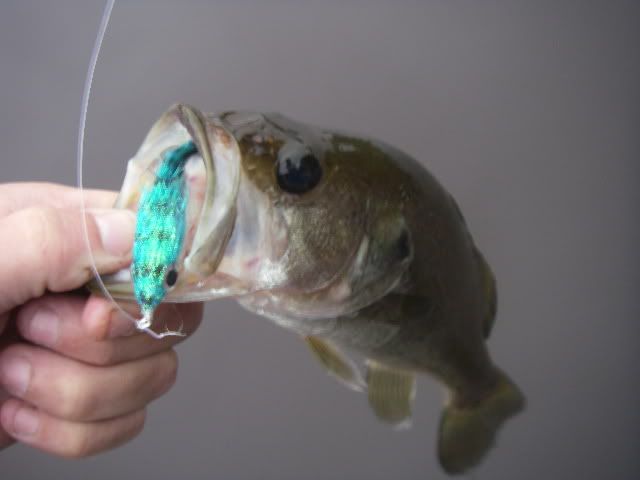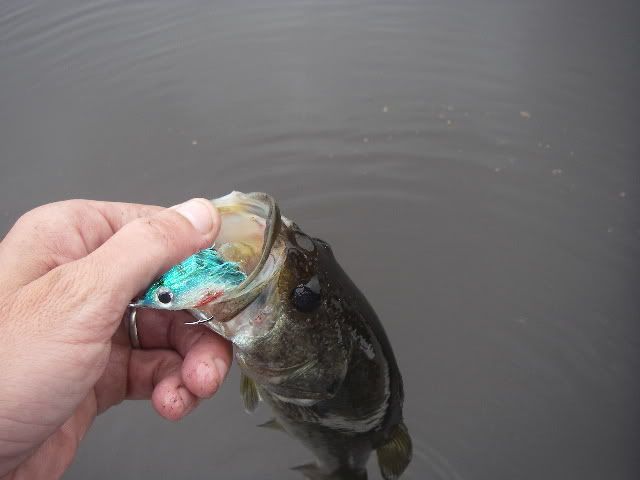 then I tied on the baitfish pattern previously talked about in a tan color and after about a dozen casts it got ate.....by a big muther.....did'nt feel big at first as he was running sideways but then as I applied a little pressure that hoss lept about three feet in the air...and spit the fly....a solid 7 pounds....maybe a little bigger. Again....left me a little deflated and frustrated...and pissed. I decided to tie on a small minnow pattern and see if maybe the brim would eat something other than a popper....very first cast yeilded this piece of crap....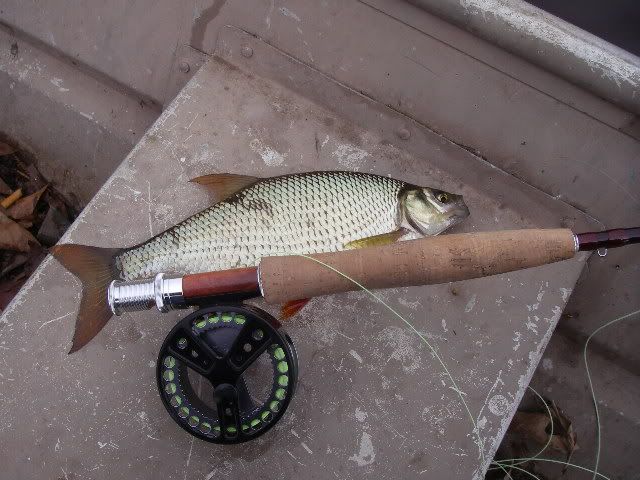 biggest dang golden shiner I think I've seen yet....this darn thing was about 13"....I'd never have thought one of those jokers could get a size 4 B10S hook in its mouth! Another few casts and it was lost in the pads....so I tied on something similar....just larger...caught a few half pound bass...and then I thought I hung my poor little 10' 3 wt. on a log....it was something solid....but then it began to move.....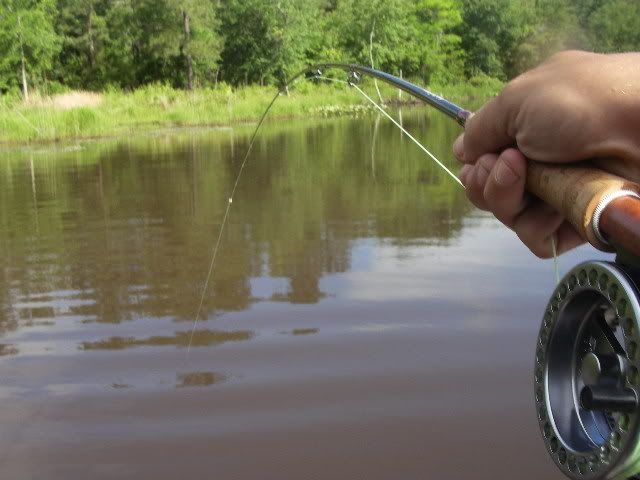 one good leap and a few scortching runs on the little click and pawl and I finally boated this guy....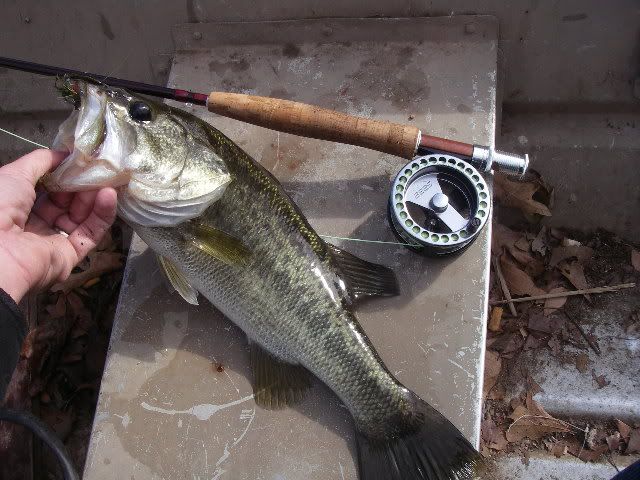 not quite as big as some of the others...but fun none the less on a noodle of a rod. It felt like sweet revenge....and with that I decided to hang it up and end on a good note. Went and did a little bush hogging to clear about a half acre....hoping to have a few guys down in June for a little "romp in the swamp" .
And realized once again....I seriously need a freakin cup holder on my tractor!
Now back to work on some better flies for the pond....I need to come up with some really good baitfish patterns that are big....but not bulky...and hopefully weedless....these turds are tormenting me to no end!

_________________


"The fish and I were both stunned and disbelieving to find ourselves connected by a line."

William Humphrey