Sorry for comin' in so late....but I'm still wiped out! The weekend started out a bit rough as I was still in Savannah at 3 PM on Friday...but barely made it home in time to be there to greet Peter who arrived first....followed by Little Cherokee,Cameron, and OMD . We got to fish the evening bite just a bit and fished until just about midnight.....Peter outfished us all both nights....but everyone caught some decent brim and a few small bass.Had a decent camp fire and some laughs and turned in fairly early....I got up at 4:45 AM just in time to answer Bill's call at 5 AM.."I'm on Overbrook st...where the hell do I go from here?" Friends quickly poured in that morning and we got some good morning fishin' in before the unreasonable heat. These guys had me slaving away all afternoon catering to there every whim all the way up to dinner....when we had some nice ribeyes,organic salad and baked taters. We sat around like bloated scavengers letting our dinners settle until the sun dropped over the trees and hit it again.....I think we just about hit the maximum carrying caapacity on the pond ...as a matter of fact Smokey and Nate almost ran over Little Cherokee....there just was'nt enough room to get by....least that was thier story.Once again we fished beyond dark....but did not give the nocturnal bite a good chance....back to camp for more laughs. Sunday morning we were greeted by another awesome breakfast by Peter.....Nate even got his served to him in bed! ( We later figured out why....ther were several condom wrappers found outside the tent. I brought in $ 42.50 over the weekend.....I knew that machine was going to be a cash cow!) A few of us ventured out briefly Sunday morning.....I made nate row my ass around in the toon cadillac....but did'nt catch much......but as you all have already seen....Peter was happy he gave it one last try....finally ....the pond gave up a nice one....well done Peter!
I had a hell of a good time and hope everyone else enjoyed themselves too.My old man was happy to hear everyone had a good time and said he hardly knew we were there....other than catching a glimpse of a passing boat.....he was impressed with your toon Smokey! We definately need to do it in the fall when the weather is more bearable.....I really felt bad for Nate. I'll have things in even better order and I know the bite will be on....cause I'll shut the feeders off two weeks ahead of time.Anyway....here's a few pics from the weekend and a few short takes.....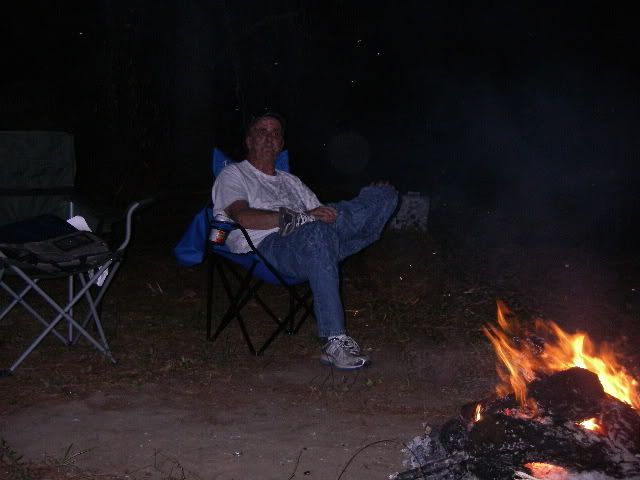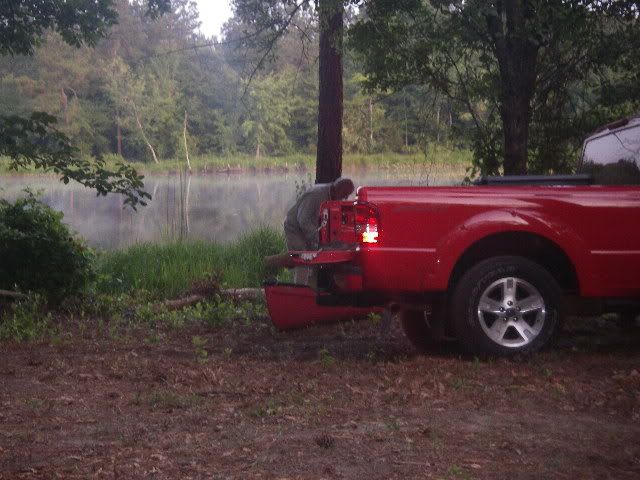 OMD got jealous of Peter and Nate and came to me for some lovin'.....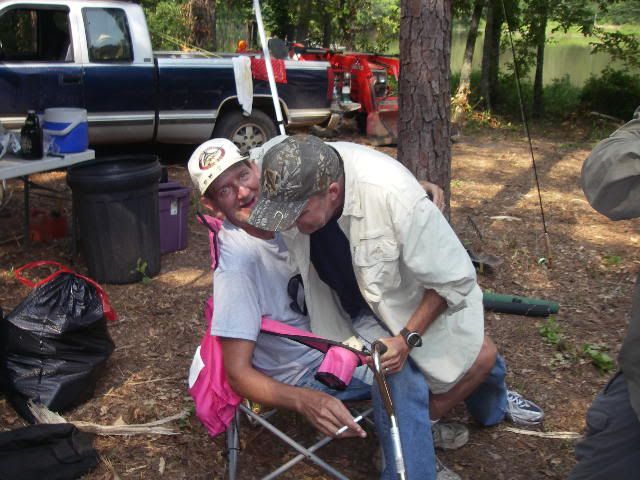 OMD surveying the "honey hole"....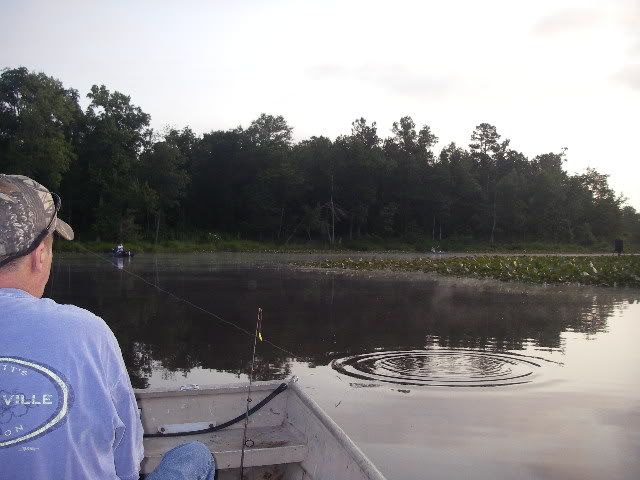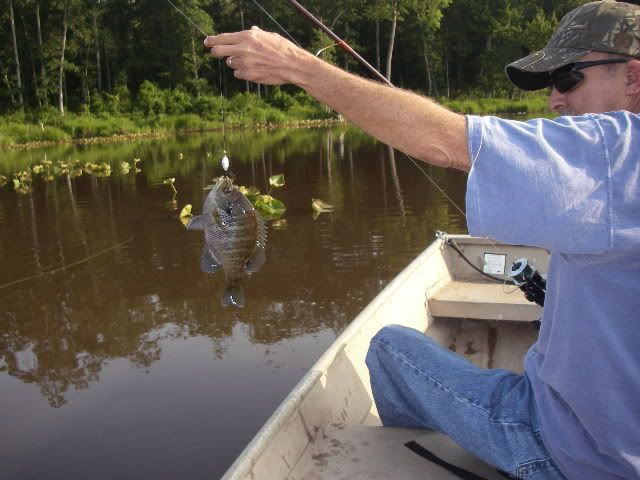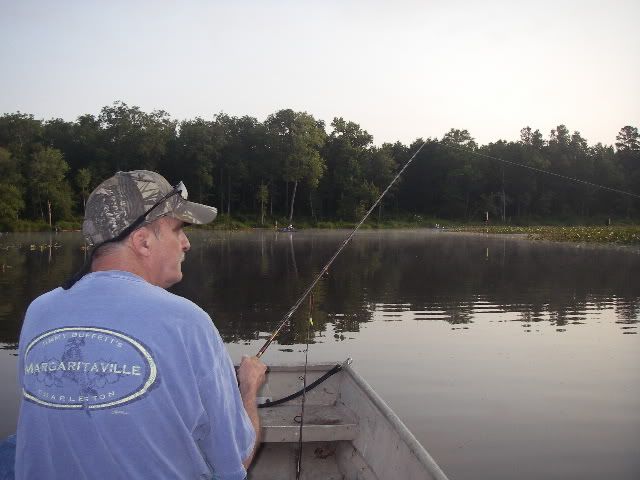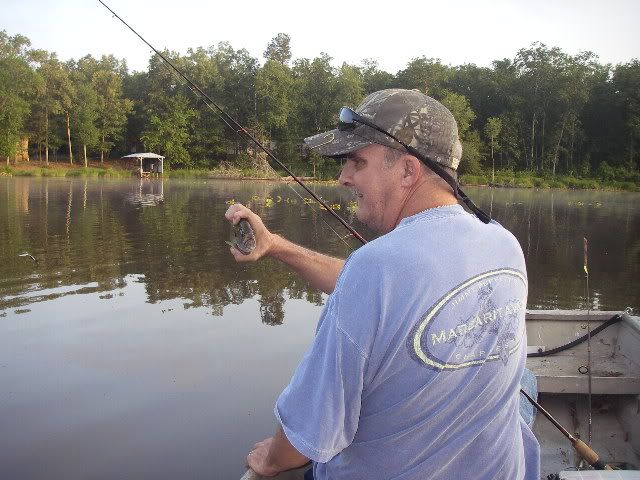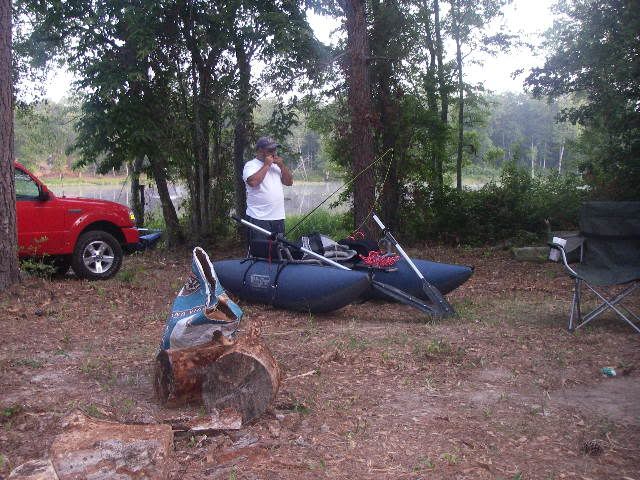 Nate "the morning after"....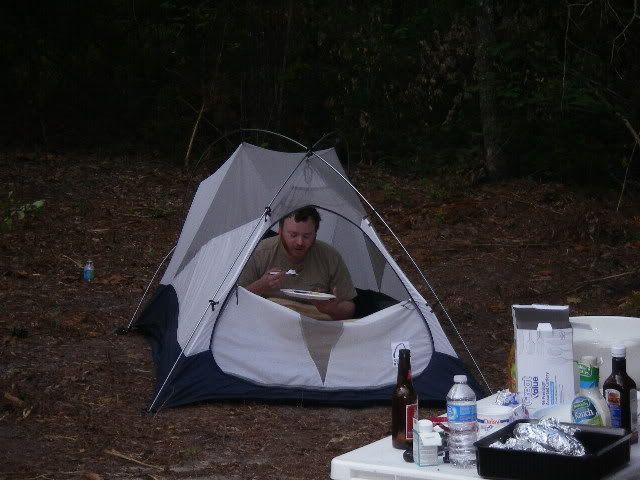 OMD "the morning after"....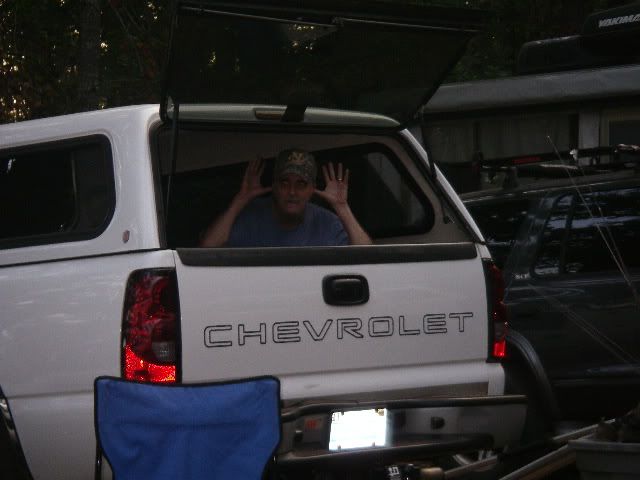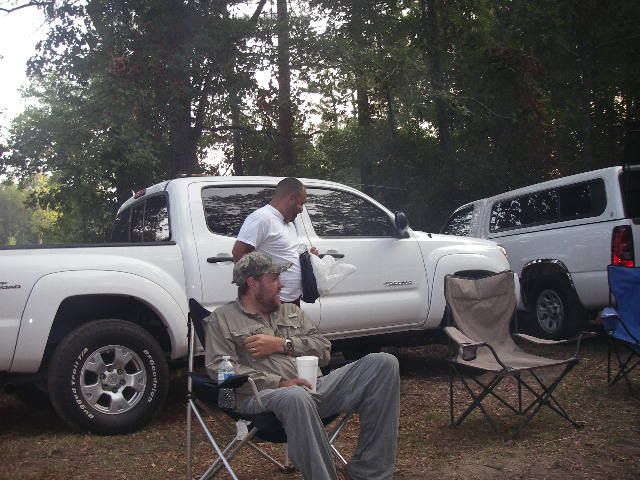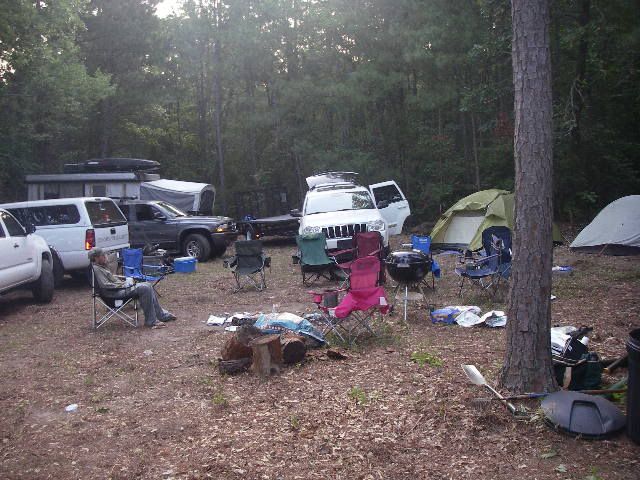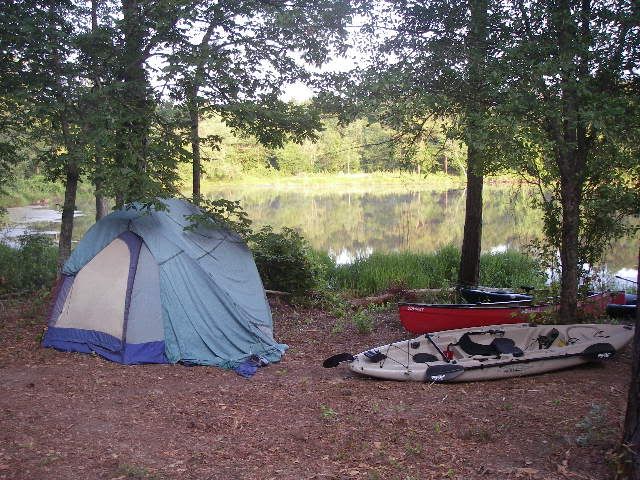 Smokey "the morning after"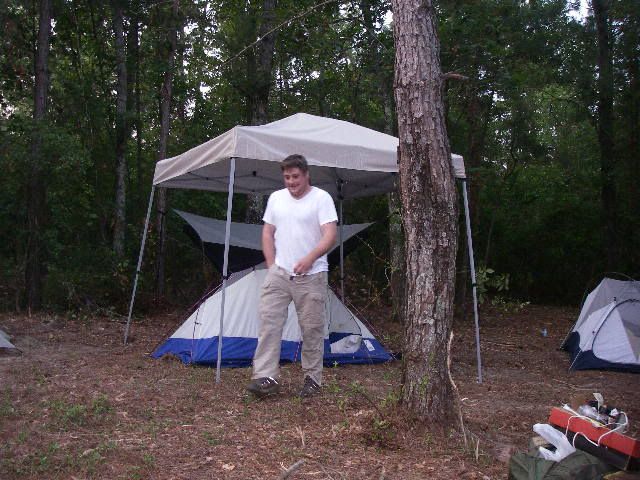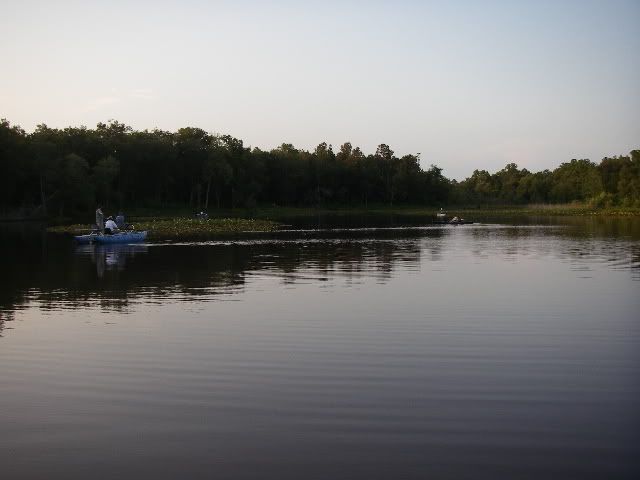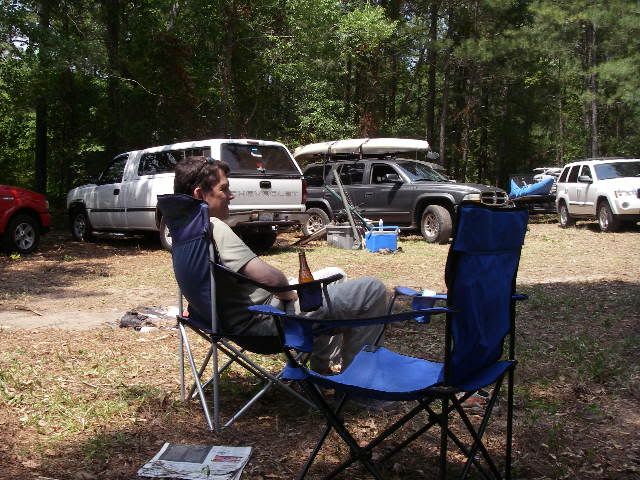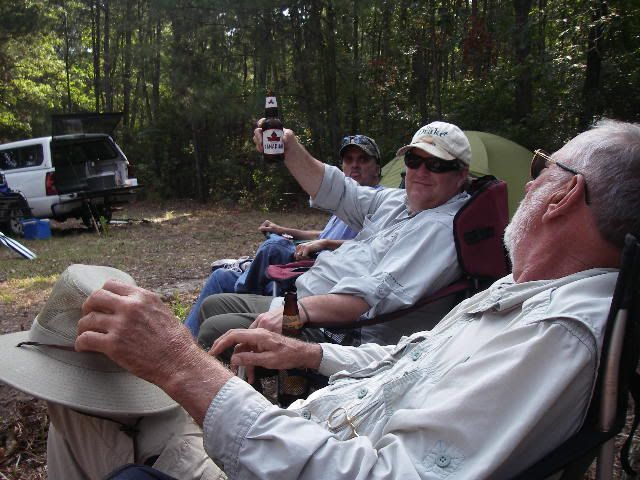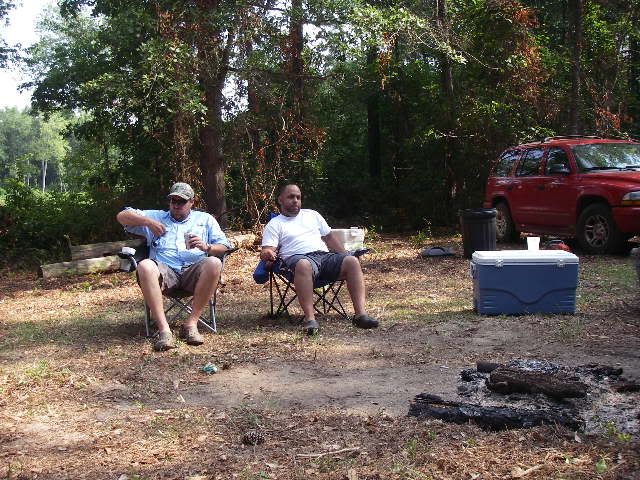 Saturday nights dinner.....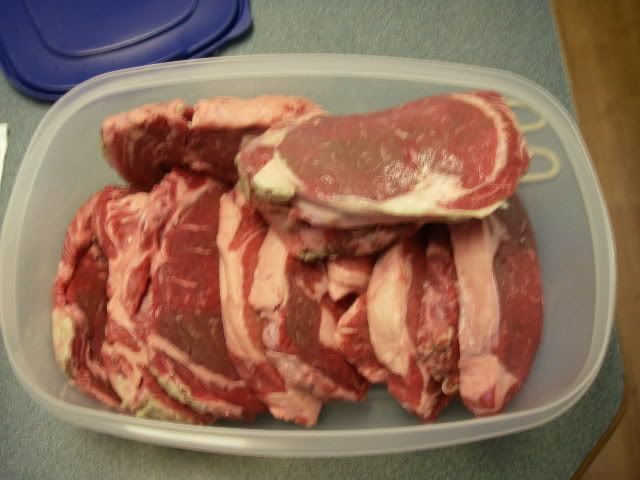 refreshments...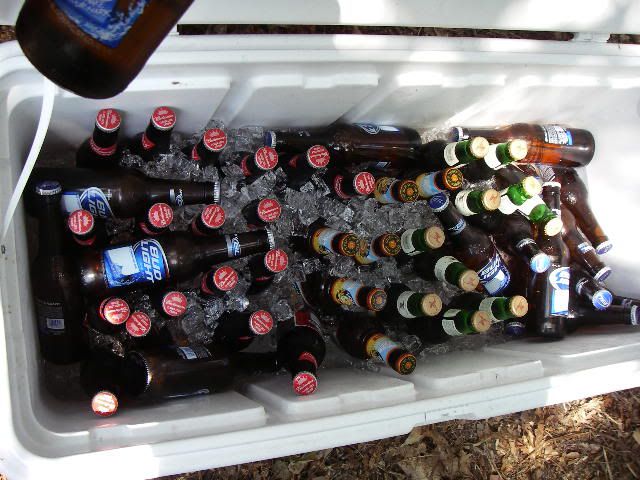 the short takes.......
B-Jay the DJ ......I never told you guys....theres another entertainer in town.....a ventruiliquist who does a "no hands" puppet show entitled "chubby the cucumber" ...I'll let it be a surprise.
Jack double seatin' Peter....we all knew he'd be the one to peep!
Bear trap
Breast stroke
the wishbone
breakfast in bed
lavender oil
floatin in from the dominican
chartruese sneaky petes
"theres no fish in this pond!"
half inch from titty brim.....(I'm still not exactly sure what that means...but it sounded good)
Ribeyes
"whats the snake situation?"...."there are three big muthers on the way up to the crapper.....and one little one over there....but he won't bother you"
OMD wantin some lovin'
football helmets
"I hope for your sake that was just a fart"
" Its for medical reasons...I have MS" ......."yeah....I have glaucoma ...so don't be bogarttin' that stuff!"
"Tom...what brought you to Wagener?" ....."somebody had to breathe some life into this town"
"Tom....what brought you to Wagener?" ...... "I'm in the witness protection plan....they'll never find my ass here!"
"Tom....what brought you to Wagener?"..... "the fantastic night life, fine dining and world class shopping"
"So Tom.....how did you end up in Wagener?" ....." It was an accident"
"Hey Tom....how did you end up in Wagener?"......."If I get asked that one more time I'm gonna leave freakin knuckle prints on someone's forehead!"
The better question is.....How the hell did you all find your way to Wagener???
I hope ya'll find your way back this fall.....it was a blast (all except the heat) Thanks for comin' down everyone....really....I had a lot of fun and appreciate it!

_________________


"The fish and I were both stunned and disbelieving to find ourselves connected by a line."

William Humphrey