Finally got to float the shoals on the Savannah in Augusta yesterday with Croaker and Billres, this is a trip I've been wanting to do for a long time. We got started about 30 minutes later than we could have...but still managed to be on the water by around 7:30 AM trying to beat the heat.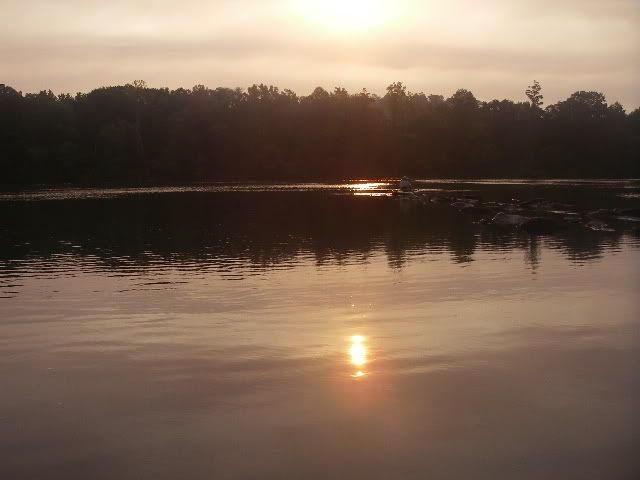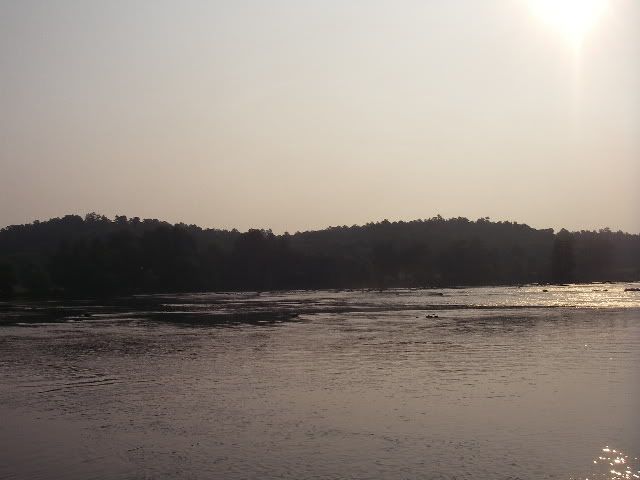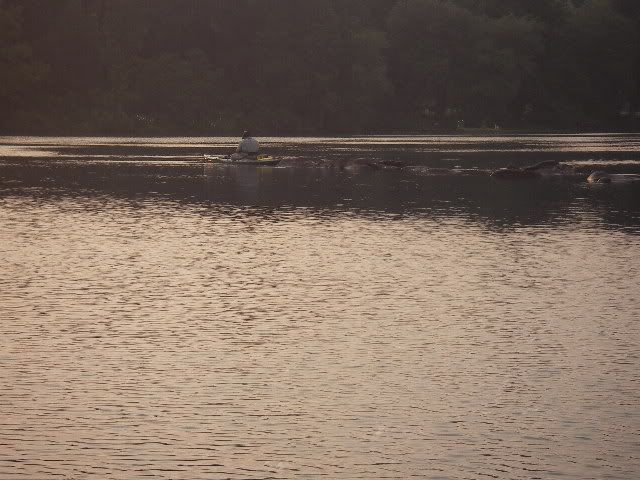 As things turned out there was a smoky haze laying over the Augusta area from a fire over in the Okeefenokee swamp region where there was a 500 sq. mile wildfire burning, this along with an almost constant breeze straight back up stream kept things cool much longer than we had antisipated.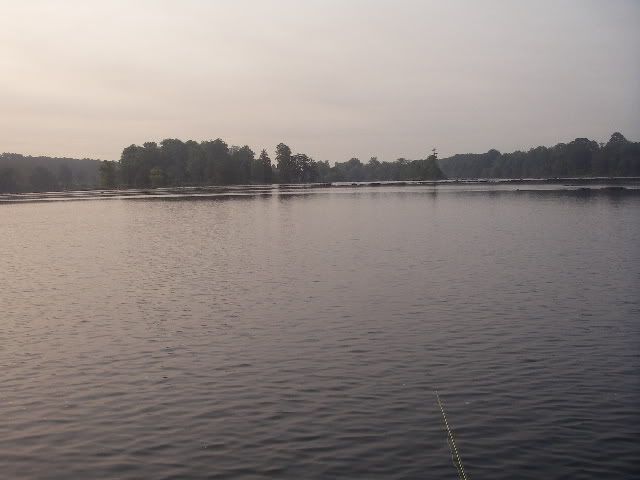 The Savannah river is probably one of the prettiest rivers I know of...and I travel all over the country ...so I've seen pretty much all of them. The water is almost always Gin clear where you can see about 8 ft. deep.....lots of wildlife and just really pretty scenery along the way.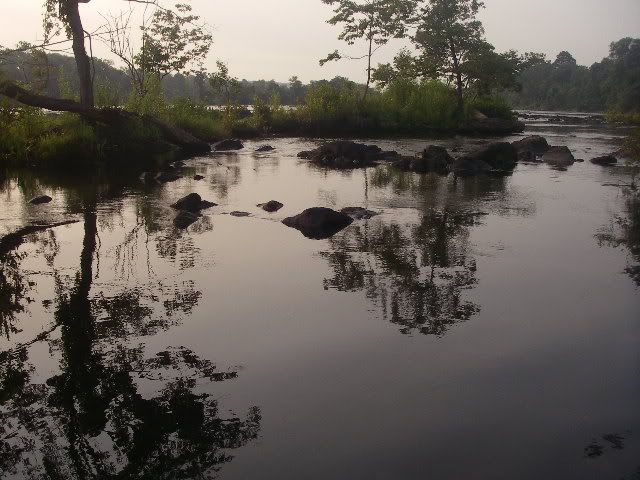 There are several sets of rapids ...short ones like this....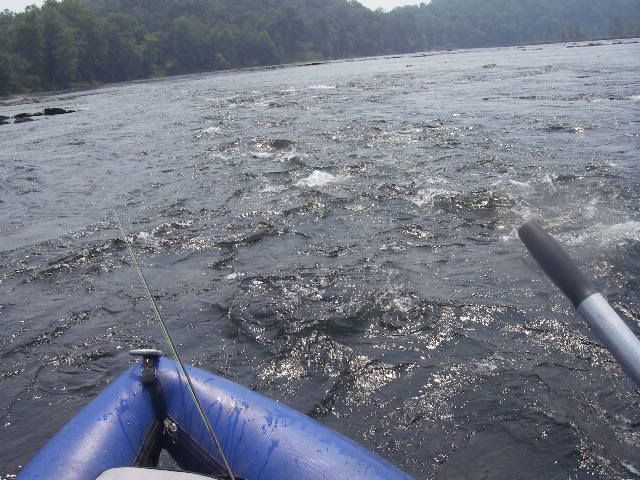 And a couple that have a drop of about 6 Ft. or so. I lost my anchor and got a good lesson in water safety as I went down the biggest set...which happens to be at the end of the shoals....I saw what I thought was my only passable chute of water where some tubers had gone down right in front of me...so I chose the same route....it was a stairstep set of about three drops...and as I started down the last drop...my boat came to a dead hault. I heard a couple of the tubers shout at me and as I looked back I saw my anchor rope stretched completely out behind me. I actually pulled my self back up with the rope...but could not manage to work the drag chain free from the rocks...suddenly the back end of the boat started taking on water as one of the tubers began to wade over and said he would try to retrieve it. I told him to forget it...as I figured it was to swift of water to wade and was'nt going to wait until my boat went under so I let go of the rope and before it got taunt again had untied the rope and just let it go.I was going to drown myself over a bucks worth of rope and an old chain...and the water can take you under pretty darn fast!
Anyway...as mentioned earlier we got to float much longer than expected ...however with the relief of a cool breeze came another problem....the wind continuously blew my boat back upstream. I don't mean it occasionally drifted back up...I mean as soon as I dropped the oars it would spin around and start heading straight back upstream against the current. I would paddle a hundred yards down stream....pick up the rod and make two casts and be back upstream where I started! I'm laughing about it now...but I was getting frustrated as hell with it at the time....I've never seen anything like it...It really never messed with casting but maybe twice the whole day....but damn...having to row hard downstream with the current?? About two miles into the "float" I was about to tell Billres and Croaker they could float on down to the takeout to thier truck...I was just going to float back up to mine!
It was a slow day for me fishwise with this being the only fish to hand.....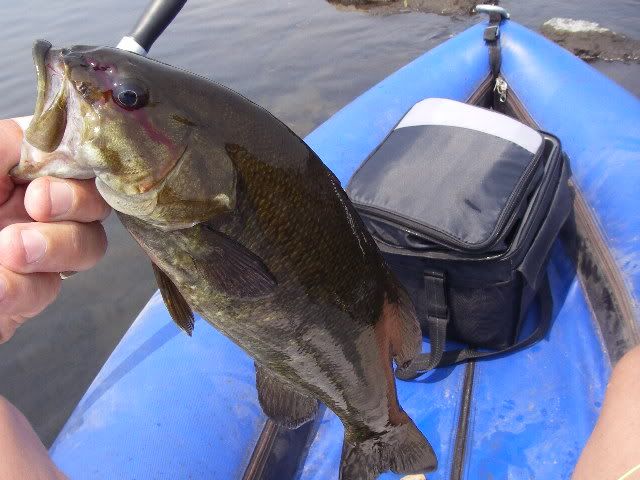 he was a decent pound and a half and fought hard. The blood is where he got poked in the nose...which is the downside to tying flies "hook point up" ...I see a lot more wounds this way...especially near the eyes...thought this guy was gonna be fine.I had several other good takes on the zonker where they bent the rod over fought for a few seconds, would bow up at the surface then come unbuttoned. Never had a hit on a popper all day....where as Billres and Croaker were mopping them up with the sneaky pete.
Even though I did'nt catch much...and had to fight the wind...it was still an enjoyable day on the water....always is with Bill and Don! Fished until about 2 in the afternoon...took a little break....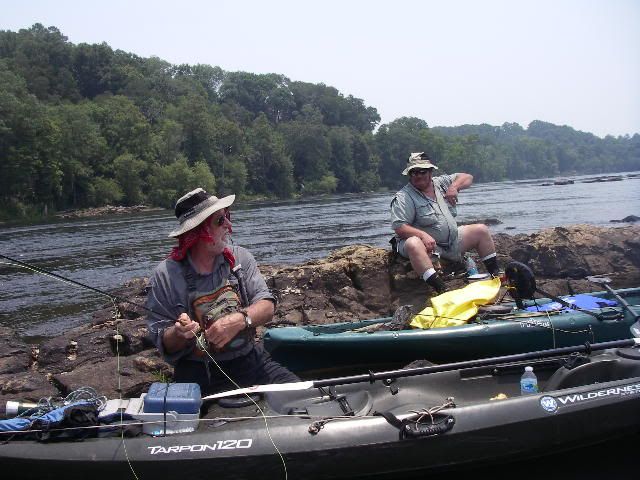 had some local home brew.....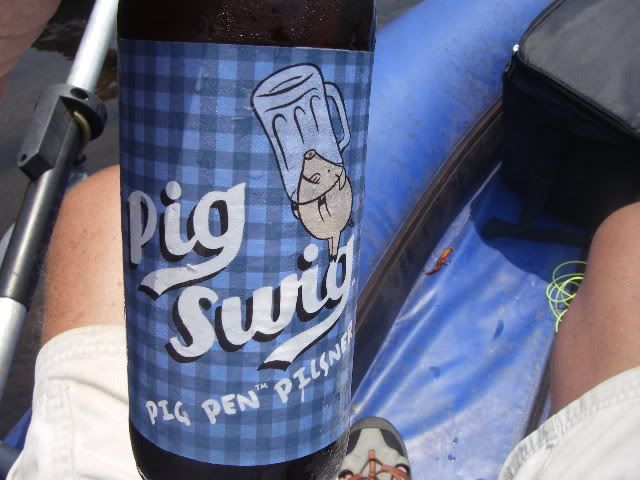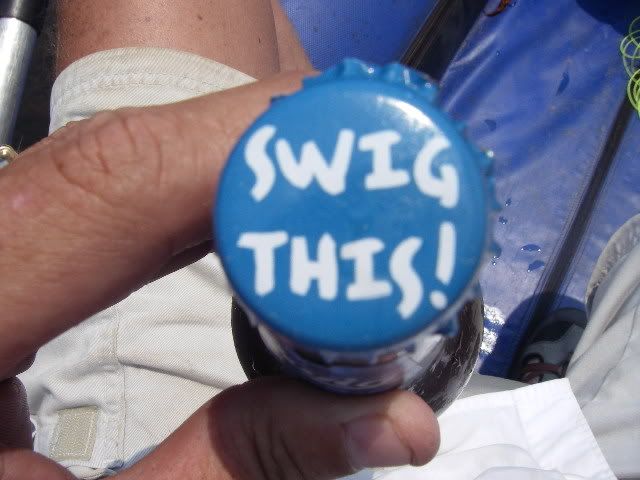 and headed to the boatramp to call it a day....where we broke the first sweat of the day loading up to leave....it was timed well I think. Looking forward to doing this again as soon as the weather cools a bit. Thanks Bill and Don for another fun day!

_________________


"The fish and I were both stunned and disbelieving to find ourselves connected by a line."

William Humphrey