Cameron and OMD came down late Fri. night around 9:30 -10:00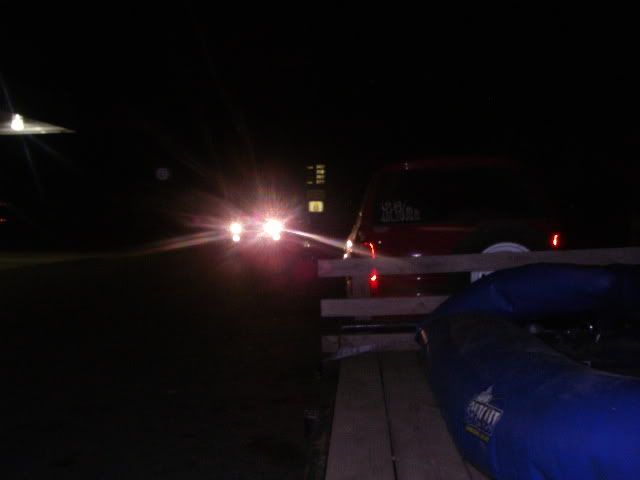 They were running a little late but still a welcome sight....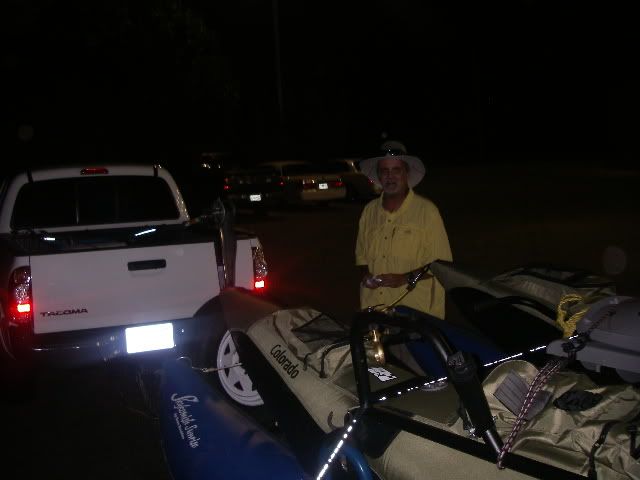 They were pulling OMD's new trailer purchased from Beetle.....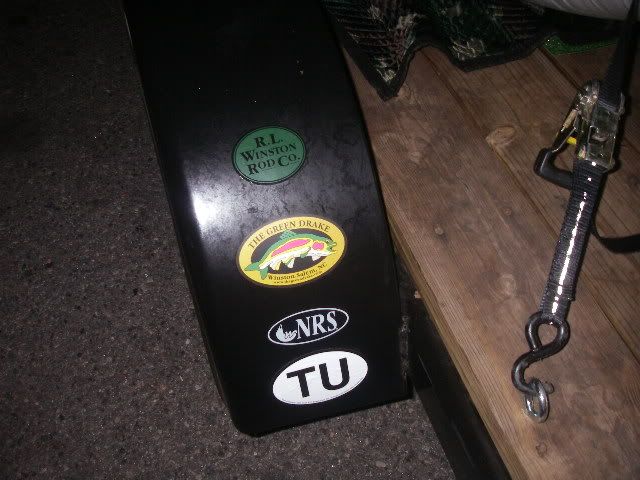 Beetle....did Jack at least give ya a little lube? Jack...thats the last time I'm gonna let you have the first crack at a good deal! You should be ashamed of yourself ....Beetle...I'm really sorry bout them hooks! but whatta ya expect from a size 20?
So anyway...we went to the hotel to get our game plan together and get an early start the following morning....I let Cameron and OMD rummage thru my streamer boxes ( I only let OMD have one fly!)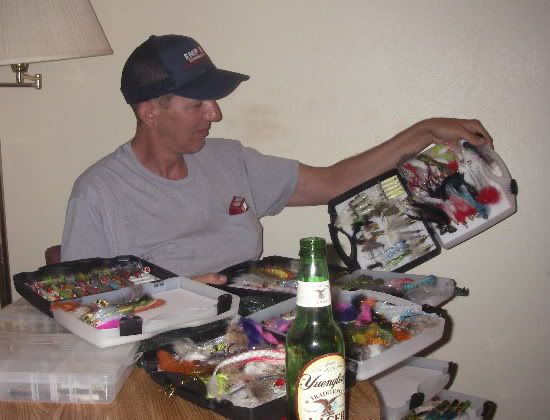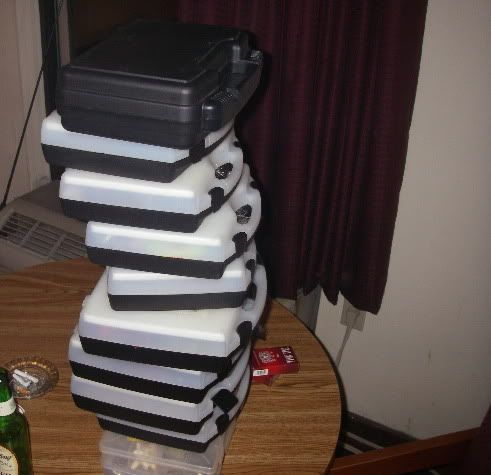 Cameron brought the heat just in case someone tried to jack us up for our flies...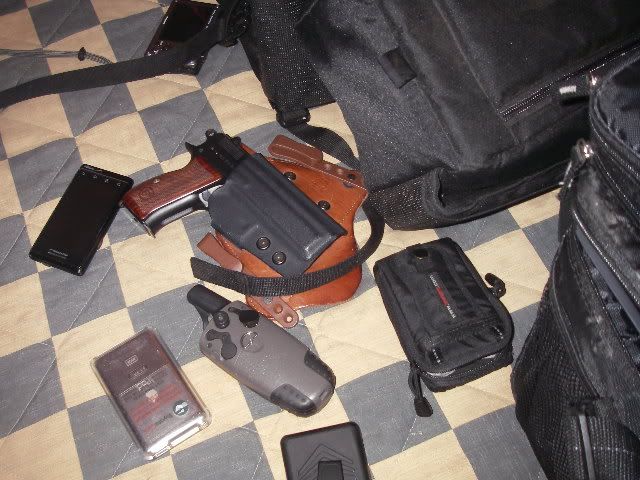 We got back up at 3:30 AM to make a walmart run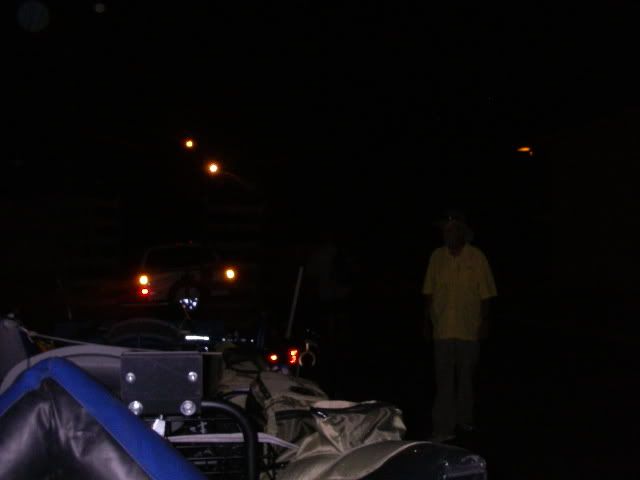 ....I needed some 6 pound test and some wally goggles and sunscreen. I decided to try a spinning rod...but took a seven weight and a ten weight for gar....but never strung up either.
We finally got on the water around 7 AM.....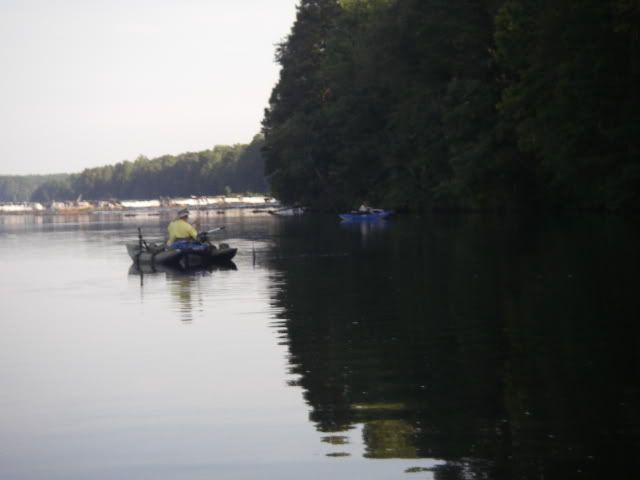 I headed straight up to the hole where I caught the jackfish last time...and immediately hooked up with another...and a really nice one! I had him on for about 45 seconds ...then he cut the line clean...I tied on another small rapala...and first cast another...but this one barely bent the rod and cut the line.
Probably the first 45 minutes I hooked 6 or 7 big fish....and lost 6 or 7 lures that fast! A little later I hooked a nice fish....and while fighting it a big gar came up and thrashed at the fish....when it moved off...I thought it must have been the gar that I was fighting...but then while watching the gar swim off....the fish that was hooked made a dash and broke me off! really stupid set of events!
first fish to hand was this little yellow perch...another breed for the list ....
Got lots of small bass and a few redbrests throughout the day.....most of the bass were on the small side...with a couple no bigger than my pinky finger.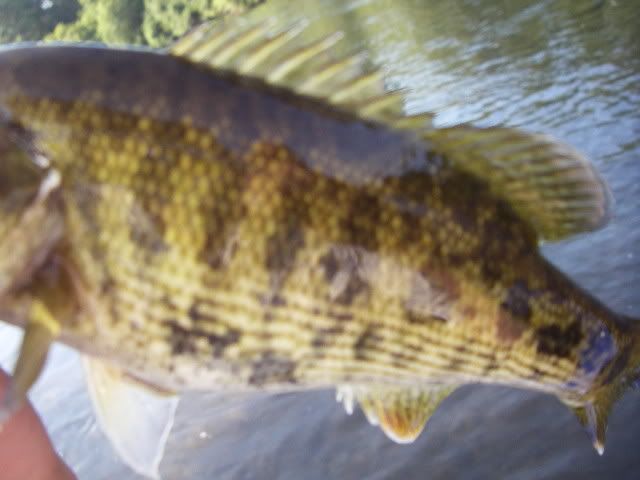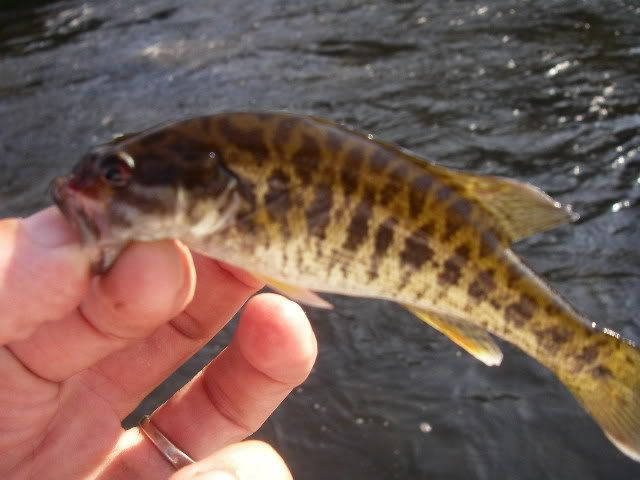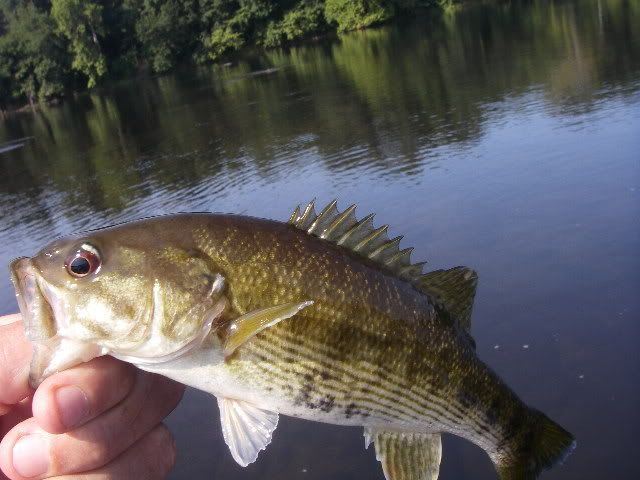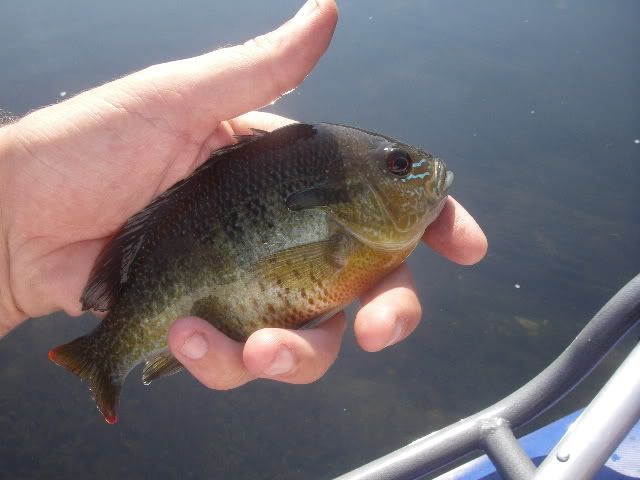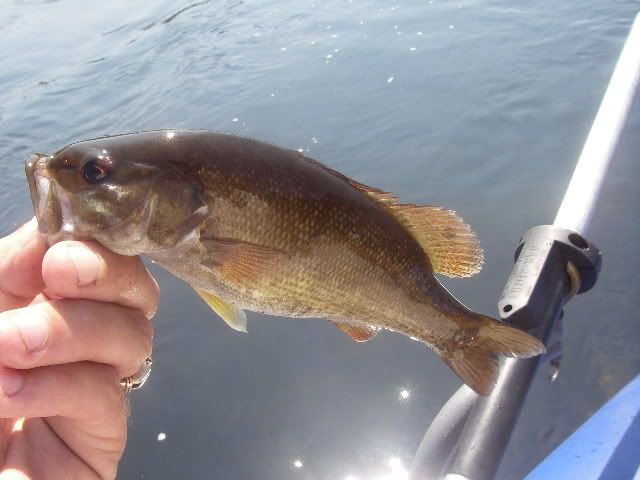 I actually caught a couple smaller than this one....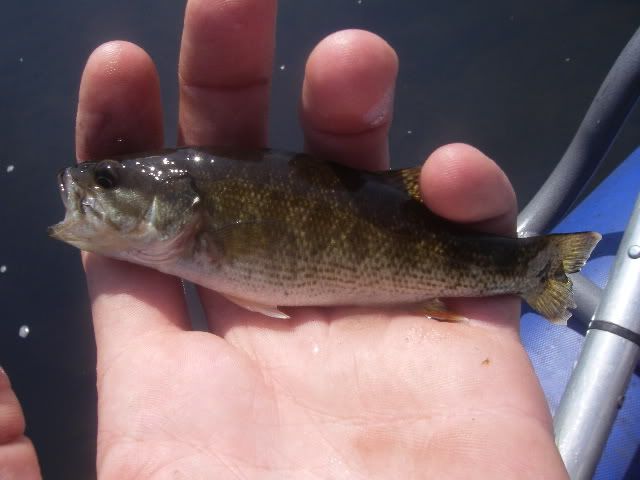 and unfortunately my photo skills suck...because this picture does'nt do this fish the least bit of justice....it was a beautfully colored fish!!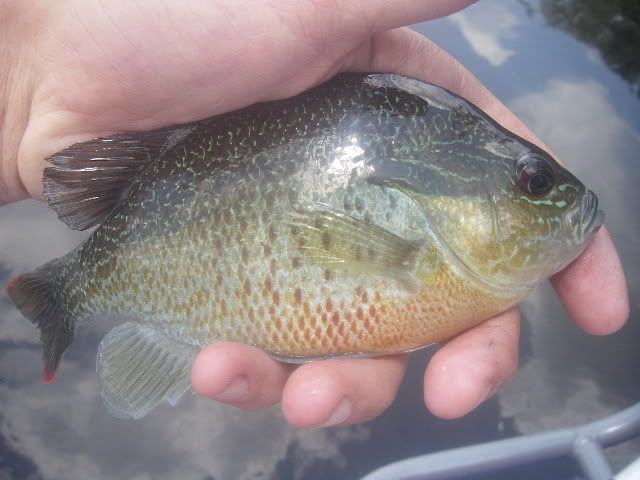 OMD also used spinning gear...and even though I've been trying for the last two summers to get a gar on the fly....this Ahole catches one on a roostertail!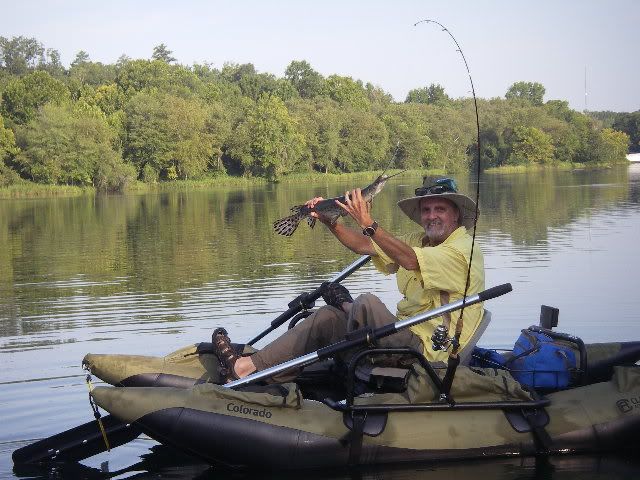 He will not be invited back!!!
It was an amazingly hot day....but if not for the heat....it would have been/ was a really fun day on the water!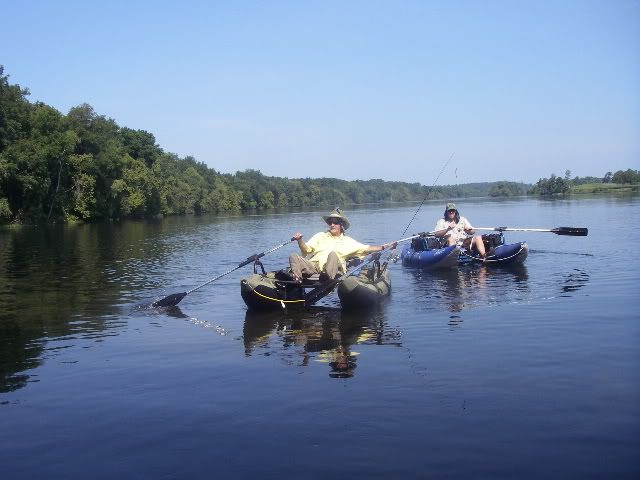 The best part of the trip was when we got down to the two big slow pools by the pumping station.....we had spied a bunch of big gar and carp...which are there every time without fail....So OMD and I sat in the shade while Cameron threw a big braided gar fly for them. Jack and I were cooling off just shooting the bull and the funniest thing I have ever seen in my life occurred.....Cameron was casting and all of a sudden seemed to take about two steps back....I saw the leaning bar fold back behind him...somehow while cameron went under it....then cameron litterally proceeded to do a backflip off the boat....all while putting his flyrod in the rod holder...taking his camera out and putting it away...and it appeared as though he was grabbing shit with his feet....all while on the way into the water.....he finally hit the drink.....I heard him take a gulp...his head bobbed up out of the water....he gasped for air...and acted like a drowning cat trying to get out of the water! While I was still trying to register what I had just seen...OMD shouts "get the camera!" and before I could even turn it on and aim it towards cameron....he was already back in the seat! .....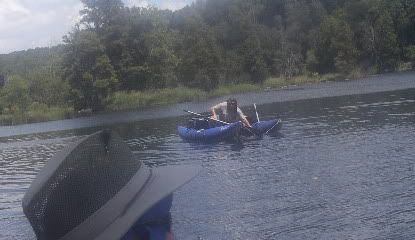 I swear I almost pee'd myself....it was the most amazing display of acrobatics I've ever seen in my life.....me and Jack laughed so hard I pulled muscles in my side and had tears in my eyes!! It was another great day on the water with friends! Thanks for coming down guys!

_________________


"The fish and I were both stunned and disbelieving to find ourselves connected by a line."

William Humphrey