I had another obligation therefore am a little late on this but did not want the most recent Wounded Warrior / Military Appreciation Fishing Event hosted by the NCWRC John E. Pechmann Fishing Education Center to go without mention. We open the center to the military and veterans on the 2nd Wednesday of each month. Our most recent event was held on August 10,2011.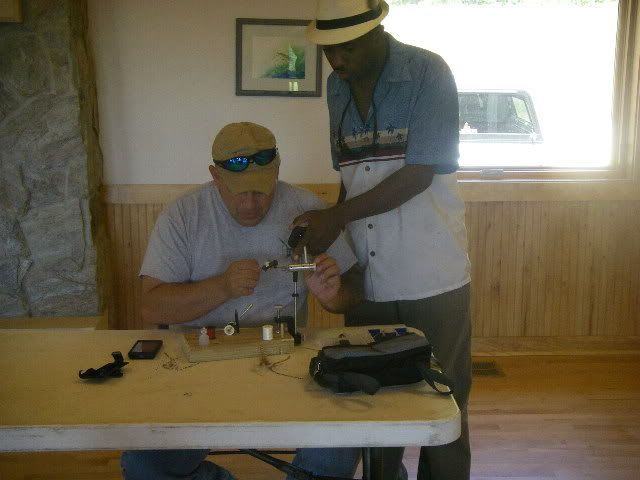 Things started pretty slow but we have grown to anticipate this. We always have a master fly tier on hand to teach that aspect of the fly fishing sport to those who are interested. Those that participate find it is a great way to relax and at the same time a good way to challenge their mental and motor skills. They also gain a great deal of self satisfaction when their creation is put to the test and actually catches fish.
Meanwhile down at the ponds this young lady and her grandpa did themselves proud with a huge catfish.
Not to be outdone this young soldier works some magic with a fly rod. Could we get a little help with a net please?
Man, that is one ugly looking mouth!
2nd Wednesday makes for some good family time.
First time out for this young man who was recently medically discharged from the Army but remained in the area for continued medical treatments. He promised to bring his whole family next time.
We have seen this young girl before. She loves to fish and lets dad know when the 2nd Wednesday is about to roll around.
By the time it was all over we hosted about 25 folks. They came in spurts and dribbles but that is ok. It would be nice if some units would hold the afternoon formation in our lower parking lot at least once a month but maybe we are just wishful thinking. We had a good time and made some memories. Hopefully next month the weather will be a little cooler. Next month many of the kids will be back in school but if mom or dad planned it right they could pick them up and bring them out for a couple hours from 3-5 pm. We specialize in fly fishing but have over 200 spin casting outfits for those who want to dunk a worm or try some "stink bait" on the catfish. Our next Wounded Warrior / Military Appreciation Day will be September 14, 2011 from 1-5 pm.