A handful of Seabees stormed the beaches of the NCWRC John E. Pechmann Fishing Education Center the morning of August 18, 2011. They were in town for the Seabee's of America 65th National Convention. Thursday was a down day so a group of them who did not play golf or have a desire to tour a museum contacted the Pechmann Center to arrange some fly fishing lessons. We tapped into our roster of fly fishing volunteers and gave them a modified Warm Water Fly Fishing Clinic.
They were a great group to work with. Most were Vietnam Vets but one traced his service back to 1942. If you watched the TV series "The Pacific" you saw the likes of him clearing the beaches and building airfields at Guadalcanal, The Solomon's, Peleliu, Cape Gloucester and all the other God forsaken places that were critical to forming an air bridge on our way to defeating the Japanese mainland. Lots of stories bottled up in these folks.
Most had never fished with a fly rod before so after a brief introduction we moved them to a casting demonstration ..................
.........followed by hands on casting instruction under the watchful eye of one of our experienced volunteers.
Now for the real test. Lets see if we can catch a fish! From the looks of the bend in the rod of that middle fellow I'd say we are in for a good day.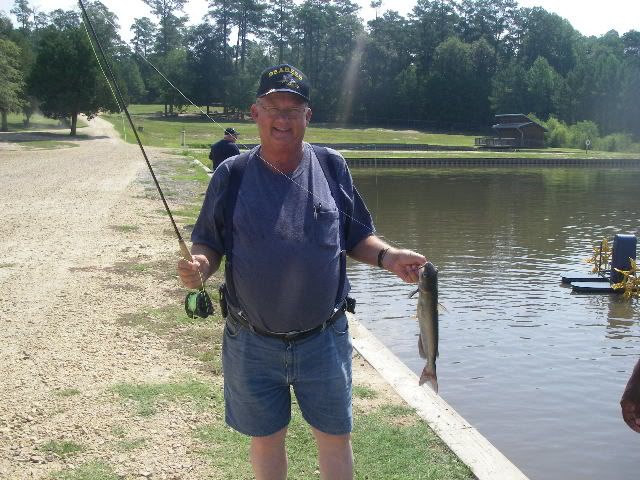 Even "old salts" put on a big smile when the fish are biting.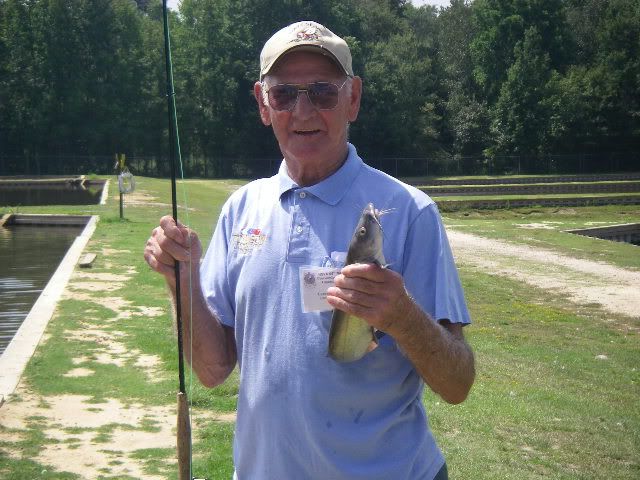 This WWII vet said he didn't have much time for fishing back in those days. He is making up for lost time. He now goes fishing every time he can talk his boat owning friends into it. He just wishes they would stop trolling because that is more like going for a boat ride then real fishing.
The Seabees where infiltrated by this old army guy who came along to add some class to the convention. He is a retired big city police officer who saw more then his share of combat in what we call the "civilized world"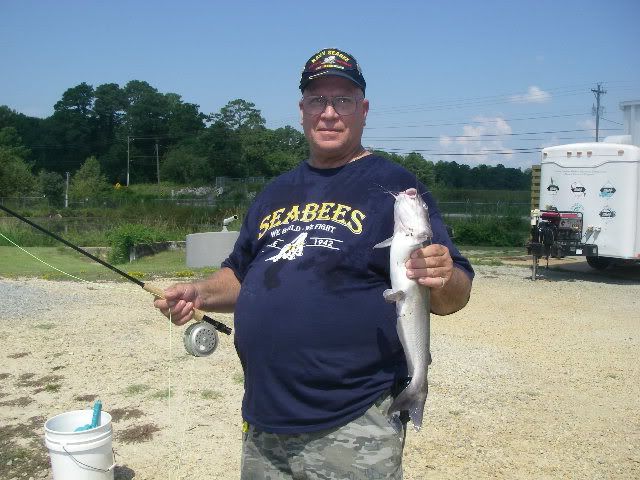 That one would make a nice meal - but back in he goes so someone else can enjoy catching him.
What! No smile for the camera? Put him back and lets see if we can't catch a bigger one. Lots of fish caught today and lots of good natured ribbing and rekindling of friendships by folks who all share a common bond of being a Seabee.
After lunch we beat the heat by moving inside for a fly tying class. This was pretty informal and we used it as a springboard for personal stories and tall tales.
"Here, let me show you how to throw a couple of half hitches around the end of that fly so it won't slip loose of it's mooring while you're trying to fish it"
And so ends another great day at the NCWRC John E. Pechmann Fishing Education Center. We had some fun, made some memories and met an outstanding group of Americans who sacrificed and put their lives on the line so that others could enjoy our way of life. Speaking for the NCWRC and our volunteers, I would like to thank them for being there when America called. We owe you big time and hope the time spent with us will be credited to our account as partial payment for all you did.