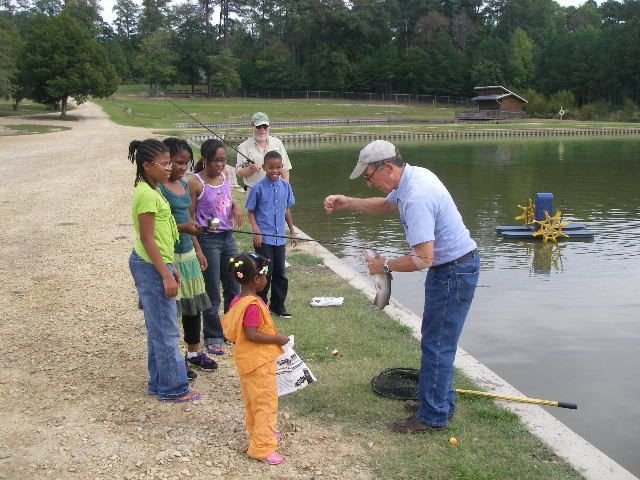 We didn't have a big crowd at the October 12th, 2nd Wednesday of the Month Wounded Warrior & Military Appreciation Fishing Event hosted by the NCWRC John E. Pechmann Fishing Education Center. More kids then adults but we don't mind because they have such a good time and their laughter is infectious . We were joined today by a group of young folks who are part of the Youth Marksmanship Program sponsored by Veterans Empowering Veterans. I'm told they are turning into little "Annie Oakley's".
They are also pretty good fisherwomen. Even the little one caught 3-4 nice catfish.
We always offer introductory fly tying to those who have an interest in that aspect of the sport.
We had more volunteers then were needed on the ponds so kept them busy working on gear in preparation for the 2012 series of Fly Fishing Clinics, the first of which is scheduled for January 7th. This is a great example of all the planning and work that must take place behind the scenes. We are fortunate to have assembled a great cadre of volunteers who give a lot of time so our events run smoothly.
"I'll catch them but there's no way I'm holding that slimy old fish".
"The fish that took my hook and bobber was this big, - maybe even bigger - Honest!"
Our fly tying instructor seems to have scaled down the size of the fish his secret creations attract.
Our only active duty soldier has a ball catching fish with a fly rod for the first time today. Not sure where the rest of Ft Bragg was, but it was not at the Pechmann Center. We'd like nothing better then to have our parking lot full and have to call in for extra help.
Given the downward trend in attendance we will suspend operations during November and December. We will pick up again in January when two of our ponds will have trout which are a delight to catch on a fly rod.
During this downtime we will lobby with our Ft Bragg points of contact for invites to town halls and family support group gatherings so we can get the word out about this great opportunity less then three miles down the road from the Reilly Road Gate.