It's a bit of a stretch to call this "warm water fishing", but Sat. the 17th, I hooked up with a bunch of Triangle Fly Fishers for a striped bass fishing outing on Kerr Lake. The weather liar had told us that the day would start off in the 40's and warm to the mid 50's. Well, that didn't happen. It started in the low 40's and stayed in the 40's all day. It was overcast, which is good for fishing, though, and it wasn't particularly windy, nor did it rain, so, in all, it was a good fishing day.
We had 6 boats in our group, with 2 fishermen per boat, but there were other groups on the lake. I mooched a ride with Bill Gregory. who has a 19' Carolina Skiff. Those make good casting platforms! The process, I'm told, is you get out on the lake, and start looking for flocks of sea gulls. Wherever you find the gulls, there's a good chance there's a school of stripers busing bait underneath.
I'm not real familiar with Kerr Lake, so I got turned around almost immediately, but it didn't matter, as I wasn't driving. After we launched, we started cruising up the lake looking for birds. It only took about 10 to 15 minutes before we spotted gulls flying toward a cove. As we entered the cove, we saw we had hit the jackpot! We cut power, and quickly rigged our rods for action. I had my 9' 8wt salmon rod, but Bill didn't like the looks of my line, and insisted that I use one of his reels loaded with a 450 grain tungsten line. I tied on a size 2 chartreuse/white Clouser, and started pitching. To make a long story short, it about 3 casts I had my first bite, and after missing 2 bites, I managed to connect with an 18" striper. For the next hour, we had pretty good fishing, landing 7 or 8 stripers, in the 14" to 20" range, and loosing several more.
I was too busy fishing to take many pictures, but Bill got this one. It was typical of what we were catching.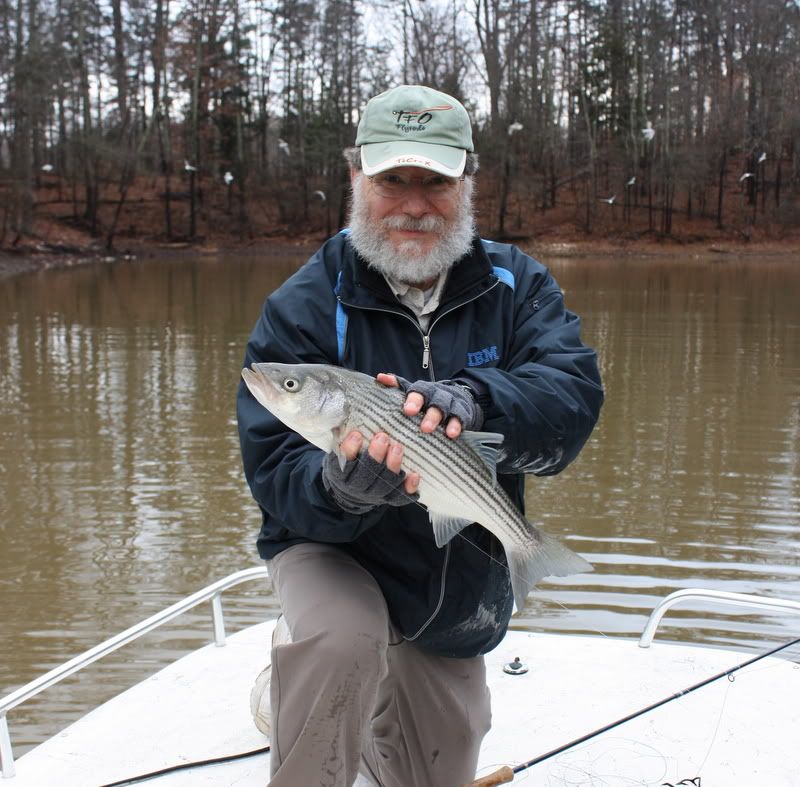 After the bite died off in that cove, we motored around a bit looking for another school. Just before noon we hit another cove with an active bite. A few more fish were caught, including a nice 14" large mouth. I hate that I didn't get a picture of that. We joined with another boat, and ate our lunch in the back of that cove.
After lunch, we motored around and found 2 more schools, but the action wasn't as good as it had been early in the day. Still, enough fish were caught to keep things interesting. About 3pm, Bill had to call it quits, as he was about out of fuel.
This was my first freshwater striper trip. Lord willing, it won't be the last.