So the last time down there with JFey I hooked a pig on a grey over white wiggle minnow and got broke off in short order, I vowed to seek justice, and here's how it went down....
I met up with Don and Bill at the takeout about 6:30 (old farts can't get out of bed early
) and we headed up to the put in. I, of course being the better fisherman in the group, drew first blood!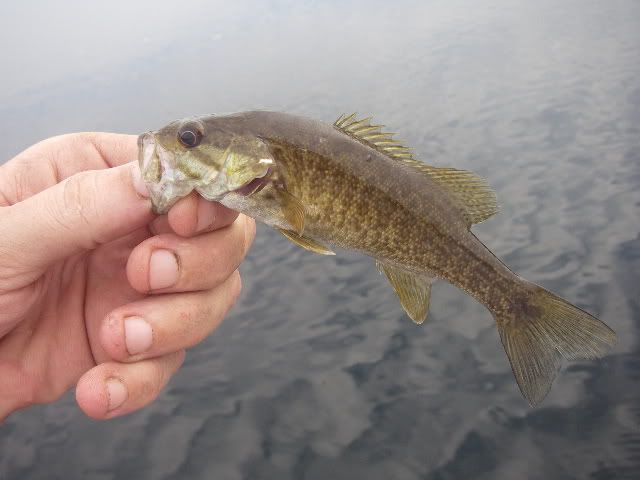 But then first thing ya know, I look over my shoulder to see a heck of a bend in Bill's rod.....I started to paddle over thinking he may want a picture.....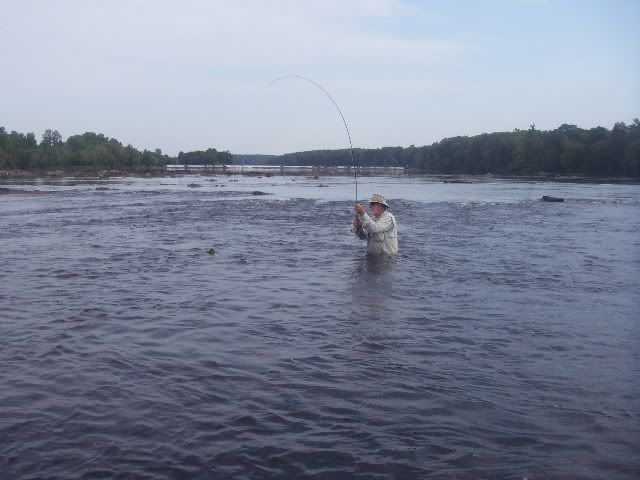 I saw him struggling with the rod and keeping a hand on the boat so I moved in to hold his boat for him while the battled insued.....but wait a minute...."bill....thats just a hunk of grass!"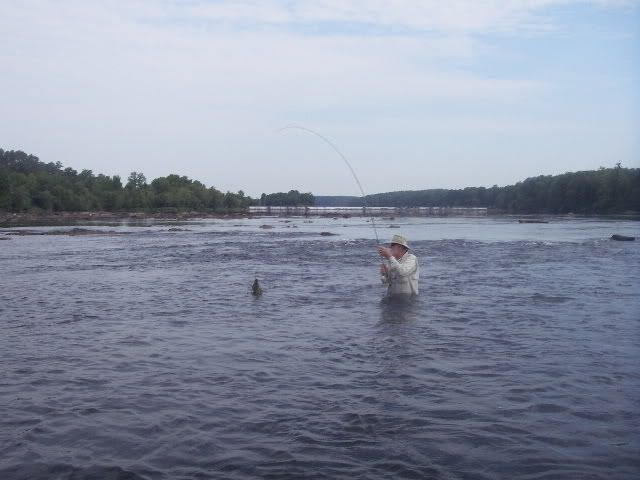 After a ten minute battle with a big hunk of grass.....Bill finally landed his prize.....and a hunk of grass.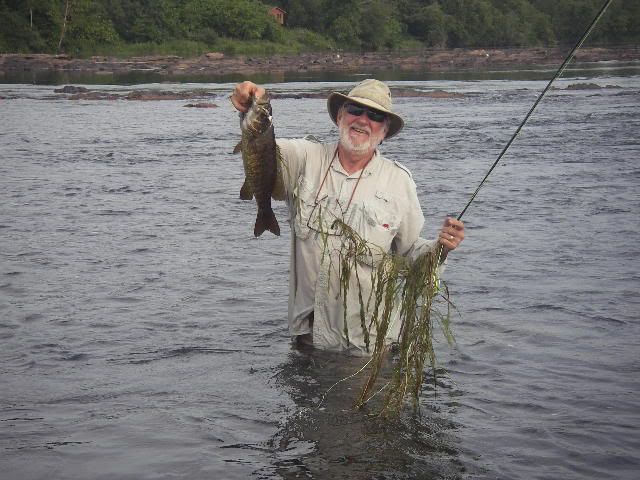 Nice fish Bill!!
So now that the skunk was off we moved on and proceeded to catch more than our fair share of fish!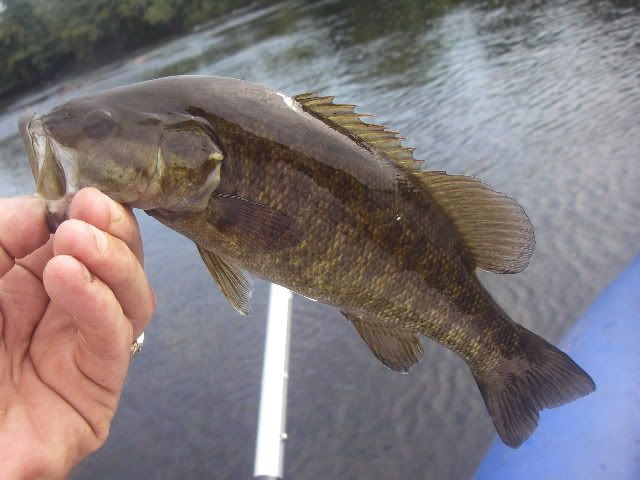 some more dinks thrown in....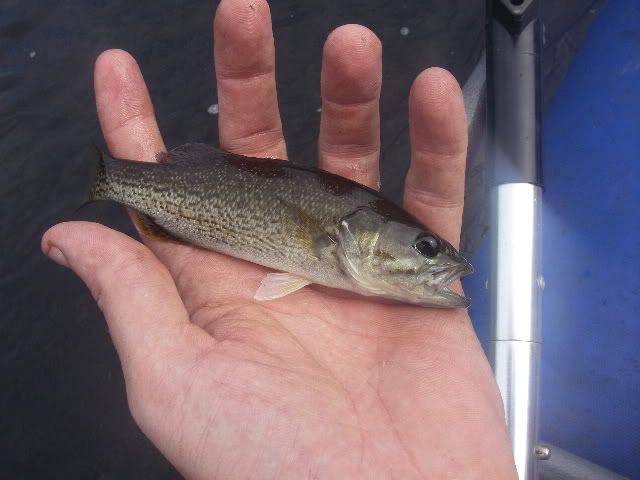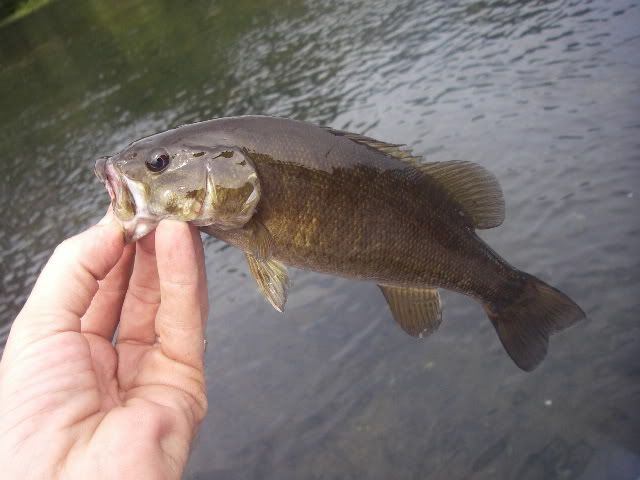 with the occasional pretty redbreast....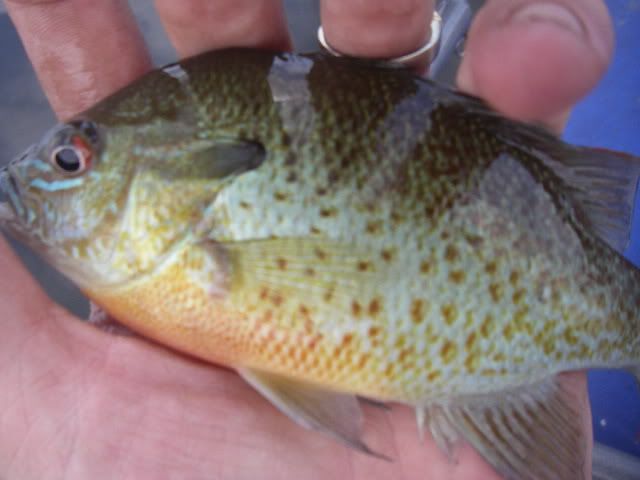 As the day wore on the fishing seemed to get better and better, started catching a fair number of redeye's which I had'nt seen too many of the last few trips....but they were eating today and there were some healthy ones in there!....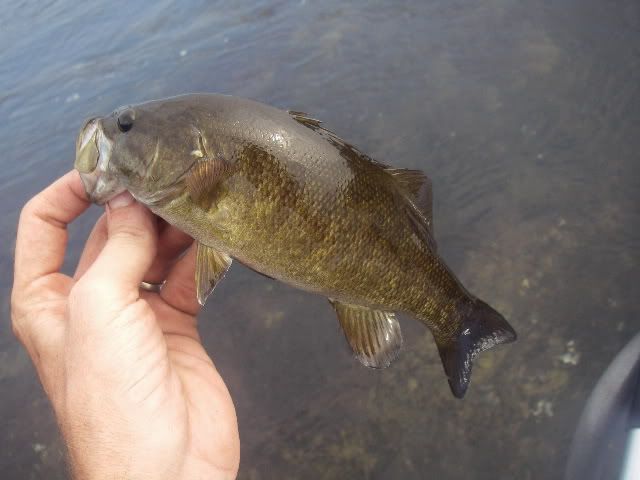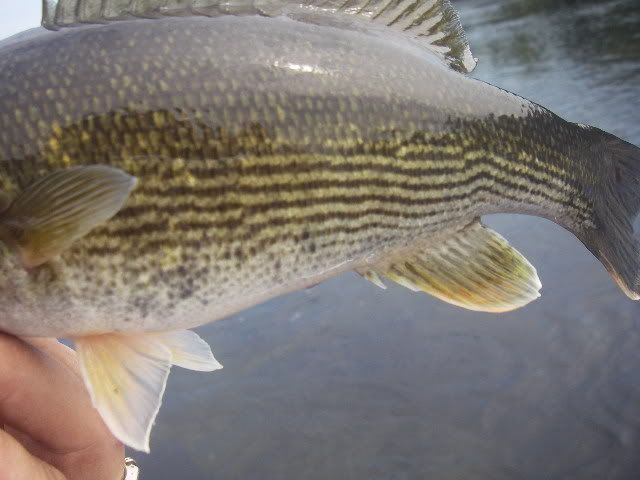 including this pig...which I thought at first was a good two pound smallie...man these guys fight hard for thier size!!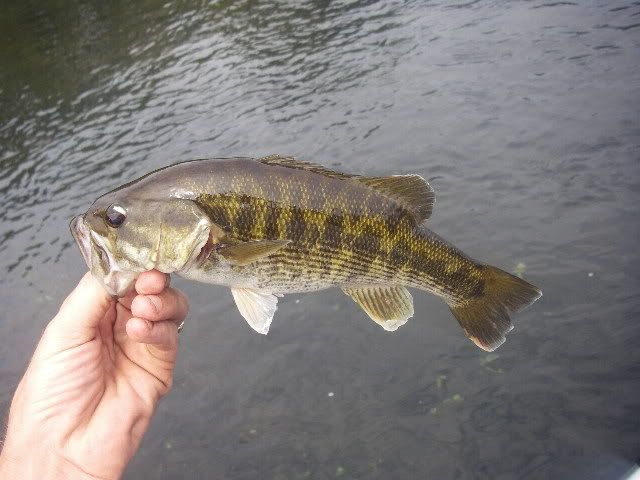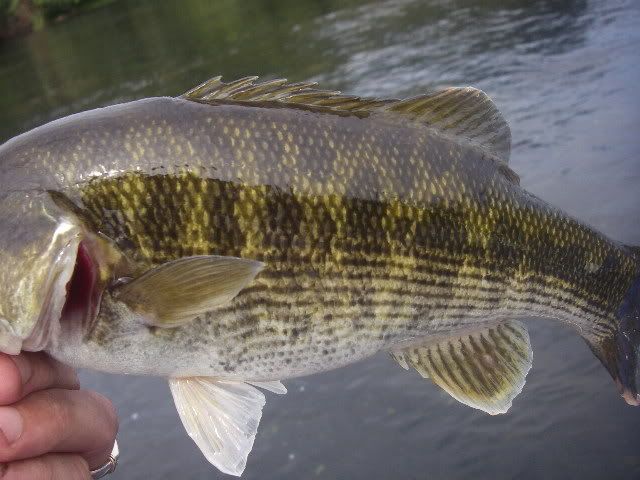 but I was looking for big smallies!!....and we definately found a few!....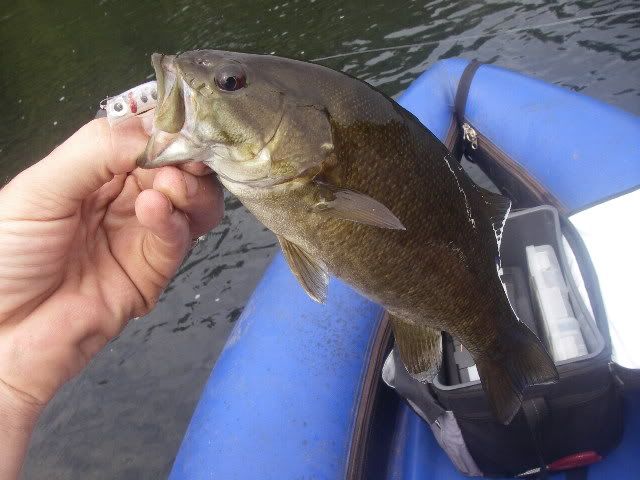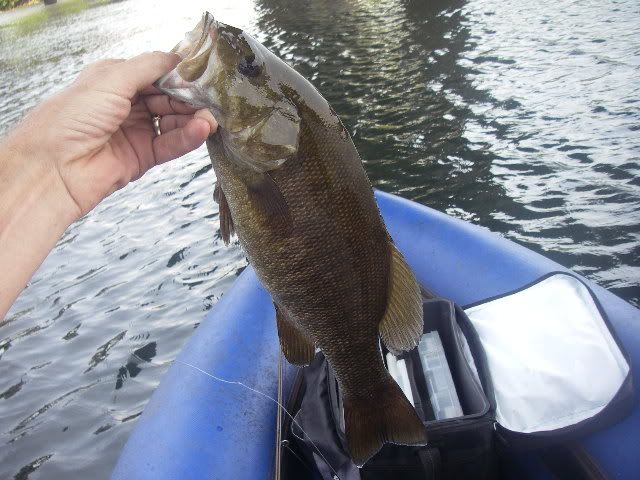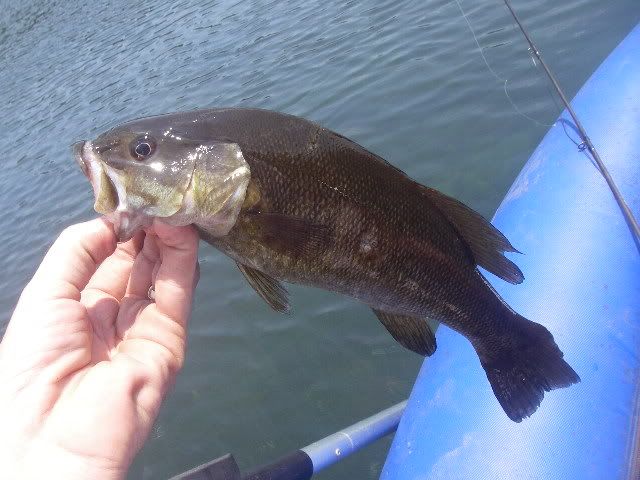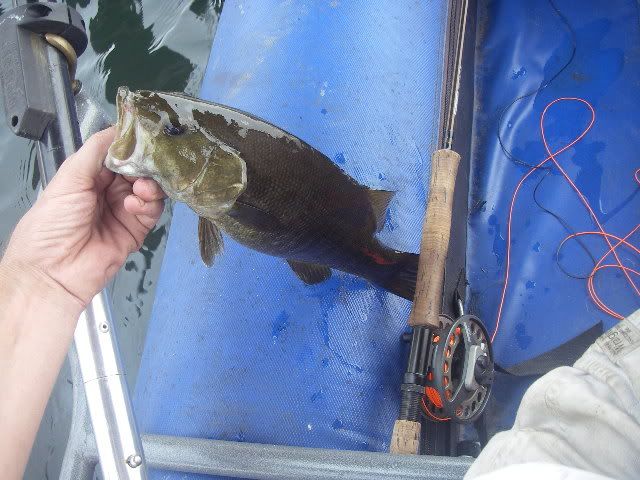 Yup...it was one of them kinda days! sick, twisted, perverted...whatever you wanna call it! As I approached the I-20 bridge, I saw Bill and Don held up taking a break....so I joined them for a bit....but the reason I came down waited just beyond! I wanted my damn wiggle minnow back! So I moved out under the bridge and immediately spooked a decnt fish....but not the one I was after......I got out to the center of the river...moved just below the bridge and began to make a couple of casts....then it happened....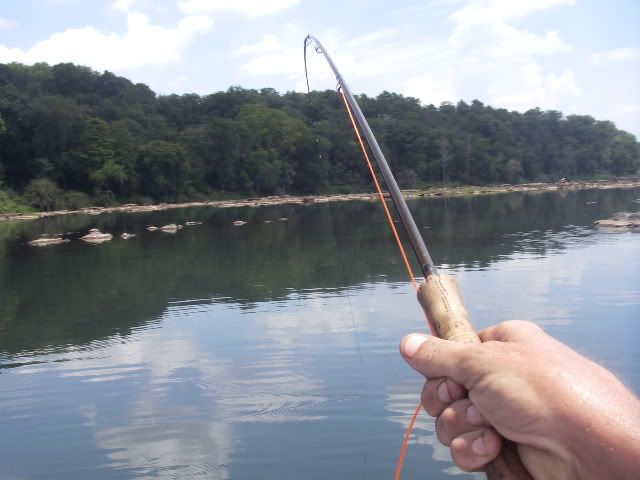 Yup! thats the pig I was looking for....and exactly where I had left him! Score settled!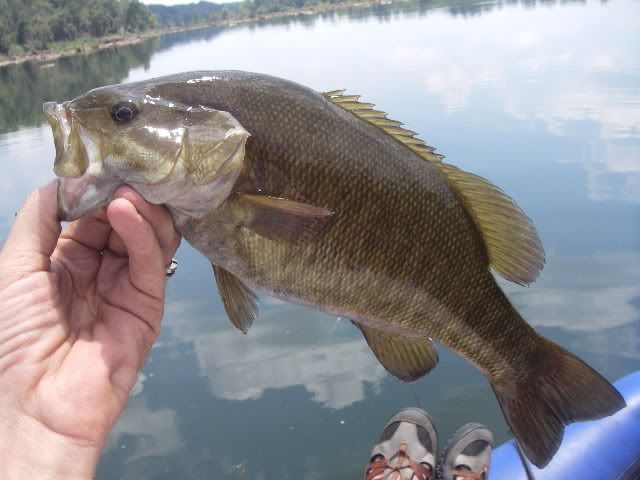 I then went after his little brother next door....nothin like a good bend in the rod!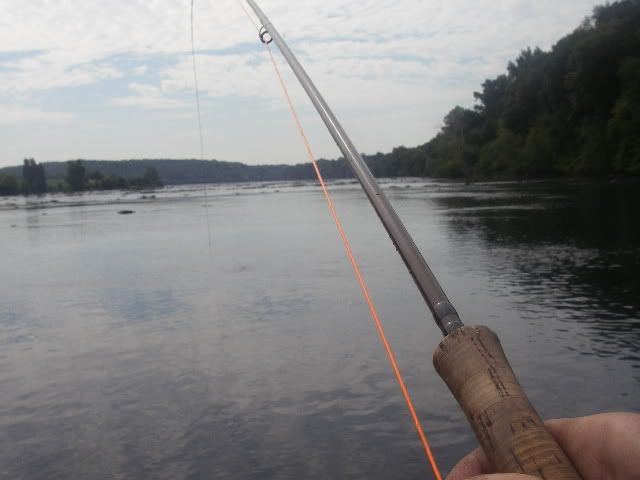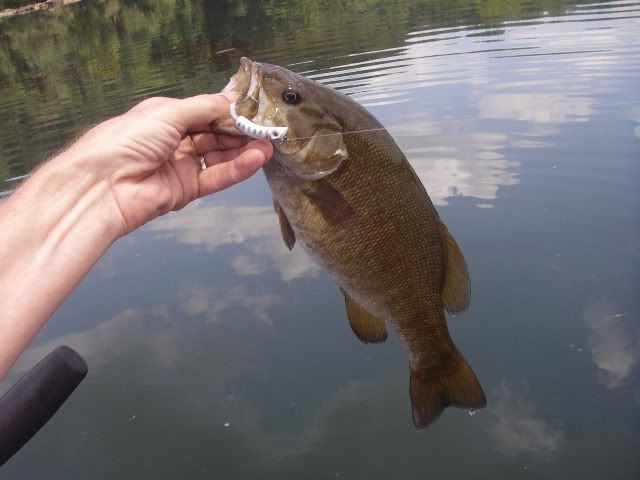 Bill and Don had moved on down toward the picnic area, so I tried to catch up.....Don't ask me what they were doing
...Ain't none of my buisness....I'm an open minded kind of guy and very tolerant!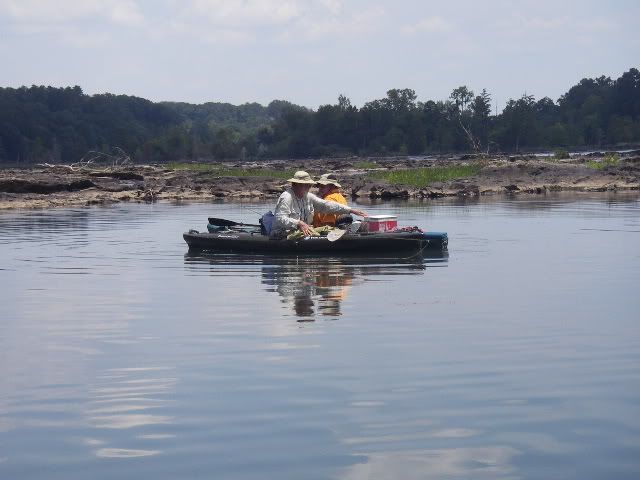 At one point it looked like they were giving each other a big man hug....I just figured they were celebrating a good catch?? We moved on down further....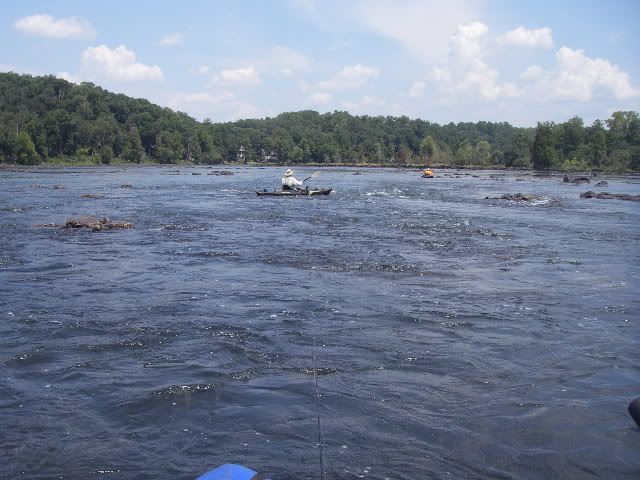 And I caught one more decent fish for the day....
then pretty much just enjoyed the scenery and tried to stay cool as it finally got to be a scorcher!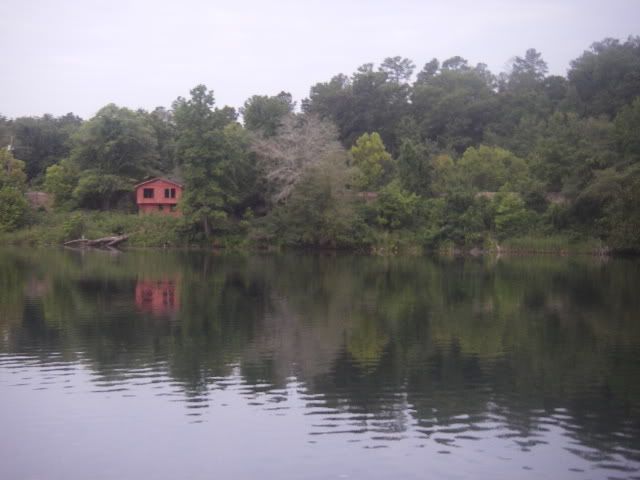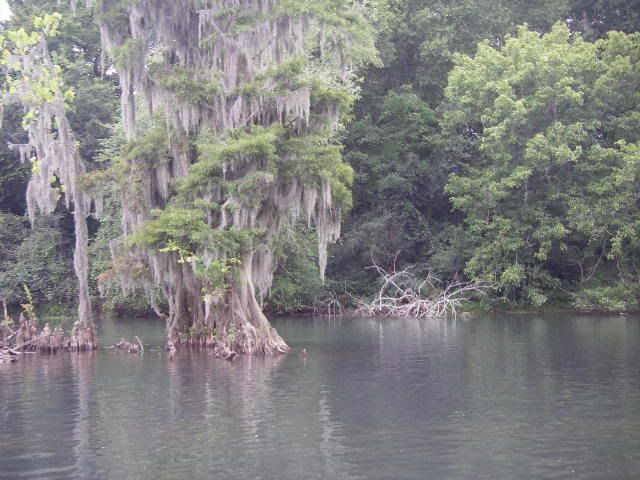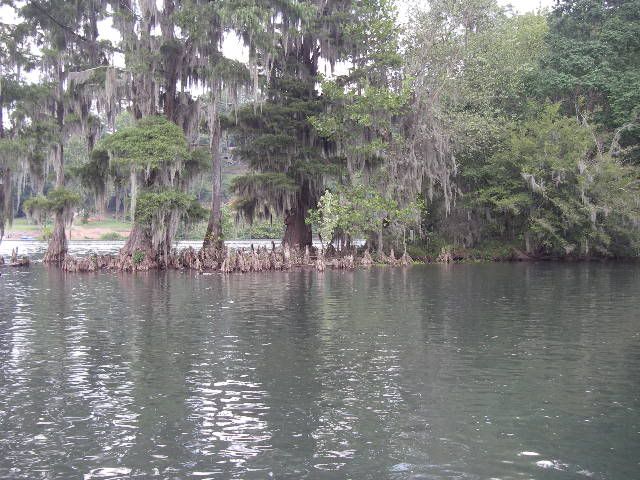 Twas a helluva good day! I caught lots of average redeyes' and 10" smallies....If I had to guess ...maybe 40+ in all.....it was a crapper load....and Don and Billres musta caught two crapper loads each because every time I turned or looked over my shoulder at least one of them was hooked up! Hopefully Don has some good flicks too...cause after Bills big fish I told him I was'nt taking any more pics of thier fish and making myself look bad!
JFey....shoulda been here yesterday! ( isn't that what they say?) of course Bill, Don and I have put our time in down there....and I'm beginning to think that you jinxed me with the fish gods...they were pissed at me for bringing a rookie!

_________________


"The fish and I were both stunned and disbelieving to find ourselves connected by a line."

William Humphrey