Yup....It was a rollercoaster of good and bad...thats fer sure! As I was on my way home I got a ticket for being overweight....can you believe that....me overweight?? Got up fri. morning and headed out with the wife to meet up with Peter and made a quick stop at wallyworld to pick up some PFD's and whistles....I figured I had avoided a ticket long enough and did'nt wanna be paying two if we got checked....Got on the water with the wife and Peter ....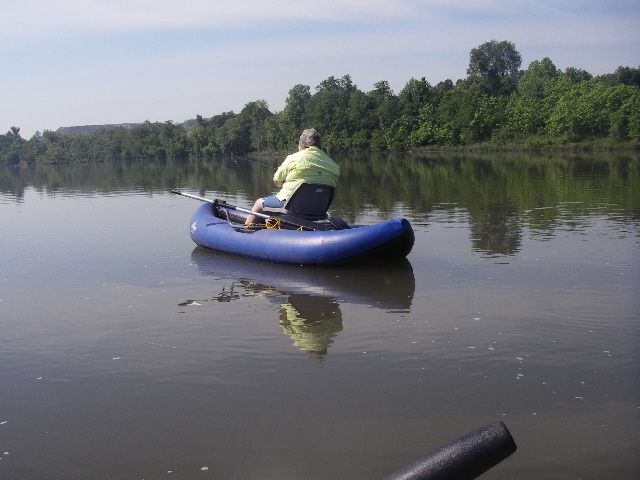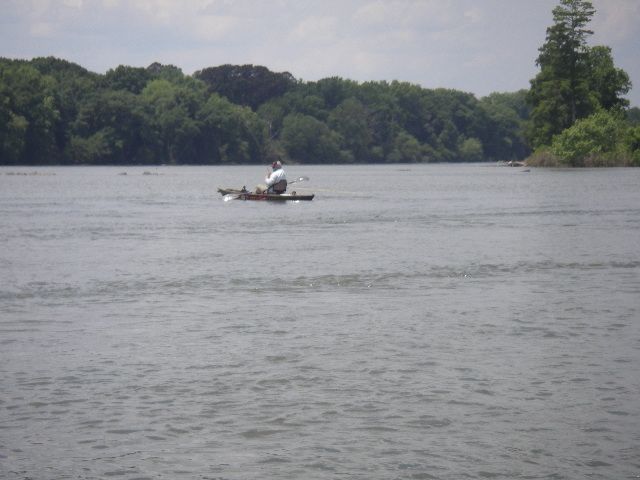 it was a little slow but we managed a few....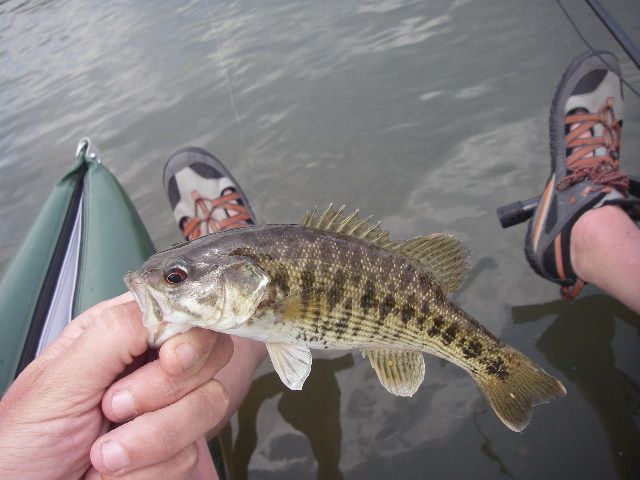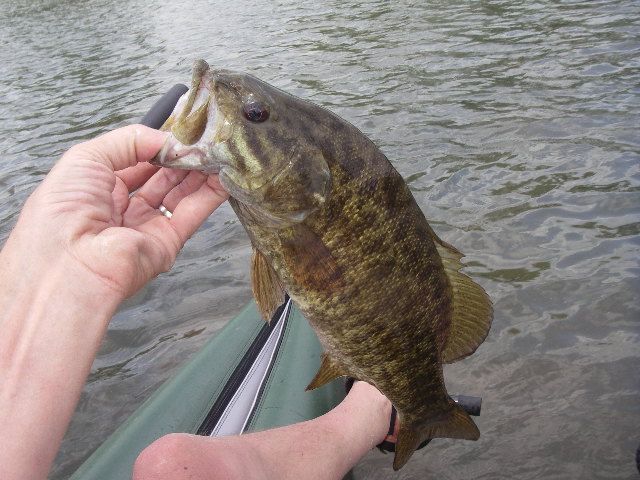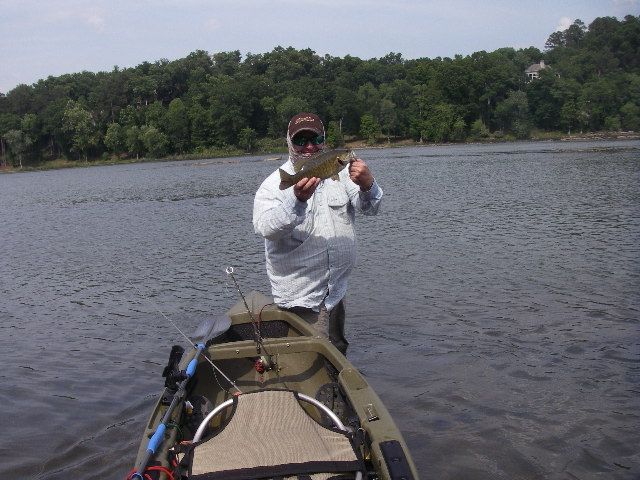 I think both Peter and I ended up with about a half dozen decent fish and a few small ones each, the wife caught a decent redeye and a brim or two....she did well floating her first time and she said she enjoyed it. We got to the take out and the PO_PO was waiting for us....he asked to see our life vests and Peter showed his...the wife started to lift hers and then he looked at me and asked me to take mine all the way out from under the seat.....I had bought the square throwables and apparently you have to have a wearable....so he called me over to the ramp where he said he was gonna write the ticket for the lowest amount he could....then he proceeds to tell me "I'll do this quickly and quietly so I don't embarrass you in front of your friends" and I thought..."Dude....I'm not embarassed....your the one being a **** " Then Peter came over and tried to get me jammed up even worse...Thanks Peter! LOL I learned a long time ago....just stay quiet and if there is any arguing to be done....do it in court.
So on to Sunday....I met up with 01Pilot and another friend Dr. Rich Chesser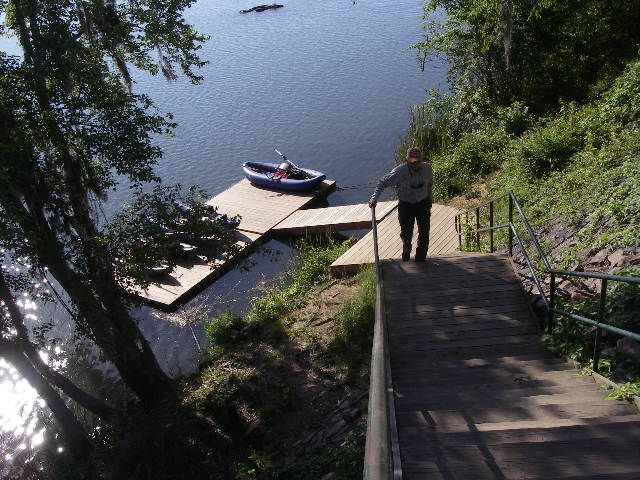 again....it was Dr. Rich's first time out in a toon....gettin his sea legs....
Dr. Rich with a small one.....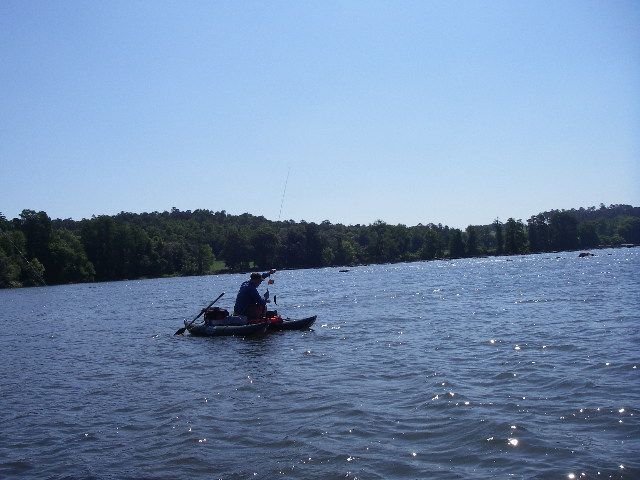 and a gar.....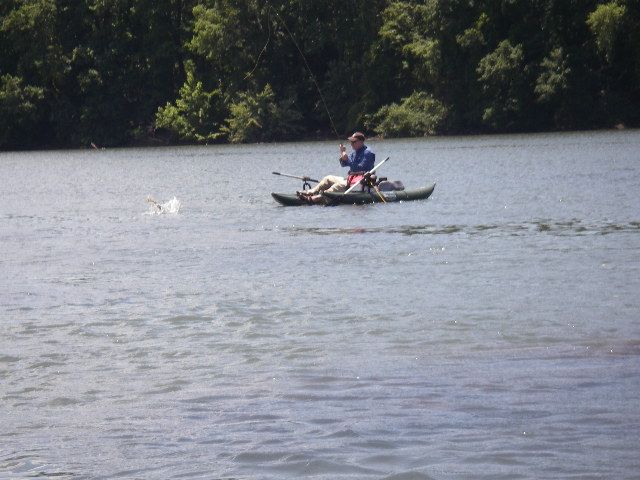 I caught about the same amount as fri. maybe even one or two more.....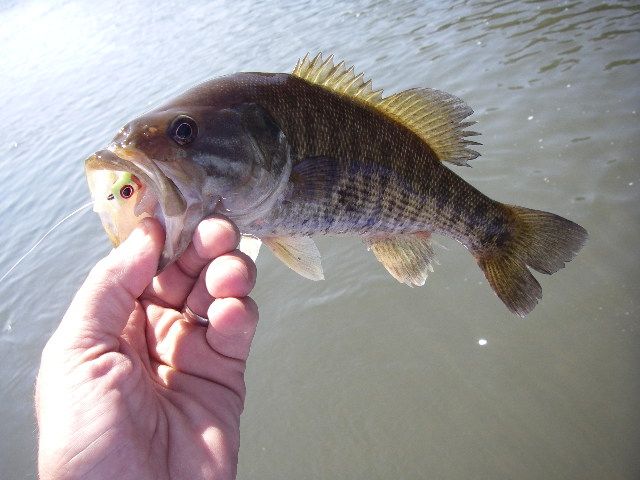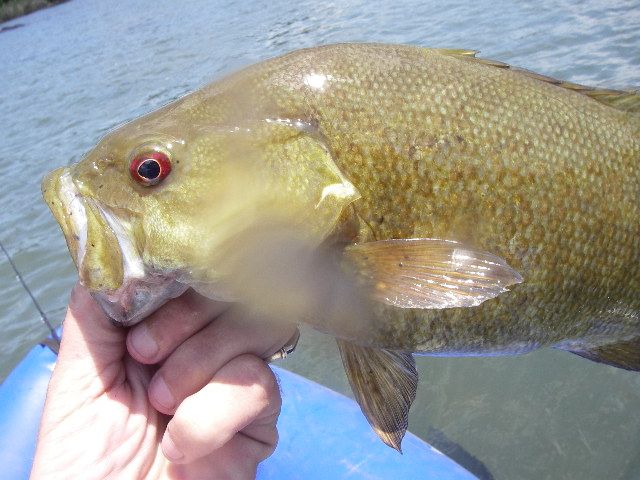 on flies like this....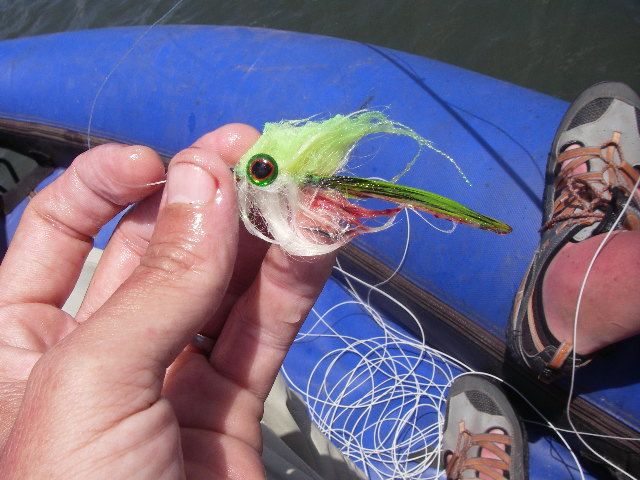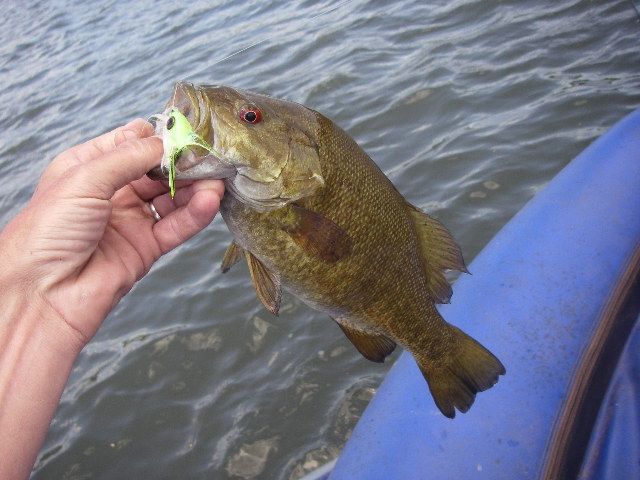 and the wiggle minnow usually gets a few....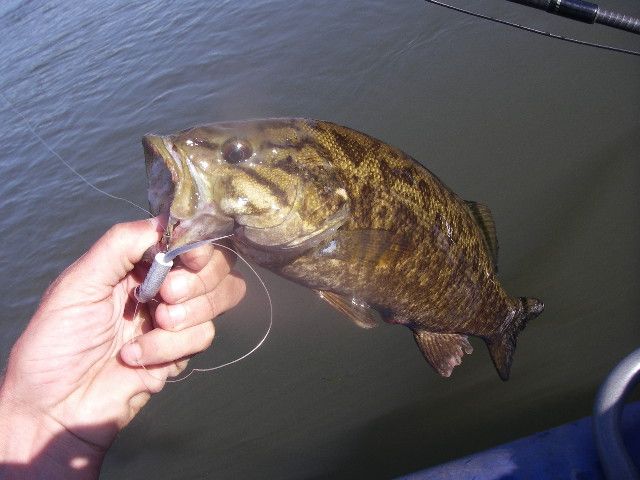 all in all not a stellar day...not a bad day.
then monday I get up to meet Croaker....stopped for gas ....
I should have got it in North Augusta where it was $3.02 . Put air in a slightly low tire that had been that way forever....figured I better do it before it goes flat....then met Don at the takeout....Gave Don a jump....and we headed up to the put in......not a sight you wanna see at 8AM.....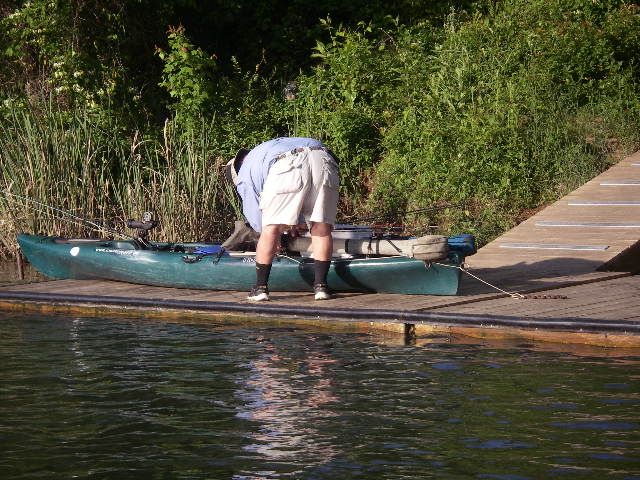 just before he took a cold plunge.....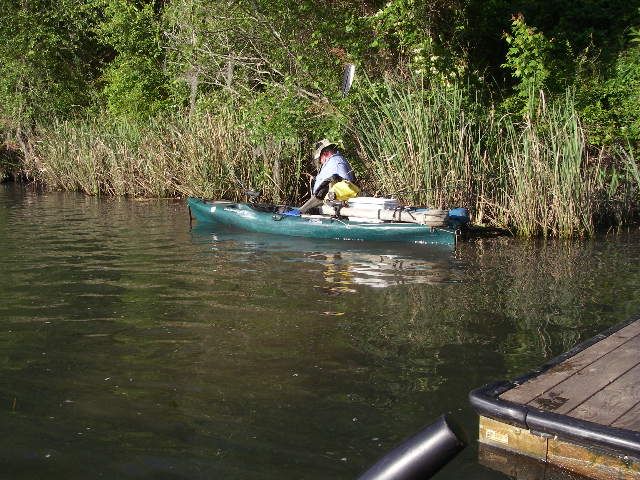 And it was cold as hell! the wind blew most of the day...and it was a chilly brisk wind...even in the afternoon. I thought it was gonna start off right when I caught a nice little largemouth on Josh's Bart-o-minnow....
but that was it for most of the rest of the day.....one little smallie on this....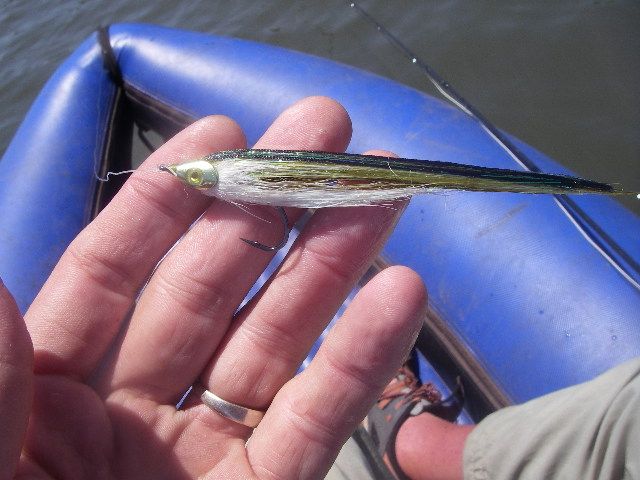 looked pretty sexy in the water.....and the little guy that also thought it looked sexy....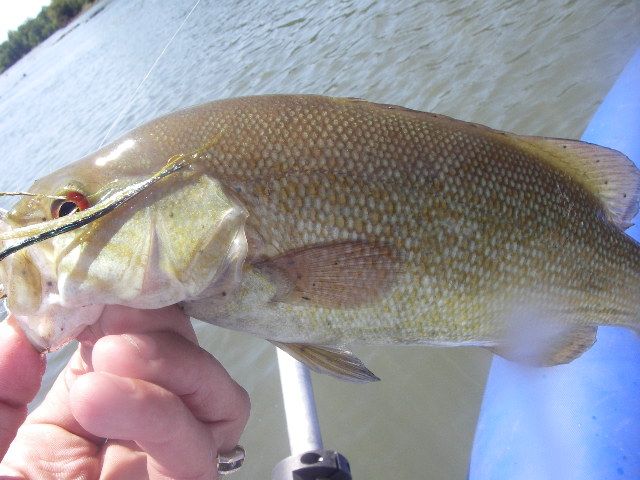 I was ready to call it quits around 2 in the afternoon....but Don was hellbent on catching a few, course it had been a while since he had been out....so I'm not knocking him..... I just tried to enjoy the ride.....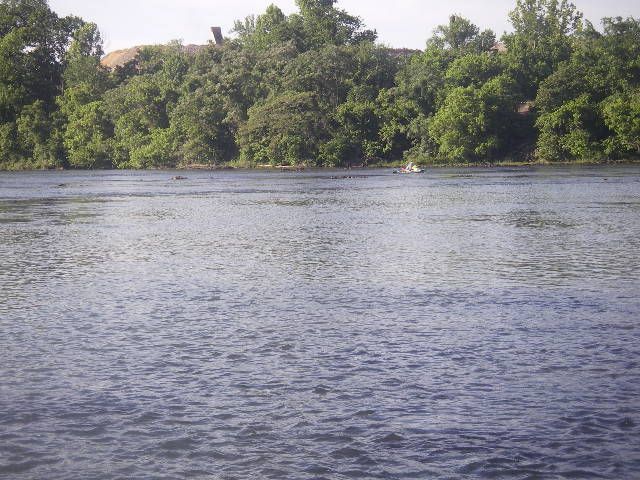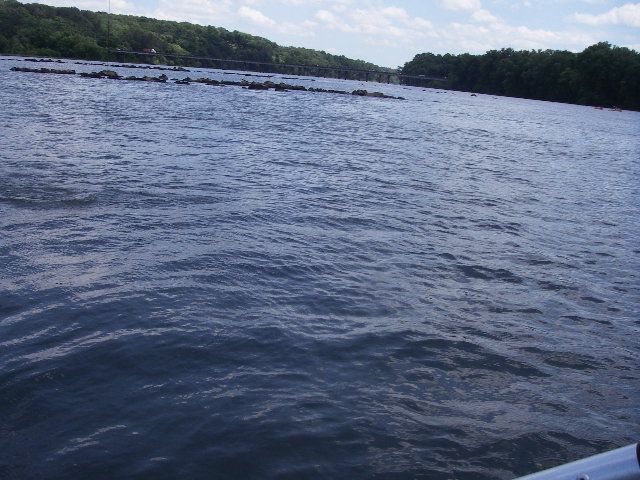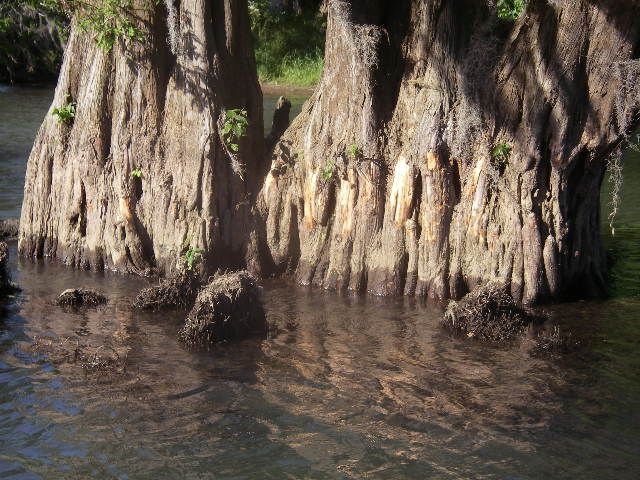 Got down to the takeout and tried to drag the raft up on the trailer myself and ripped a 6" gash thru the tube and bladder. Oh....did I mention that when I got up this morning the tire that I had put a little air in was totally flat now!
All in all....it still beat the heck out of being cooped up in the truck.

_________________


"The fish and I were both stunned and disbelieving to find ourselves connected by a line."

William Humphrey