Things have been pretty quiet around here recently, so I thought I'd put in a minor fishing report.
This past Thur, July 3, I had the chance to go fishing on a local farm pond with some friends. Nothing special, but good company and a nice location. Before a band of thunderstorms blew through, shortly after noon, we had a pretty good day of fishing. The pond, I'm told, had bream, bass, crappie and catfish.
I can't say about the crappie, but I did manage a few of the others. I decided to fish a popper-dropper rig, with a size 12 olive squirrel leach as the dropper. I have been having fair success with that on warm water. I figured the leach looked enough like a dragon fly nymph to get some bream to hit. After a bit, though, I switched to a Chernobyl Ant on top, as nothing had hit the popper.
Well, I did catch a few small bream, some on the ant, some on the leach, but then I tagged into something a whole lot bigger! After a good 5 minute fight, (it just seemed like 10) I managed to land this: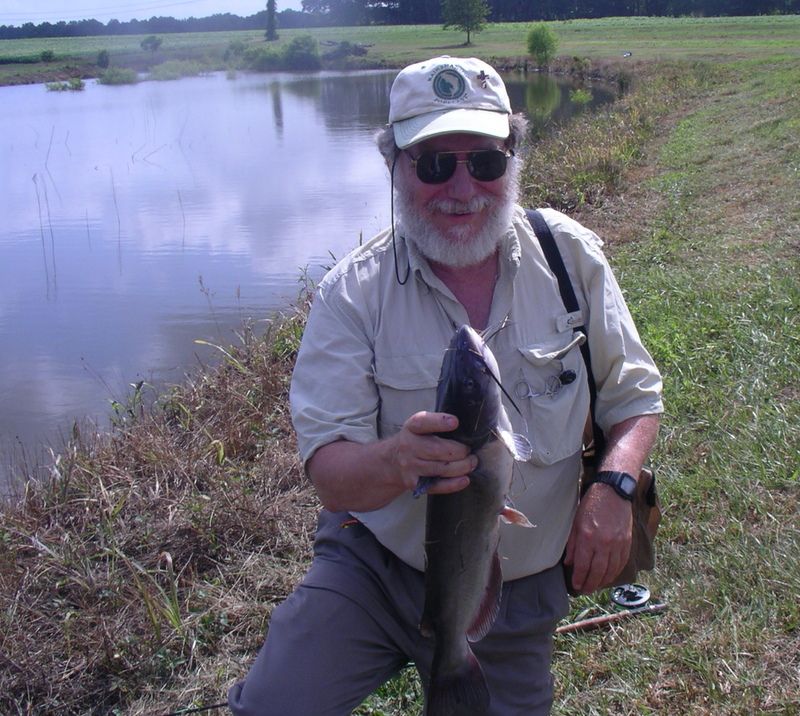 Before the lightning chased us off, I managed to land 2 more cats almost as big. I also caught 5 or 6 seven inch bass, and a dozen small bluegill. My last fish of the day was a mutant bluegill that must have gone 12". Unfortunately, I didn't get a picture of him, as my camera batteries went dead about 1/2 way through the outing.
After I got home, I changed batteries and took a picture of what's left of the fly that did most of the damage. All 3 cats took the leach.
I was thinking, at first, that I could just retie the leach, but then I saw that the hook was starting to straighten. Too bad, but at least I can reuse the bead.