Things sure have been dead around here. Doesn't anyone go fishing anymore?
On Thur, the 21st., I got to do one of those "once in a lifetime" events. I got to take my 6-year old grandson fishing for the first time. We went to a private pond, on the south side of Wake County, along with the PHW Vets. While I helped set up and get the vets fishing, Judy went and got Buddy.
They got to the pond at about 10:30, and then it took me about 10 minutes for me to rig up a spinning rod for my grandson to use. I have an old white fiberglass casting rod (I don't know how old, maybe 50 years?) that I had put a modern Zebco spin/cast reel on. We rigged it up with a size 8 hook, and impaled a piece of night crawler on it. I then explained how to cast, handed him the rod and told him to go for it.
His first cast was terrible! I don't think it went 4 feet. Of course, I expected that, and I patiently told him to reel it in and try again. As he reeled in, dang if a bream didn't grab the bait right at the bank!
After that, is was pretty much one fish after another. He caught a fish with almost every cast, which kept him giggling and jumping up and down like ... like ... well, like a 6 year old on his first fishing trip. A few were dinks, but most were respectable, like this one.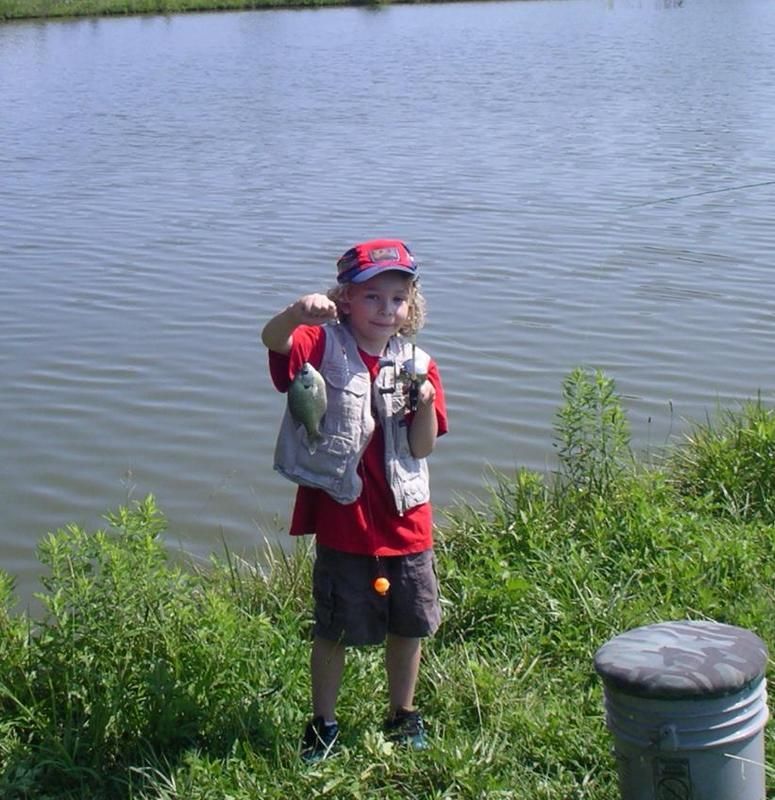 I even had to tighten up the drag a bit because he couldn't reel some of them in, and by the end of and hour, he was casting 20 feet, or better. What was really funny, though, was when Judy took him back home, and his mom asked, "How was fishing?" He replied, with a shrug, "It's OK."
It'll be a few years before I can bring him to a Smallie Show, but I think I've got him started in the right direction.