Well....I went to see the wife...they had her pretty doped up and spoke with the doctor who said that once the drugs take effect she should be fine...hopefully she'll be out tommorow.But since she was nodding off while talking....there was only one thing left to do....yup go fishin'....I'm a bad husband ain't I
Got there around 2:30 and figured it would be a wash with it being so late in the afternoon...but to my suprise the fish had it going on! the water was perfect ...they might have even been releasing a little...seemed a bit swifter and slightly higher?
Anyway...you know how it is when you get to a bass hole....first thing you have to do is test the water witha popper.....this one took it right away....
then I found that deep run where Billres hooked into something decent and had a huge fish roll up on a big crease fly...conservatively...24"-26" but I'm not sure wether it was the dull saltwater hooks it was tied on ( I swear I'm not ever going to tie another fly on a saltwater hook! never ever...ever....never again!
never......ever LOL) or the fact that the sage rod I was using is a slow to med action and does'nt have much backbone for settin the hook at long distances....its great for throwin poppers....but I gotta get another big fast action rod...something with some clout when setting the hook!...anyway...after that I forgot that I was in the deep run...took a few steps and went in to my shoulders...could'nt touch bottom....did the doggy paddle for 20 ft or so and finally found some solid ground....everything was soaked including my smokes
my pall malls were now pall mush...
Oh well...there bad for ya anyway....right?
I tied on a crawfish fly and ran it through the same run where big daddy rolled on the crease fly and I hooked into this guy.....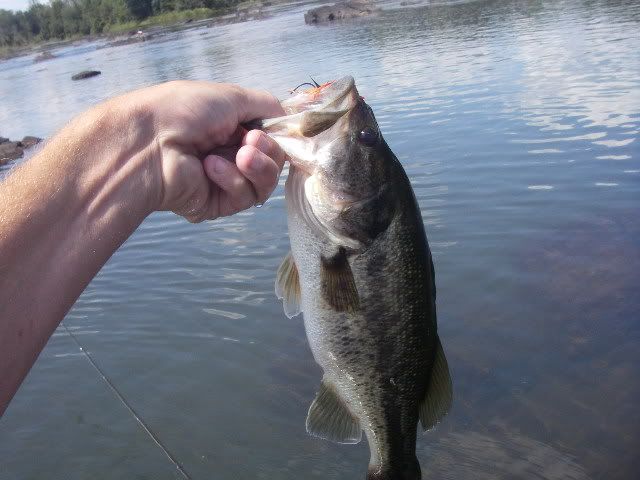 tried it a few more minutes and went back to the popper and caught several of these guys...
including this one later on that had a belly full of something....little fatty LOL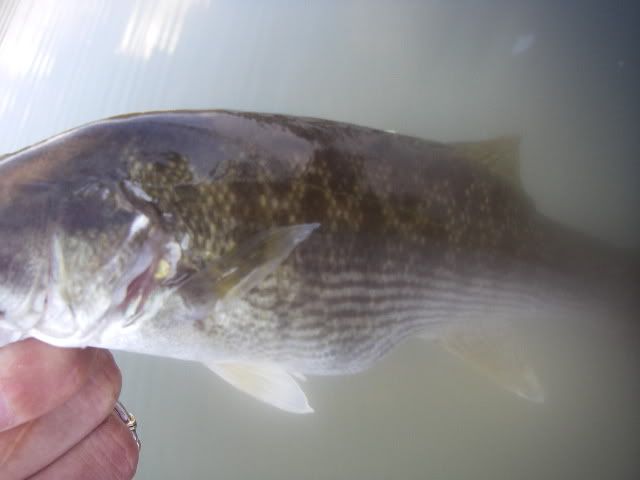 I proceeded to investigate one more hole where another little 8"-10"er took my popper....and a bigger one of maybe 15" came up and tried to steal the popper away from him...I hollered "let he'm have it!" but then the bigger one nipped at the tail of the smaller one....and the smaller one spit the popper and they both scampered off!
I took the popper off and tied on a zonker and threw back out in the same place lookin to catch the 15"er and this guy eased up and sipped it in .....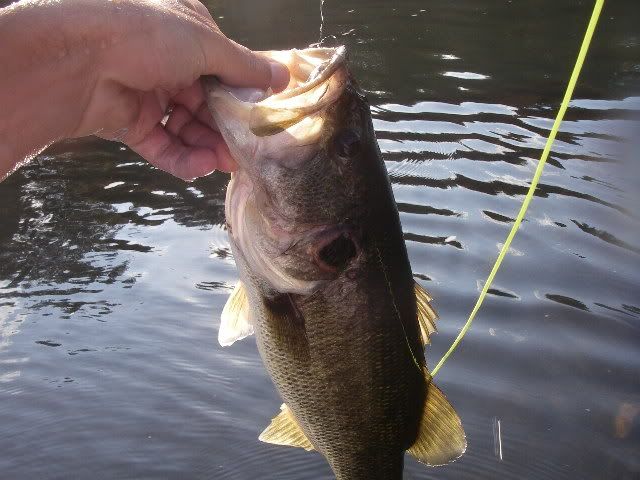 after a short fight I got him to hand and just as I lipped the fish...I slid down the damn rock in over my shoulders again!
a tuber going by asked "you alright?" I said "yeah...I got the dirty b*****d too! " to which a crowd of swimmers behind me applauded...so at least my dignity was'nt totally shot
He had a couple of nasty sores on him....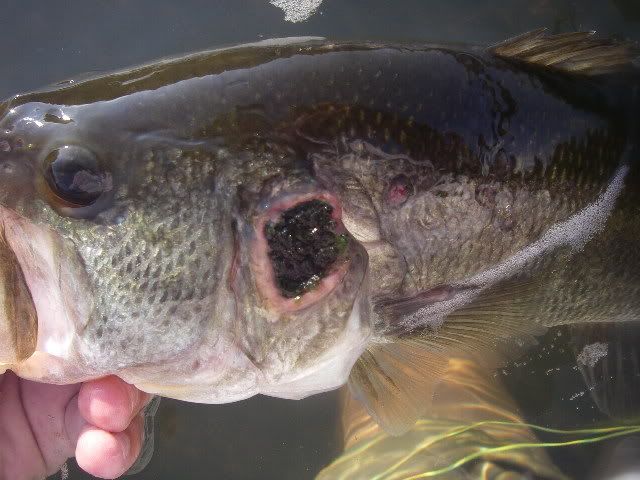 which makes me wonder...are there lampreys in the Savannah??
well....after the third dunking....and some leader trouble...I decided to call it a day and go for some dry smokes....missed a few...got soaked a couple times....twer a great day to be out on the river
(Billres see's this report...he'll have to loosen up the checkbook...cause Mrs. Res will be shoppin in Augusta every day for the next few weeks
)
I'll leave ya with a release shot ...the others did'nt turn out too well
http://s2.photobucket.com/albums/y38/ov ... GP1206.flv
Oh...never did get around to trying my carp nymphs....saw two more suckers though...both about 14" ....I'll get em' someday when the bass are'nt bitin so good
P.S. I'm only takin Nub to this spot iffin' he promises to wear his arm floaties

_________________


"The fish and I were both stunned and disbelieving to find ourselves connected by a line."

William Humphrey