I got there around 9:30 this morning....started gearing up.....and there was some dude lookin like he was casing the parking lot....I was a little worried how I was gonna get my wallet out and into the trunk without him seeing.....then I realized I forgot my tippet
So I shot over to Rivers&Glen picked up some 3X and a half dozen yellow and chartruese Miss Prissy's.
I got out on the water and started getting hits right off.....a couple of decent ones too....but they either kept coming off the hook....and two or three broke me off ( had another one run me up under a dang rock again....I could'nt even turn him in the current.) After gettin beaten by about a dozen fish I finally switched over to a crease fly and did land this Largemouth.....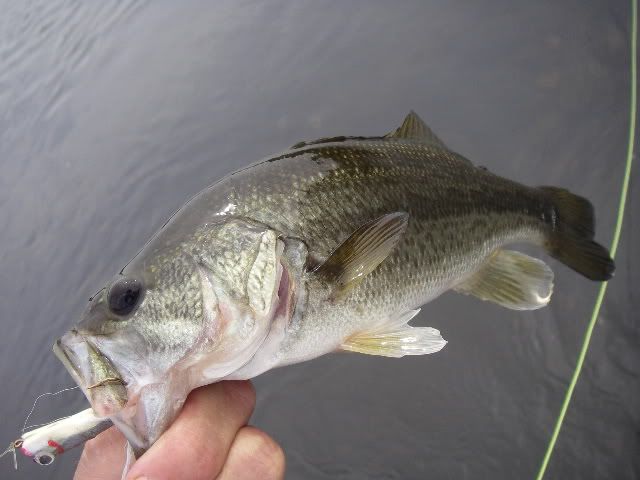 from there I worked my way up to big fish hole....Bill knows the one... I fished the lower side with a popper,a zonker,Dr. Death and a black rabbit thingie....nothin.....I moved down and around to the top side of the run and started making casts with another crease fly and had another huge fish roll up on it....he did it two or three times....I made another cast to the same spot and sure enough again he boiled the water...this time I paused for a second or two and watched my line move sideways...reared back and tried to put the hellacious hookset on him.....the rod doubled completely over and then pop! There's a dangum monster living in that stretch...and one of these days I'm gonna get a picture of him with a fly stuck in his jaw!!!
I beat the water all around there....then moved way down stream....and began to work my way across to the islands that divides the river....I had a few more redeyes and what was probably a good pound to pound and a half largemouth on again....but again....lost every one of them but this guy.....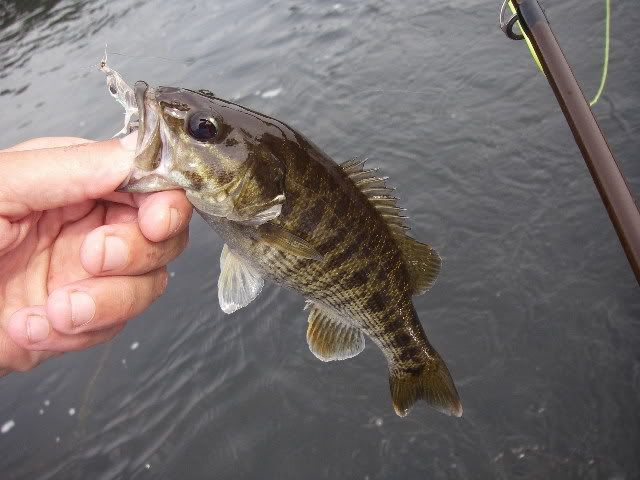 I worked over to the far side of the river and while fishing some big flat holes....spotted a gar....cast out to him....and he hit my zonker....but could'nt get hung up.....fished a little more and spotted another.....this time I actually had him going for a few seconds...then whooop....fly came unbuttoned.....it was pretty much the story of the whole day
had enough hits to make it a good day....just could'nt seem to stay connected with them
had one other fish...not sure...but it looked like a big catfish.....I threw my popper out and it landed about two ft from him....and spooked it....it boiled in the water and was very dark colored...almost black....pretty good size too...been seeing some strange stuff there....but thats why I like river fishin....never know what your gonna get into.
Saw a small group of deer again...about 6 of them and an eagle....had a helicopter ( small bubble copter) buzz me....about 30 ft above me....I could actually see what the guy looked like flying it!
Decided that I did'nt wanna take a chance on getting too far gone and getting dark on me....plus my ole' legs were gettin tired,back hurt etc. all you ole' farts know what I'm talkin about....so I called it quits for another day.....don't know wether to call it good or bad???

_________________


"The fish and I were both stunned and disbelieving to find ourselves connected by a line."

William Humphrey