Went down to the French Broad River today for some bluegill and possibly some smallies. The water was stained but fish-able. Got up and under the bridge in down town Marshall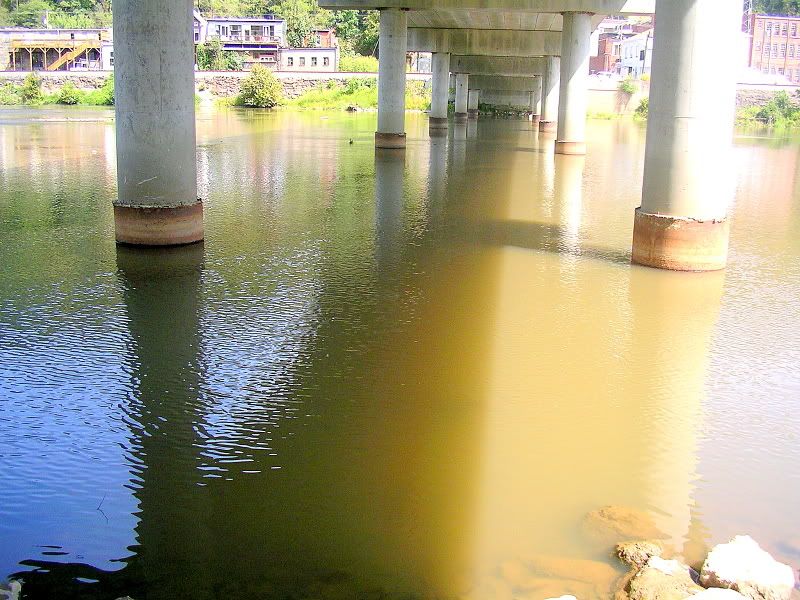 The bridge was casting a pretty good shadow over the pilling bases which usually hold a lot small and average yellow Breasted Sunfish. Started casting a black and lite green pencil popper #10. Got a few tentative swirls and no real commitment from the gills. Checked my pockets and realized I had left my nymphs back up the hill. Did not want to walk. Found a container in one of the pockets that had some #14 soft hackles (ginger body and grouse hackle) that I had been fooling around with tying last night. Why not. About a 12" drop with no weight. The flies weren't weighted either.
Cast, strip, strip, and the popper disappeared. Now I'm sure everybody else knew that a soft hackle was a good bluegill fly, but today I convinced myself. Small and medium bluegill were all over it. It doesn't take much to entertain me I guess.
Gonna tie some #12 and #10 soft hackles before I get back down there.
Did catch one fair smallie on a Woolly Bugger. Saw him chase bait a couple of swipes. Had to throw something at him.