Little tidal creek behind my folks' winter place holds big resident tarpon and some snook. Tons of pesky gar in there too. It's only about 80-100 ft across, averaging 4-10 ft deep.
One morning last week I saw a tarpon roll while waking up with coffee on their deck. 2nd cast out in front of it got an eat and held on for about 35 mins til the loop knot failed. Spinning rod with a plug. My camera gal (mom) was just a wee-bit surprised: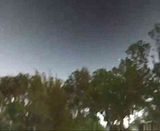 Couple mornings later I floated down river a bit and came across a nice snook suspending over a green dock light; nice fight on the 9wt:
I do believe salt has ruint me for good...