OK, here is how it all went down.......................................... -0-
A few of us linked up with the DGIF Fisheries Biologists and helped with the Smith River sampling 2-4 August 2011. These annual surveys or samplings are key to assessing the status of the fishery and provide data for management decisions and regulation changes. These annual surveys also provide local residents an opportunity to observe and meet fishery biologists from around the state who are eager to share their knowledge about the health of the fishery.
One of the prerequisites for being a DGIF fishery biologist is to have a good working knowledge of portable generators because without the generator you're not going to shock up any fish. Toward the end of the week the generators start to become a little temperamental.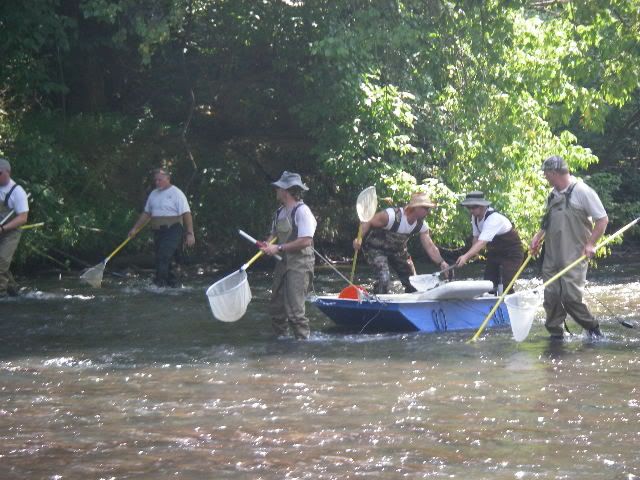 Another prerequisite is to have a strong back and be nimble on your feet. The barge, about the size of large bath tub, holds the generator, assorted cables, an ac/dc converter, aerator and large cooler or tank for the fish. Try pulling that upstream over riffles and debris while at the same time scooping up stunned fish and you will have earned your keep. Several of the "flankers" also carry electronic probes and of course everyone carries a long handled net.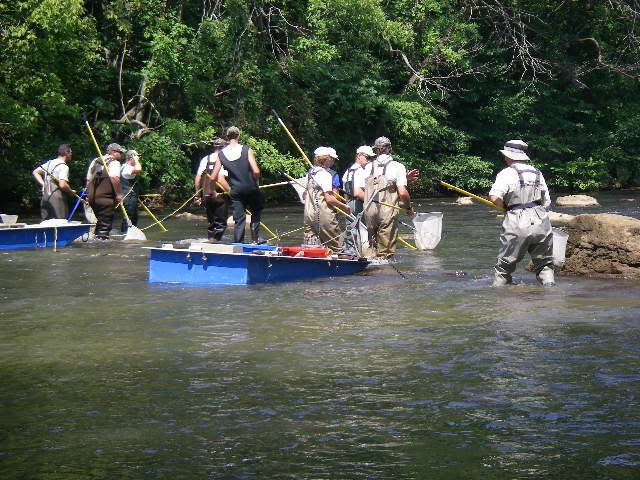 The plan is to have enough folks to line up across the river so the majority of the fish do not have an opportunity to scoot back down river. They are either shocked to the surface and scooped up as the entourage move upstream or they are driven forward until they lodge against a shallow riffle or boulder where most come to the surface for collection.
It gets pretty tense and hectic when a big pod of fish are surrounded. You have to keep your cool and your footing because that low DC voltage which is tingling the fish will also tingle you if you dip your hands in the water or worse yet, if you slip and take water inside your waders.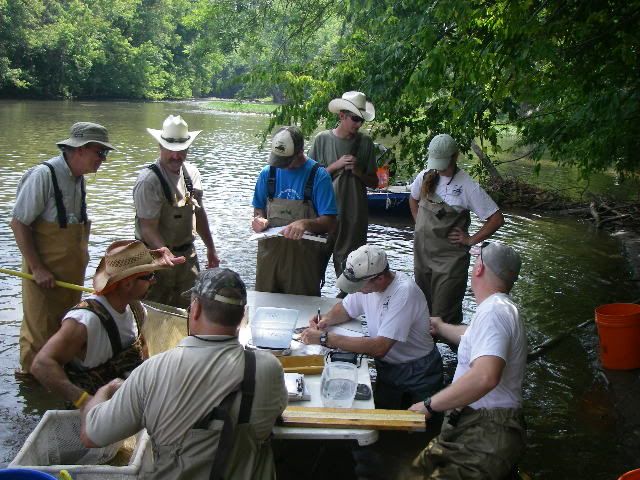 Collecting the fish is just the beginning. Now the real work begins. Each fish, including all the forage fish, are identified, counted, measured and weighed.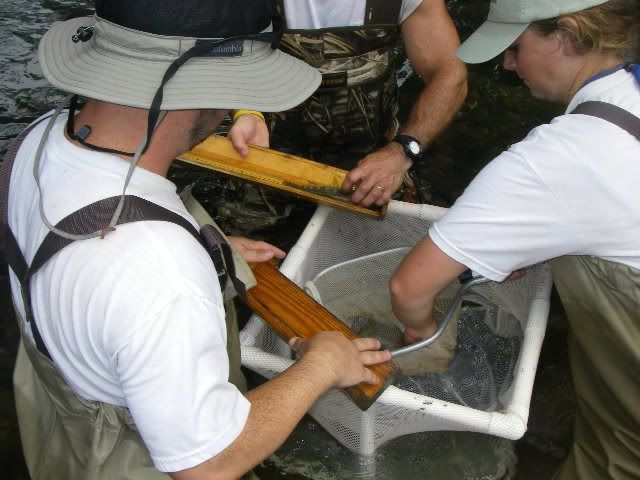 A big crew allows setting up several stations so the fish receive prompt attention and immediate return to the river. There is some mortality but it is minimal. Fish which are obviously not going to make it are collected for later analysis back at the laboratory .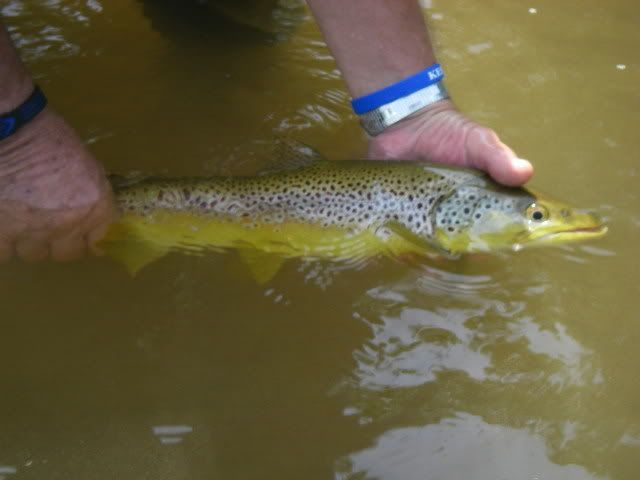 We collected hundreds of fish at each of eight sampling sites. Lots of small fish and lots of catchable size fish. It is too early to give an assessment but my impression and the impression of the lead DGIF biologist, Scott Smith is that things are looking better. Probably the most encouraging finding was an increase in forage fish. The brown trout looked healthy. A lot were hitting the protected slot of 10-24 inches. We collected this 19 1/2 inch brown which is still swimming around somewhere at one of the sites.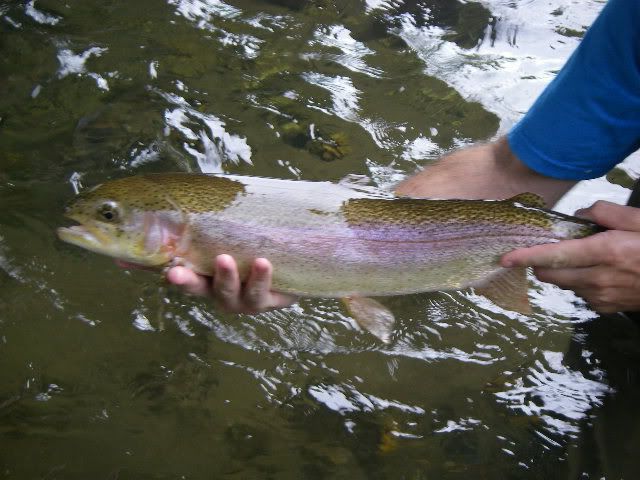 We also collected a good number of stocked rainbows at most sampling sites. This 24 inch bow is still swimming around hoping that no one places him on a stringer so they can claim citation fish bragging rights. A fish like this seems too pretty to only be caught once.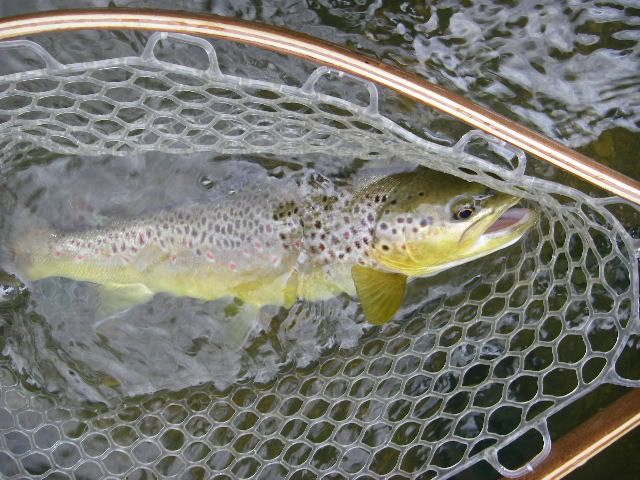 Once the DGIF crew left a few of us went out and tried to sample a different section of the river the old fashion way. This one was a long time coming but he was a nice one.
DGIF biologist Scott Smith asked me to pass on his and the DGIF thanks to all who came out to watch and especially to those who donned waders and helped with the collection. Scott and crew are busy at other fisheries for the remainder of the summer but he will have most of the Smith River data analyzed by late fall and has promised to present his findings to the Smith River TU Chapter at our December 1, 2011 meeting. (We are still working on a program for our Sept 1st meeting)