Joe Albea of "Carolina Outdoor Journal" (PBS) met with guide Paul Rose (carolinabonefishing.com) and me to do a show on fly fishing for carp. The day proved what I'd thought for some time: It's easier catching bonefish in Belize than carp in the Piedmont. Paul put us on a couple of dozen fish, and we caught a few, but the casts had to be in that 'dinner plate' range. If you're planning that annual or once-in-a-lifetime expensive trip to the Florida Keys or Belize, a trip with Paul is a good way to brush up on the necessary skills. Might help prevent the situation of the sad guys at the bar at El Pescador, Belize, a couple of weeks ago. They were depressed and disappointed in their performance. Neither had ever fly fished in salt water and it showed. Nymphing on the Davidson is different than casting on the flats.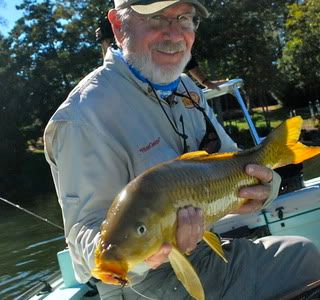 The fight is much like a redfish
Why is a fish so colorful out of the water so hard to see in the water?