I'm building a Facebook page for my guide service (AlphaTrout Outfitters), and have been putting up some local entomology pics, videos, & info over the past few days, such as this one: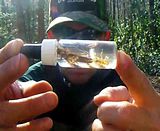 I'm trying to make the site have good, up-to-date INFORMATION/CONTENT, & good interaction, kind of like an online newsletter, rather than a "I'm the most badass, Whorvis-endorsed, guide in the universe so you should hire me today & you'll catch 100 fish with 20 over 20-inches!" -type site like many are. I am also OPEN TO SUGGESTIONS, & your ideas would be GREATLY APPRECIATED! If you are on Facebook, please take a look (just type AlphaTrout Outfitters in the search box at the top) & hit the Like button if you want to subscribe. Thanks!
More SoHo bugs & bug info coming this week.