When Plumbob uploaded his, for a second I thought he had stolen my idea. Fortunately, he had chosen another classic.
Here's my first thought, a Light Spruce: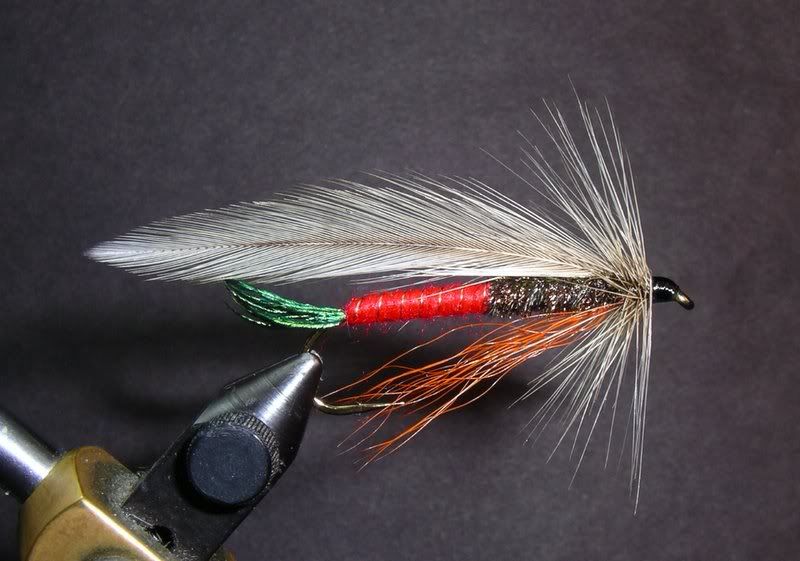 Hook: Std. Streamer 4xl or 6xl. This is a size 6 4xl
Thread: Black. I used flat waxed nylon
Tail: Peacock sword
Body: Rear half, Red wool yarn.
------ Front half, Peacock herl
Rib: copper wire
Throat: Orange buck tail (many tiers leave this out)
Wing: 2 golden badger hackles, turned so the tips flair out
Collar: golden bader
head: Black thread
As a bonus, I owe RiverGeezer some flies, and have been looking at dragon fly nymphs. This one is a variation of the Blue Mountain Dragon (I used Ringneck pheasant rump instead of Peacock breast for the collar).
Hook: heavy wire nymph hook, size 6-10 (this is an 8)
Thread: Olive 6/0
Tail: Olive marabou with a couple of strands of crystal flash
Body: Olive marabou under body with twisted peacock herl over it.
Rib: 2 strands of crystal flash twisted together and counter wound. After ribbing the body, the crystal flash is secured and then bent back over the body as a topping.
eyes: Mono
legs: A couple of turns of a pheasant rump feather